Reducing Total Cost of Ownership Throughout the Product Life Cycle
Posted On May 19, 2017 By Protolabs
Digital technologies and advanced manufacturing are transforming production, driving a new industrial revolution known as Industry 4.0.
Creating a digital supply chain, one that's more resilient and responsive to risks and opportunities, is essential. Many companies have already moved in this direction: A third of more than 2,000 industrial companies have digitized their supply chains while nearly three-quarters expect to by 2020, according to a recent PwC survey. The advantages include improved efficiency, greater revenue, and lower costs.
Total Cost of Ownership
Such Industry 4.0 benefits are available today through on-demand manufacturing, particularly with a supplier that harnesses digital technologies and advanced, automated production processes to produce custom components on short notice, on time, and cost-effectively. While that makes on-demand manufacturing ideal for rapid prototyping, manufacturing on demand with low-volume injection molding can also reduce the total cost of ownership (TCO) production for tooling and parts.
TCO takes into account the direct and indirect costs of acquiring and using a part or piece of equipment throughout its life cycle. Think of it as the purchase price plus the additional costs incurred for each step along the supply chain, such as shipping and logistics, inventory, operation, maintenance, and retirement of the part. In that perspective, TCO is seen as offering a more complete picture of costs—and a better measure of value or return on investment—than looking at just the purchase price.
Parts When Needed, Supply Chain Safeguard
On-demand manufacturing represents an evolution in procurement and supply chain management thought, bringing together the best of previous concepts such as just-in-time manufacturing, which focuses on streamlining operations, and lean manufacturing principles, which seeks to drive waste from processes. With product life cycles getting shorter and industry trends driving mass customization of products, on-demand manufacturing makes even more sense in today's supply chain strategy.
On-demand manufacturing offers several ways to improve supply chain efficiency and reduce total cost of ownership for companies. A unique advantage is the ability for companies to continue using the same supplier as a part or product moves from prototyping into low-volume production. Consolidating suppliers in this way reduces the cost and complexity of working with multiple vendors. An on-demand manufacturer with the scale and advanced automation needed to ramp up production quickly to meet delivery dates consistently will improve on-time performance, a key metric in supply chain management.
Additionally, on-demand production reduces inventory costs, as companies gain the flexibility to purchase parts in quantities they need at a given time. Manufacturing on demand also helps companies manage through demand volatility, so they're not tied to production forecasts. When demand spikes, they can get parts quickly, avoiding the risk of lost sales opportunities because of stock outages or long lead times.
On-demand injection molding typically offers the greatest benefit from a total cost of ownership perspective when used for low- to mid-range volume production, said Becky Cater, injection molding product manager at Protolabs, a digital manufacturing company. The purchase price of a part from an on-demand supplier may be more expensive but that supplier's use of cost-effective tooling will make it a better value for production volumes up to 25,000 parts a year compared to the larger capital expense involved in working with a traditional injection molding company.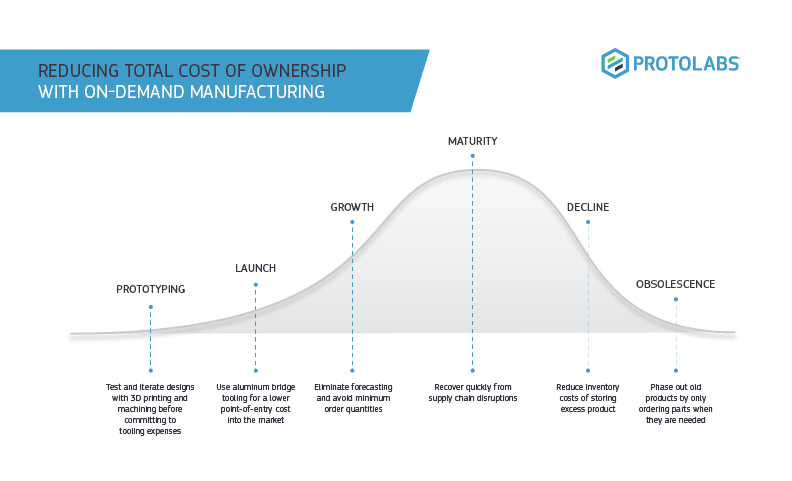 Quality, Consistency, Speed
More companies began evaluating their supply chain in TCO terms—focusing on quality, consistency, and on-time performance instead of just purchase price—as the economy tightened and, more recently, as finance has gained more influence in purchasing decisions and product development. Total cost of ownership also has received greater consideration as companies decide where to source or manufacture parts. Of late, TCO considerations have convinced some companies to bring overseas production back to the United States or to expand manufacturing in this country.
One factor driving that trend is that supply chain costs likely are greater than most companies think, according to the U.S. Commerce Department's Manufacturing Extension Partnership (MEP). Surveys indicate that using only purchase price—without taking total cost of ownership into account—can underestimate hidden costs by 20 percent, MEP has stated. That's why, in the view of MEP and others, total cost of ownership provides a more complete and comprehensive measurement of visible and hidden costs. To help companies understand the cost of sourcing decisions—from labor costs to product quality to political and security risks—the Commerce Department launched an online tool known as Assess Costs Everywhere (ACE).
To explain total cost of ownership to her students, Karen Donohue, associate professor of operations and supply management at the University of Minnesota's Carlson School of Management, asks them to picture an iceberg. The visible part represents the purchase price or acquisition cost of a part while the "huge chunk of ice" below the water's surface represents hidden costs.
These additional costs may include inventory coordination, transportation, duties or tariffs as products cross international borders, issues with supplier reliability in terms of product quality, and ability to meet on-time delivery quotes, Donohue said. A TCO view also needs to incorporate lead times, a supplier's ability to scale up production, and the long-term relationship with a supplier.
"It's hard to completely cost out every element of sourcing a product but the idea is to incorporate more measures than what had been traditionally tracked," Donohue said. "What's more, is that you're trying to extend it even further and incorporate even more measures in those decisions. You're moving away from just acquisition price to a wider set of metrics."
Industry Outlook
Industries that are likely to or already are pursuing the advantages of on-demand manufacturing as a TCO production solution, particularly for low-volume production, include medical device, automotive, lighting, and aerospace. In the medical device world, that would include both large corporations and the startups that service them, Donohue said. Small, innovative design shops working with a variety of industries also are turning to on-demand manufacturing for prototyping and production.
"It is certainly a hot area now," Donohue said of manufacturing on demand. "Companies are trying to figure out how to plug-and-play this in. It's a pretty exciting area, particularly with the emphasis on trying to develop more manufacturing in the United States. This is one of the growth areas. So having people understand what the capabilities are and what the different tradeoffs are is important."