Cyfrowa platforma wytwarzania - nowa definicja
Nasza całkowicie nowa platforma tworzenia wycen, analizy konstrukcji i składania zamówień jest szybsza i bardziej intuicyjna niż dotychczas. Została stworzona z myślą o potrzebach naszych klientów.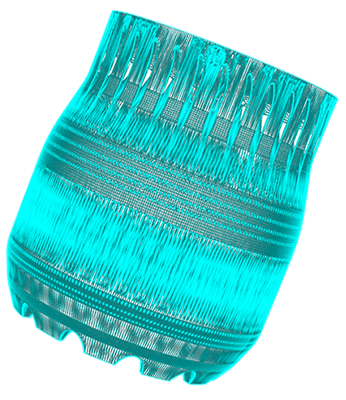 ---
Witamy w nowej cyfrowej platformie wytwarzania
Nasza firma i stosowany przez nas cyfrowy model produkcji pojawiły się na rynku ponad 20 lat temu. W ciągu ostatnich dwóch dekad w branży nastąpiła zmiana. Przetrwanie i rozwój nowoczesnej firmy produkcyjnej jest możliwe wyłącznie pod warunkiem inwestowania w rozwój i wdrażania nowych technologii. Podążając za duchem postępu stworzyliśmy jeszcze większe, lepsze i bardziej wydajne narzędzie. To nasza nowa platforma wytwarzania cyfrowego. Zapewniamy, że sprawdzone elementy naszej poprzedniej platformy zostały nie tylko zachowane, lecz także ulepszone.
---
Co nowego w technologii formowania wtryskowego, obróbki skrawaniem i wydruku 3D?
Każda usługa ma pewne unikalne cechy, które, naszym zdaniem, mogą być decydujące w określonych przypadkach. W przypadku formowania wtryskowego istnieje teraz możliwość przeglądania i dyskusji dotyczącej układu przewężek i wyrzutników przed zamówieniem oprzyrządowania i wykonania elementów. Obróbka CNC drastycznie upraszcza wyznaczanie gwintów. Wystarczy kliknąć na otwór modelu i podać parametry gwintu. W przypadku druku 3D, dołączona tabela cenowa umożliwia natychmiastową ocenę wpływu wybranego materiału warstwowego i poziom rozdzielczości na cenę
---
Zapoznaj się z przykładami wycen dla różnych usług wytwarzania
Nasze przykładowe wyceny umożliwiają szczegółowe i praktyczne zapoznanie się z naszą platformą wytwarzania cyfrowego oraz zaznajomienie się ze sposobem nawigacji w całym systemie. Umożliwia on zmianę takich parametrów, jak materiały, ilości oraz czas realizacji oraz informuje o ich wpływie na cenę. Inną funkcją jest możliwość skorzystania z interaktywnej analizy konstrukcji różnych elementów. Każda usługa wytwarzania posiada swą własną specyfikę, dlatego zachęcamy do praktycznego zapoznania się z każdą z nich.
Formowanie wtryskowe
Zapoznaj się z gruntowną analizą przystosowania konstrukcji do formowania wtryskowego i prototypowania oraz z funkcją wyceny dla technologii wytwarzania na zamówienie ODM.
ZAPOZNAJ SIĘ Z PRZYKŁADOWĄ WYCENĄ
Obróbka CNC
Przekonaj się, jak łatwe jest definiowanie gwintów dla otworów i skorzystaj z porad dotyczących problemów związanych z obróbką skrawaniem.
ZAPOZNAJ SIĘ Z PRZYKŁADOWĄ WYCENĄ
Wydruk 3D
Zapoznaj się z funkcją wyboru materiału, podającą wpływ zmiany technologii wydruku 3DP, materiału i rozdzielczości na cenę.
ZAPOZNAJ SIĘ Z PRZYKŁADOWĄ WYCENĄ
---
Często zadawane pytania
General Information
expand_less
expand_more
Q: Will my existing log-in credentials work?
A: Yes. You will be able to use all of your existing log-in credentials and all of your previous orders will be contained within Order History and quotes from the past 30 days will be contained in Project 0 in your account.
Q: I've forgotten my password—how can I reset it?
A: At the sign-in screen, click on Forgot Password and enter your email address. A new link will be sent to you to reset your password.
Q: Where is the upload button?
A: You can upload your CAD files from any page on our website including the homepage. Look for the Get a Quote button to start the process, which will then take you to our quoting platform. If you have an account, you can upload parts by clicking on Create A New Project from the Projects tab.
Q: Why do I need to sign into my account to get a quote?
A: A Protolabs account allows you to store CAD files and order parts. We ask for some personal info when you create an account in order to ensure account security and usefulness of our services. To learn more about how we use this data, read our Privacy Policy.
Q: Where is my cart?
A: The checkout process is now through your account and you can checkout by quote. Just click on the quote and order—the quote is the cart.
Q: Why do I have to select material at upload?
A: Selecting a material at the start of the process will give the most accurate quote pricing, but you may change the material at any time prior to ordering. This also helps determine lead times and expedite availability.
Q: I don't want to order all the parts in my quote—how can I remove some parts and order the remaining ones?
A: Click the Part Options and choose either Move to New Quote or Remove Part.
Q: How do I know my upload was submitted successfully? I didn't get a confirmation email.
A: A confirmation email will be sent after your quote analysis is complete. If you do not receive this, please contact customer service.
Q: How do I select secondary operations?
A: While configuring the part, scroll down to section 4 and look for More Options, next to Secondary Operations. Click Choose Additional Services to begin the process of adding additional services.
Q: How can I check on the status of my quote?
A: Log into your account and open the project. There will be a colored-coded circle next to each quote to signify the status:
     White: Part requires configuration and analysis
     Grey: Part is undergoing analysis
     Green: Quote is complete—part is orderable
     Orange: Quote is complete—part requires review
     Red: No quote—part must be removed from quote
     Black: Quote is expired
Q: How do I know my quote is ready? Will I get an email? Will it show up in my account?
A: You'll receive an email that the quote is ready for review and can click through to your Protolabs account. Within your account, you'll then be able to see the parts from the parts list page under Projects.
Q: Some of my parts in my project are quoted and some aren't—should I get a notification that some were ready?
A: You'll receive an email as soon as all parts within your quote are ready for review. We understand that you likely want to know the price of your entire project so we will email you when your project is completely ready.
Q: Can I save my CAD file?
A: Your CAD file is automatically saved to your account. You can only download the CAD file if it is a Protolabs Proposed Revisions (PPR) file, which we have uploaded.
Q: What is the file organisation and naming method?
A: The initial name of your part will be the file name from the CAD file. But, you can edit that name at any time! You can also organise your parts under one project, which is meant to make organisation of your account much easier.
Q: How can I order once my quote expires?
A: Open your part, within your account, and click Order to send for quote.
Q: I need help with my design. What design support do you offer?
A: We would be happy to help you design for manufacturability within our process. Contact one of our applications engineers for assistance.
Q: If I uploaded multiple parts, how do I view advisories for each design?
A: Choose View Analysis and scroll across the bottom to see each part, then click the part and approve the advisories.
Q: Do I have time to make changes?
A: You can upload a revision at any time before you checkout. If you need to make changes, just configure the quote again. If changes need to be made after you have checked out, the order will need to be cancelled, and a revised file will need to be uploaded and quoted again. Once an order is placed, manufacturing often begins shortly thereafter, so you may incur charges for the cancellation. It is best to ensure you have everything correct prior to placing your order.
Q: How do I make changes to my quote?
A: Prior to order, you can make changes by choosing the Configure option within the quote. Changes may not be able to take place after order so please contact customer service for additional information if changes need to be made.
Q: How do I share my quote and design?
A: From the quote, you can click on Forward Quote under Order Summary or under Quote Options. Also, if the quote is ready to order, within the project you can click on the three dots in the upper right-hand side and choose Forward.
Q: How do I view and manage revisions?
A: When uploading a revision, the previous part is replaced. However, you can add or remove parts and revisions in a quote as you choose. Revisions can be viewed by making that selection from a list under Part Options. Similar to our former quoting platform, it is recommended that you stick with a friendly naming convention or leave notes if you upload a part with the intent that it matches another part.
Q: Can I rename the parts or can you rename the parts for me?
A: Parts can be renamed in the quote by clicking Options and then selecting Rename Part. If the part has been ordered and you need to change the name on the invoice, you'll need to contact customer service.
Q: Where have the lead times gone?
A: All available lead times will be visible during the order process. If additional lead times are not present on the quote, then that date is not a normally available option. Contact customer service to request a further expedite be added to the quote.
Q: Can I archive parts and orders? Where are the archived parts/orders?
A: Yes! Under Projects click the All Projects and change to Archived.
Q: Do I have the option to select or change secondary operations before I checkout?
A: Yes, return to the Configuration page, under More Options, choose Secondary Operations, then click Choose Additional Services. From there, you can edit your selections.
Q: How do I make last minute changes before I checkout?
A: If changes to the part are needed, you'll need to click Upload a Revision and resubmit for a new quote. If changes pertain to your address, shipping, and quantity, all of that can be done during checkout, so a revised CAD file is not needed.
Q: How do I make a change after I order?
A: If the change is to your address, please contact customer service. If your change is to the part, material, or quantity, those changes must be done prior to the order starting.
Q: How do I select lead time? What happened to expedite options?
A: You can choose an expedite option while configuring your quote. If the lead time you want is not on the quote, contact customer service.
Q: When are VAT and shipping costs calculated?
A: VAT and shipping are calculated once the quote is configured. If the quantity is too large or shipping address is an issue then the shipping will state "TBD."
Q: How do I track the status of my order and/or shipment?
A: Your account will update as the order progresses. An order and shipping confirmation will be sent to you as well.
Q: How do I cancel my order? What fees am I responsible for?
A: There will be fees attached depending on where the order is at in the system. Contact customer service to cancel and determine what the fees would be.
Q: How do I register for VAT exempt?
A: Under quote options, click Make Tax Exempt. You'll be required to send a copy of your tax exemption certificate to [email protected].
Q: I want to change my currency?
A: Once a trading currency has been established through your first order, currency cannot be changed. To use a different currency, a different account would need to be setup. 
Q: Why do I need to complete the export questions?
A: Part of our Compliance Program to comply with Export Regulations is to perform due diligence to verify we are not being asked to manufacture parts that may be restricted for export and to ensure that expert documentation meets requirements. You'll be required to provide the Commodity Codes for your parts to ensure that the correct level of duties are applied.
Q: I have already completed an export questionnaire for my parts. Why am I being required to complete another one?
A: We have updated our questionnaire and require all customers complete another questionnaire. We'll store this questionnaire for the part you fill it out for, so you'll not be required to complete it again. We apologise for any inconvenience this may cause but hope it'll ensure that all Export Regulations are met and there are no delays with your order.
Injection Moulding
expand_less
expand_more
Q: Can I upload multiple parts at once?
A: Yes, ultimately you can upload as many files as you want to per service, however, you are limited to 50 files per quote. Make sure you click the correct button during upload to identify that your part is to be overmoulded or has inserts.
Q: I cannot see my inventory levels anymore. How do I know how much material I have remaining in your facility?
A: Unfortunately customers will not have access to view inventory levels, so you'll need to contact customer service.
Q: How can I protect my designs now that I don't have the ability to give view-only mould rights? It's either full access or none.
A: We recommend that you only forward quotes to those who you trust with your designs.
Q: What is the Prototyping vs. On-Demand Manufacturing (ODM) mould option?
A: A prototyping mould has a limited tool life, when you only need a few sample parts for testing. Generally under 2,000 parts works well. If anything happens to the mould once those pieces have run, any additional maintenance will be quoted for the customer to approve and purchase. An ODM mould has an unlimited tool life meaning we would replace the mould if the it needs any maintenance.
Q: With those tooling options, when do I select Either? Am I able to change this selection or quote both ways?
A: You can select at time of quoting or checkout so you can make changes up until the mould is ordered. Click I'll decide Later for initial quote.
Q: How do I select insert moulding or overmoulding?
A: At upload, select either the Overmoulding or Inserts option.
Q: How do I acknowledge design advisories and approve gate and ejector pin layouts?
A: Click on View Analysis within your quote and follow the prompts.
Q: Where do I download the Protolabs Provided Revision (PPR) file?
A: You can find the option to download the CAD file when viewing your quote. When you get to the approval step, you have the option to download the modified CAD file.
Q: Why do I need to approve gate and ejector layout before ordering?
A: It is much more intuitive and easier to approve gate and ejector pin layout within your quote, before the order has been placed. This ultimately reduces any delays in getting started on manufacturing your mould once you order.
Q: Once I approve my design and gate and ejector layout, when does the manufacturing begin?
A: Manufacturing of your mould will begin shortly after your order is placed.
Q: Why am I unable to select my customer-supplied material during checkout?
A: It may not have been set up in our system yet. Please contact your account representative to learn more about the process.
Q: Why can I no longer select F1 as a finishing option?
A: It will depend on the material chosen. For plastic and liquid silicone rubber (LSR), you can choose F1. High-temperature plastics offer F2.
Q: How do I confirm family tools?
A: If you would like to request a family tool you can leave a note, contact your account representative, or reach out to customer service. When ordering a family tool, you will have a separate branch model that you can order.
Q: How can I view pricing for both prototyping (limited) and on-demand manufacturing/ODM (unlimited) tooling? Does that show quantity discounts?
A: Once Analysis is complete, on the Review and Order screen, choose See Volume Pricing for a direct comparison of prototype and ODM options. The link appears above the part pricing, and once you see the comparison tool, you can adjust the quantity as needed to see quantity discounts.
Q: How do I sign the sample waiver for my order?
A: If a sample quantity greater than 500 is entered when requesting Analysis or during Checkout, you'll be prompted through a pop-up window to check a box acknowledging our 500-piece replacement policy.
CNC Machining
expand_less
expand_more
Q: What happened to my thread assignments?
A: Under View Analysis, just choose Thread Assignment.
Q: What's an advisory and why do I need to review/approve each one? Can anyone with quote access approve advisories?
A: The advisory states possible manufacturing issues with your part, e.g., Material Left Behind. Anyone with quote access approve advisories.
Q: How do I change my process (mill/lathe) after initial selection?
A: You'll only have the option to choose between mill and lathe if the part can be produced using both services and only after analysis is complete. Otherwise the best option based on the part will be automatically selected. You can also add a note in Special Instructions to further help direct the production of your parts.
Q: Where is my Bead Blast option?
A: Bead blast is still a finishing option. Select Edges Broken and Light Bead Blast as your finish. We want to ensure we are delivering your intended finish, so we clarified this option.
Q: Where are the tolerances for my part? I don't see them called out on the quote.
A: Tolerances can be found during the Part Configuration section. When a material is selected, the tolerance for that specific material will populate below the selection.
3D Printing
expand_less
expand_more
Q: How do I select custom finishing options? Special instructions?
A: After uploading your CAD file(s), select part(s) for configuration on the right of the screen.
Go to Finish drop down and select Custom to specify custom finishing options. A dialogue box will appear allowing you to add notes with finishing details or include special instructions on the quote (e.g., drawings, critical parts, etc.)
Adding a special instruction or selecting a custom finish will enable you send the quote to our technical team for review.
The technical team will return the quote with parts configured as noted. 
Q: Where are my builds? How do I tell what parts are being built together?
A: Our new platform no longer has a concept of builds. Parts that share material and resolution may be built together and there is a small price decrease to each part to account for this. You may see the price of some parts change if you add, remove, or change another part.
Q: How do I see pricing options for different materials?
A: Underneath the Material Selector is Compare Prices, which will show a table of available materials and resolutions for the selected part, and the associated pricing.
Q: How do I request inspections?
A: Under Special Instructions, you can add a note and include a drawing for the inspection to be performed against. In the notes, details of the requested inspection, such as quantity of parts that need to be inspected and any other important information. Inspections will be an additional fee.
Q: Why is my pricing different for the same part in your quoting platform? 
A: One the advantages of our new platform is that you can add, remove, or configure parts in a very similar way across all of our services. However, to give you that flexibility, we did have to change some of the methods we used to price our 3D-printing parts. Though the majority of parts will still be priced the same, you may see changes, especially with stereolithography (SLA), on certain parts and configurations. 
Q: How can I get my quote reviewed by your technical team?
A: On the Configurator page, add a Special Instruction or select a Custom Finish, then click the Request Analysis button in the lower right side to send the quote to our 3D printing technical team for review.
Q: Your material names are no longer match the manufacturer names—how can I tell what specific material I'm getting?
A: You can find this information in each material data sheet, which you can download at any time from our material comparison guide.
Q: Where can I find design analysis and advisories on my part or on multiple parts? What do the green and red indicators mean?
A: Coming soon! We are working to launch design advisories on 3D-printed parts similar to the ones you can see now for moulded and machined parts. Currently, green indicates a part is orderable and red indicates a part is not manufacturable in its current material and resolution. You will see a line called Other listed under 3D-printed parts that have been technically reviewed and may call out small issues with manufacturing.
Q: Why can't I orient selective laser sintering (SLS) and Multi Jet Fusion (MJF) part builds?
A: Most SLS and MJF parts build most accurately at a compound angle, which our technical team will orient as needed. Should you need an SLS or MJF part built at a particular angle, you can communicate that in the Special Instructions section before ordering. SLA also allows for you to define the part orientation, however, direct metal laser sintering (DMLS) and PolyJet do not.
Q: How do I select delivery time? What happened to expedite options?
A: With SLA, after selecting Review Quote on the Checkout page, you will see a calendar that allows you to choose the date on when you'd like to receive your order. Standard lead times will be the default but you can choose a faster delivery date if you prefer. Any expedite fees associated with that timing will be shown below the date. For all other 3DP services, you'll be required to request analysis to get a lead time.
Q: How do I check if I have credit terms? Will my order be delayed if I don't?
A: Contact customer service at +44 (0) 1952 683047, email [email protected].uk, or contact your sales representative for further assistance. The checkout process can be completed online without credit terms. Once credit has been approved, production on your parts will begin. This may result in a delay to the order.
---