Meeting the Need for Speed
Gepostet am 12.09.2018 Nach Damian Hennessey
Protolabs puts products where they're needed. When they're needed.
When time to market is critical, 3D printing can make the difference between success and failure. Damian Hennessey, Director of Global Sales Operations at Protolabs, looks at how this highly versatile technology can transform the product development process.
You've got a great idea for a new product. You've researched the market, and you know you have a commercial winner. But you don't have much time.
If you've secured funding for the venture, your investors will want to see quick progress. And if you're putting your own money in, you'll want – and probably need – a speedy return.
Even if you're a nimble start-up business, it can take up to nine months to get from concept to finished prototype using traditional methods. And for larger companies, the same process can take years – and significant financial resources.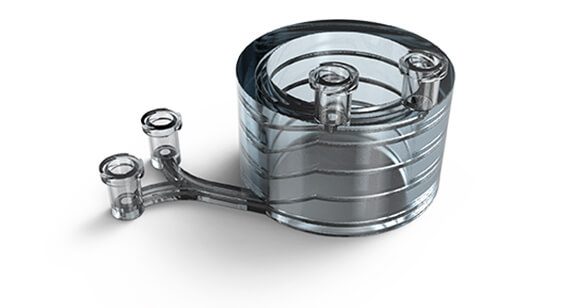 Fortunately, for many industries, there's now an alternative. 3D printing in plastics and metals can slash lead times to mere days (and to just one day for less complex items). Plus, when the prototype's agreed, the technique can bring further time savings in product testing and manufacturing.
Opportunities we could only dream of
It's the flexibility of 3D printing that makes it so useful in product development. Because it starts from nothing and builds up objects in layers, it can create outputs of almost infinite variety. You can experiment with multiple versions of an item, quickly and cost-effectively, perfecting your design in a way that – until just a few years ago – was possible only with the most generous budgets and elastic timescales.
More importantly, many of the things you can do with 3D printing simply weren't possible with other processes. In particular, we're seeing products with ultra low weights and complex geometries that just couldn't have existed before – both designed and manufactured using 3D printing.
Even greater possibilities open up when you combine 3D printing with CNC machining.  Using the latter to fine-tune an object – perhaps by adding grooves, holes or threads – you can work to increasing levels of intricacy. Where this precision finishing combines with the speed and versatility of 3D printing, your product development cycle has a serious competitive advantage.
Tailored technology with no capital commitment
Another great advantage of 3D printing is its suitability for a huge variety of industries. So you don't have to invest in prototyping equipment specific to your products. In fact, you don't have to invest in any development equipment at all. That's what we're here for – to provide a range of 3D printing services that adapt to the needs of the project in hand.
Broadly speaking, there are three stages to product development:
Analysis (ordering and structuring the problem)
Synthesis (possible solutions responding to the analysis)
Evaluation (assessing the proposed solutions)
Using 3D printing (perhaps with CNC machining) to produce prototypes and models, and for medium runs for performance testing, you can progress through these stages much faster. Concepts become thoroughly investigated products within even the tightest development windows.
Meeting budgets as well as deadlines
Of course, in many situations, a prototype isn't just to test a product's viability. It's used to gain funding – to win investors' confidence by showing how the concept can work in reality. So the upfront costs must be as low as possible, to minimise risk before the project has the financial green light. Again, 3D printing has the edge, making limited budgets go much further than traditional processes can.
Saving money as well as time, 3D printing is the entrepreneur's friend. By helping get products to market both quickly and cost-effectively, it benefits not only designers and manufacturers, but also their investors – and, ultimately, their customers.