A Modern Manufacturing Model: Digital Factories X Digital Network
Speed and quality meet advanced capabilities and volume pricing—all with one reliable manufacturing resource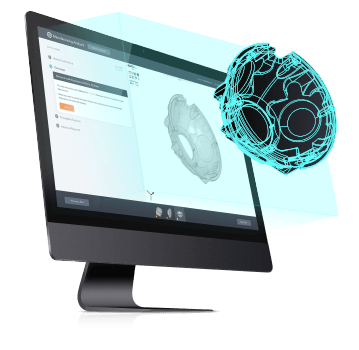 Why Digital Manufacturing?
---
Bring ideas to market with the fastest and most comprehensive digital manufacturing service in the world. Access Protolabs' digital factories for accelerated manufacturing of quality parts paired with our global supply network powered by Hubs for parts with volume pricing, tighter tolerances, and more complexity. The result? Digital manufacturing and engineering expertise that meets all your needs from prototyping to production.
---
What is Digital Manufacturing?
---
End-to-end manufacturing from quoting to production to shipping, inclusive of our in-house digital factories and our digital network of manufacturing suppliers
---
---
What manufacturing services do
Protolabs' factories and its network provide?
---
---
Factory Machining

We provide you with 'infinite capacity' to ensure parts are shipped on-time, every single time. Using our digital factories, you have access to hundreds of in-house CNC machines.

Parts in as fast as 1 day, most parts produced in 3 days or less.
40+ plastics and metals stocked.
Optimised for lower quantities and small batches.
ISO 9001 certified, CNC machining factories.
Part size (machining):
559 mm x 356 mm x 95 mm /
Min. part size: 6.35 mm x 6.35 mm.
Diameter/length (turning): 75mm x 228 mm /
Min. diameter/length: 4 mm x 1.27 mm.
Tolerances down to ± 0.127 mm.
Quick anodising and secondary services.
Standard tolerance of ±0.1 mm.
3D CAD automatic thread detection, and DfM feedback.
ISO:9001, ISO:14001, ISO:45001 and JOSCAR compliant European factory.

Network Machining

Our digital network expands our machining capabilities with tighter tolerances, volume pricing, and the ability to handle more complex parts.

Instant quotes for up to 1,000 parts.
50+ plastics and metals.
10+ surface finishes.
Cost-effective machined parts at a higher volume.
Max. part size: 1,000 mm / Min. part size:0.5 mm / Min. diameter: 0.3 mm.
Plating (black oxide, nickel), anodising (Type II, Type III), and chromate coating at scale.
Tighter tolerances on complex machined parts.
Complete parts with all features milled, holes tapped, and post-process finishing applied.
Tolerances down to ±0.020 mm.
AS9100-certified machining network.
Factory Moulding

Our digital factories produce affordable, high-quality moulded parts and bridge tooling within days. And with our free mouldability consultation, the design and moulding process is rapidly accelerated saving time and money.

Low-volume molding up to 100,000+ parts with volume pricing available; no MOQ required.
Automated CMM for fast, in-house quality documentation.
Interactive mouldability analysis in hours; sample parts in as fast as 1 day.
Max. part size: 480 mm x 751 mm x 203 mm.
8 surface finish options: A1, B1, C1, F0-F2 (Protolabs-specific), T1-T2 (Protolabs-specific), plus Mold-Tech equivalent finishing options.
100+ plastic, elastomeric, and silicone rubber materials.
Reduce financial risk with aluminium tooling.

Network Moulding

Our digital network opens up moulding capabilities for larger, and more complex parts in higher-volume production quantities.

High-volume moulding up to 1 million parts with price breaks available.
High-requirement projects for larger, deeper, more complex moulded parts.
Quotes for up to 100,000 parts with MOQ of 500.
Max. part size: 1,200 mm x 700 mm x 300 mm.
12 surface finish options (A1-A3, B1-B3, C1-C3, D1-D3).
Aluminium and steel tooling, including Tool Steel P20.
Factory 3D Printing

We have the largest additive manufacturing operation in the world (U.S. and Germany) for functional prototyping and end-use production of quality 3D-printed parts.

Five different 3D printing technologies: DMLS, SLA, SLS, MJF, and PolyJet and 3D Printed Silicone (60-65%).
25 years of additive manufacturing expertise.
Automated, interactive design analysis and real-time pricing on printed parts.
Highly precise and repeatable printed parts.
Max build size (plastic SLA): 736 mm x 635 mm x 533 mm (True Silicone 70 mm x 130 mm x 100 mm).
Max Build size (metal DMLS): 250 mm x 250 mm x 300 mm (AlSi10Mg 300 mm x 300 mm x 400 mm).
Max Build size for MJF, SLS and PolyJet and 3D Printed Silicone (60-65%) as per design guidelines.
Dimensional accuracy (plastic SLA): X/Y dimension of ±0.05 mm, Z dimension tolerances of ±0.13 mm plus additional ± 0.001 mm / mm dimensions.
Dimensional accuracy (metal DMLS): 0.1 mm to 0.2 mm.
Dimensional accuracy for MJF, SLS and PolyJet and 3D Printed Silicone (60-65%) as per design guidelines.
ISO 9001:2015 and ISO:13485, JOSCAR, DNV Qualifcation of Manufacture Certification for Inconel 718 DMLS, SLS, and MJF.
30 plastic and metal materials (ABS-like, PC-like, nylon, stainless steel, aluminium).
Wide variety of secondary services including, vapour smoothing, painting, assembly, machining, and more.

Network 3D Printing

We build cost-efficient 3D-printed prototypes and end-use parts built with Fused Deposition Modeling (FDM). Customer can choose from a wide material and colour selection for repeatable and precise parts within days.

Desktop and industrial FDM 3D printing.
Network of highly experienced 3D printing shops.
Competitive pricing for quick-turn printed parts.
Max. build size (desktop FDM): 500 mm x 500 mm x 500 mm.
Dimensional accuracy (desktop FDM): ±0.5% with a lower limit on ±0.5 mm.
Access to ISO 13485 suppliers.
15+ plastic materials (PLA, PC, nylon, Ultem) in a range of colour options for FDM.
Instant quotes for parts in as fast as 1 business day.
---