Plastic Injection Moulding
Get custom plastic parts within days. Request an online quote.
Moulds from £995
Our plastic injection moulding process produces custom prototypes and end-use production parts with lead times as fast as 1 day. We use aluminium moulds that offer cost-efficient tooling and accelerated manufacturing cycles, and stock about 200 different thermoplastic resins.
Common applications for plastic injection moulding:
low-volume production
bridge tooling
pilot runs
functional testing and prototyping
---
"We chose Protolabs because they are fast and efficient and can deliver prototypes really quickly. There is no one who beats them when it comes to injection moulding."
---
Design Guidelines: Plastic Injection Moulding   
 

Metric

Size
480mm x 980mm
Volume
966,837 mm³
Depth

101mm from parting line with 3° of draft

Up to 280mm of the part

Projected Mould Area
112903 mm2
Protolabs can maintain a machining tolerance of +/- 0.05mm. Depending on the material selected the resin tolerance can be as accurate as 0.002mm/mm. The resin tolerances of all thermoplastic materials are now visible on your quotes.
If your part is outside of these listed tolerances, please contact us direct to discuss how we can help  [email protected]
| | |
| --- | --- |
| Vertical Faces | 0.5° |
| Most Situations | 2° |
| Minimum for Shut Off | 3° |
| Minimum for Light Texture (PM-T1) | 3° |
| Minimum for Medium Texture (PM-T2) | 5°+ |
Read our design tip on Draft
Maximum Side Core Dimensions
Width
Height

Pull

450mm

< 150

mm

< 200

mm
Read our design tip on Undercuts
| Material | Recommended Wall Thickness |
| --- | --- |
| ABS | 1.143mm - 3.556mm |
| Acetal | 0.762mm - 3.048mm |
| Acrylic | 0.635mm - 12.7mm |
| Liquid Crystal Polymer | 0.762mm - 3.048mm |
| Long-Fiber Reinforced Plastics | 1.905m - 25.4mm |
| Nylon | 0.762mm - 2.921mm |
| Polycarbonate | 1.016mm - 3.81mm |
| Polyester | 0.635mm - 3.175mm |
| Polyethylene | 0.762mm - 5.08mm |
| Polyphenylene Sulfide | 0.508mm - 4.572mm |
| Polypropylene | 0.635mm - 3.81mm |
| Polystynene | 0.889mm - 3.81mm |
| Polyurethane | 2.032mm - 19.05mm |
 * The table is adapted from manufacturingcenter.com.
Some edges of parts have a radius instead of a sharp edge because we use an automated CNC milling process to create the mold for your parts. This usually does not require any changes to your design, but the resulting radii are identified before the shape is milled.
---
Grab a Design Cube
Want to learn more about injection moulding and design better parts? Request a free Design Cube today. This physical aid is exclusive to Protolabs and will help you understand the proper design and implementation of common features on moulded parts.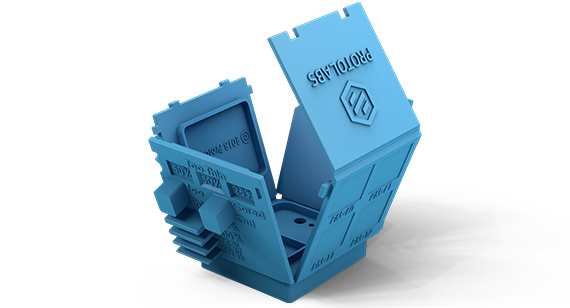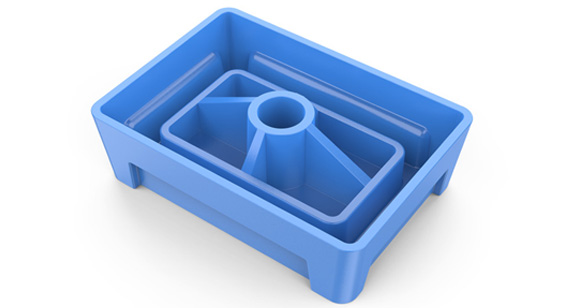 Thermoplastic Materials
We have a wide selection of more than 100 thermoplastic and thermoset materials. And if you're looking for alternative material options, check out our guide to resin substitutes for ABS, PC, PP, and other commonly moulded plastics.
PMMA (Acrylic, Plexiglas)
Polycarbonate
Polypropylene
PS
PPS
TPC-ET
TPE
TPU
TPV


Surface Finish Options
Draft angle requirements will vary by requested finish. Industry standard Mold-Tech finishes are also available.
| Finish | Description |
| --- | --- |
| PM-F0 | non-cosmetic, default |
| PM-F1 | low-cosmetic, most toolmarks removed |
| SPI-C1 | 600 grit stone, |
| PM-T1 | SPI-C1 + light bead blast |
| PM-T2 | SPI-C1 + medium bead blast |
| SPI-B1 | 600 grit paper |
| SPI-A2 | grade #2 diamond buff |
For more information read our design tip on surface finishes  or contact your dedicated Account Manager. 
Quality Inspections and Finishing Options for Custom Moulded Parts
Depending on your application's requirements, you can choose from the following when requesting an injection moulding quote.
Quality Inspections available for on-demand manufacturing orders
Designing for Manufacturability Feedback (DFM)
Scientific moulding process development report
In-process CMM inspection and machine monitoring
First article inspection (FAI) and process capability report with GD&T
Mould Texturing (Mold Tech Surface Finishes)
Threaded Inserts
Pad Printing

Laser Engraving
Component Assembly
Prototyping or On-demand Manufacturing?
---
Design for Mouldability Toolkit
No one ever said that designing and manufacturing moulded parts was easy. Our goal is to get you through it quickly and with quality parts. A good starting point is our Design for Mouldability Toolkit.
Check out Toolkit
---
About Plastic Injection Moulding
How does plastic injection moulding work?
expand_less
expand_more
From left to right, the components of a rapid injection moulding press include: ram (1), screw (2), hopper (3), barrel (4), heaters (5), materials (6), nozzle (7), mould (8), and part (9).
The thermoplastic injection moulding process at Protolabs is a standard process involving an aluminium mould. Aluminium transfers heat much more efficiently than steel, so does not require cooling channels - which means the time we save on cooling can be applied to monitoring fill pressure, cosmetic concerns and producing a quality part. 
Resin pellets are loaded into a barrel where they will eventually be melted, compressed, and injected into the mould's runner system. Hot resin is shot into the mould cavity through the gates and the part is moulded. Ejector pins facilitate removal of the part from the mould where it falls into a loading bin. When the run is complete, parts (or the initial sample run) are boxed and shipped shortly thereafter. Request your Free Design Cube which shows surface finishes and thick and thin finishes.
What is plastic injection moulding?
expand_less
expand_more
Plastic injection moulding is the process of melting plastic pellets (thermosetting/ thermoplastic polymers) that once malleable enough, are injected at pressure into a mould cavity, which fills and solidifies to produce the final product.
Why choose plastic injection moulding for your project?
expand_less
expand_more
Protolabs utilise a rapid injection moulding a technology-driven process that leverages manufacturing automation. CAD models are sent directly to the production floor where mould milling begins, but in most cases, moulds are fabricated from aluminium, not steel. This allows for faster and most cost-effective tooling when compared to traditional steel moulds. We offer a number of additional secondary services to support your project.
How can I reduce mould costs?
expand_less
expand_more
1. Eliminate undercuts
2. Get rid of unnecessary features
3. Use a core cavity approach
4. Reduce cosmetic finishes and appearances
5. Design self-mating parts
6. Modify and reuse moulds
7. Pay attention to DFM analysis
8. Use a multi-cavity or family mould
9. Consider part size
What is injection moulding used for?
expand_less
expand_more
Injection Moulding is used to make a variety of widely used products. If you look around your desk/ home you will find a multitude of injection moulded products, from bottle tops, remote control casing, console covers, syringes and most plastic made products.
To see an example of an injection moulded part worked on by Protolabs, please view our Hager case study here.
To show off some of the features our injection moulding service can offer, please click to register for your free design cube
Where can I learn more about injection moulding?
expand_less
expand_more
How can I get a quote for injection moulding?
expand_less
expand_more
Product designers and engineers can upload a 3D CAD model online at any time to receive an interactive ProtoQuote® with free design for manufacturability (DFM) analysis and real-time pricing information within hours. The DFM analysis helps eliminate potential problems like sink, challenging undercuts or walls that are too thin or thick. Once a part design is ready and a quote approved, production begins almost immediately. Upload a part today for a ProtoQuote with design analysis.
---
What are the advantages and disadvantages of Injection Moulding?
Rapid injection moulding works best for on-demand production, bridge tooling, pilot runs, and functional prototyping. Our affordable aluminium moulds and quick turnaround times help reduce design risks and limit overall production costs.
---
Manufacturing has experienced radical change over the years, but one of the few constants has been the prevalence of injection moulding as the most common process within the sector. But what makes injection moulding so compelling to design engineers around the world?