Injection Moulding Service
Moulded prototypes and low-volume production parts in as fast as 1 day
CERTIFICATIONS
ISO 9001: 2015 | JOSCAR
100+
Plastic and elastomeric materials
50,000+
Product developers served
4.4 Million
Parts moulded each month
Injection Moulding Processes
Make the move from prototyping to on-demand manufacturing for affordable, high-quality moulded parts within days. Better yet, your prototyping tool is free once you shift to an on-demand manufacturing tool. Working with a single supplier that provides free design consultation services also massively speeds up the manufacturing process, allowing for greater supply chain flexibility, more consistent parts, and making qualification a breeze.
---
Injection Mould Tooling Options and Quality Reporting
We have two unique offers to meet your needs wherever you are in the product lifecycle. Our prototype injection moulding process helps you cut product development cycles by weeks—sometimes months—and bridge to production with injection-moulded parts within days. Our On-demand Manufacturing process is designed to meet your production needs, and helps you qualify parts quickly to seamlessly transition into production with scientific moulding, in-process CMM inspections with GD&T, and a full suite of secondary operations to make sure that your parts show up and perform as expected.
 
PROTOTYPING
ON-DEMAND MANUFACTURING
OBJECTIVE
I need to validate my design at Protolabs speeds. I need the flexibility to economically iterate before production.
I have on-demand production needs at Protolabs speeds.
BEST WHEN

Completing design or material iterations, and assessing cost or manufacturability trade-offs
Key focus is to reduce design risk, increase R&D productivity, and iterate faster to reduce time to market.
Typical Quantities <2,000

Design is finalised and run-to-run part consistency is critical.
Key focus is to improve quality, reduce cost and mitigate supply chain risk
Process development, qualification documentation, and mould capability information is required 

MOULD PRICE
Lower
Higher
PART PRICE
Higher
Lower
MOULD CAVITIES
Single
Single and multi-cavity
GUARANTEED MOULD LIFE
Limited (guaranteed for at least 2,000 shots)
Unlimited
MOULD STORAGE
Stored for 18 months of inactivity
Stored for 3 years of inactivity
MOULD OWNERSHIP
Upon request
Yes
QUALITY DOCUMENTATION
Basic inspection reports available upon request

Scientific Moulding Process Development Report
In-Process CMM inspection of critical dimensions, including 9 GD&T symbols
First Article Inspection (CTQ)
30 Part Capability Study (CTQ)

SHARED FEATURES

Aluminium moulds
Standard lead time of 15 days or less
Tolerances of +/-0.08mm plus resin tolerance (mm./mm.)
Set-up fees apply to each production run 
Consultative Design Services (CDS)
Finishing Options
No minimum order quantities (MOQ)
Quick-turn shipping in as fast as 1 day
---
Injection Moulding Materials
We have wide selection of more than 100 thermoplastic and thermoset materials. And if you're looking for alternative material options, check out our guide to resin substitutes for ABS, PC, PP, and other commonly moulded plastics.
Thermoplastics
ABS
ABS/PC
Acetal
Acetal Copolymer
Acetal Homopolymer
HDPE
LDPE
Nylon 6
Nylon 66
PBT
PC
PEEK
PEI
PMMA
Polypropylene
PS
Thermosets
Standard silicone (30,50,60, and 70)
Dow Corning Clear
Dow Corning Optical Clear
Advantages of Injection Moulding
Injection moulding is plastic manufacturing process that can produce high quality parts at scale. It's typically used for low- to high-volume production but our aluminium tooling can also make prototyping runs economical.
Low cost at higher volumes
Exceptional part cosmetics and surface finish
Repeatable
Complex parts
Low scrap rate
Large selection of thermoplastic and thermoset materials
Injection Moulding Applications
Injection moulding is widely used for plastic part production in medical, consumer, and automotive industries. Typical parts include:
Housings
Brackets
Gears
Single-use medical parts
Electrical connectors
Syringes
Containers
---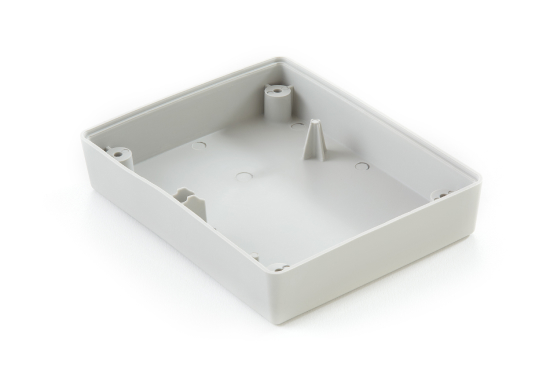 What's in an Online Injection Moulding Quote?
We do quoting a little differently. When you request an injection moulding quote, you'll not only receive accurate pricing, but also a manufacturing analysis—within just a few hours. Our online quoting platform also provides you with gate and ejector pin layouts and a price curve tool to help select the best tooling option for your project.
Get a Quote
---
Why Choose Protolabs for Injection Moulding?
---
Why Choose Protolabs for Injection Moulding?
Rapid injection moulding works best for on-demand production, bridge tooling, pilot runs, and functional prototyping. Our affordable aluminium moulds and quick turnaround times help reduce design risks and limit overall production costs. We offer plastic injection moulding, liquid silicone rubber moulding, insert moulding and over moulding.
Which Injection Moulding Service to Choose
Injection Moulding, with it's multi cavity and family tooling options, consistent and repeatable process, tool guaranteed for life and more.
Multi Jet fusion, with it's exceptional mechanical and electrical properties, chemical resistance, suitability for medical applications and more.
Or Overmoulding & Insert Moulding, with its ability to combine two materials, increase strength and durability and more.
Reinventing Manufacturing with Injection Moulding
Speed in product development and part production are key to success. Protolabs are ideal in low volume production, bridge tooling, pilot runs or functional prototyping.
Upload a part and get a quote in as fast as a few minutes.
---
"It has been very enlightening to us here at HP that we are able to get parts so rapidly out of the actual materials that we're going to use in the final production."
Additional Links and Resources