Online Injection Molding Service for Custom Parts
Digital manufacturing for plastic prototypes and on-demand production parts in as fast as 1 day. Request an injection molding quote today.
Certifications
ISO 9001: 2015 | ITAR Registered | Critical to Quality Inspection
100+
Plastic and elastomeric materials
50,000+
Product developers served
4.4 Million
Parts molded each month
Small Molded Parts in as Fast as 1 Day!
Get smaller parts even faster with expedite and standard turn time options on simple components between 0.5 in. x 0.5 in. and 4 in. x 3 in. Try expedited molded parts in as fast as 1 day or our 7-day standard lead times. Upload your part to see if it's eligible.
---
Injection Molding Processes
Make the move from prototyping to on-demand manufacturing for affordable, high-quality molded parts within days. Better yet, your prototyping tool is free once you shift to an on-demand manufacturing tool. Working with a single supplier that provides free design consultation services also massively speeds up the manufacturing process, allowing for greater supply chain flexibility, more consistent parts, and making qualification a breeze.
Design for Moldability Toolkit
No one ever said that designing and manufacturing molded parts was easy. Our goal is to get you through it quickly and with quality parts. A good starting point is our Design for Moldability Toolkit.
Check Out the Toolkit
Injection Mold Tooling Options and Quality Reporting
We have two unique offers to meet your needs wherever you are in the product lifecycle. Our prototype injection molding process helps you cut product development cycles by weeks—sometimes months—and bridge to production with injection-molded parts within days. Our On-demand Manufacturing process is designed to meet your production needs, and helps you qualify parts quickly to seamlessly transition into production with scientific molding, in-process CMM inspections with GD&T, and a full suite of secondary operations to make sure that your parts show up and perform as expected.
 
Prototyping
On-Demand Manufacturing
Objective

I need to validate my design at Protolabs speeds. I need the flexibility to economically iterate before production.

I have on-demand production needs at Protolabs speeds.

Best When

Completing design or material iterations, and assessing cost or manufacturability tradeoffs
Key focus is to reduce design risk, increase R&D productivity,  and iterate faster to reduce time to market
Typical Quantities <2,000

Design is finalized and run-to-run part consistency is critical
Key focus is to improve quality, reduce cost, and mitigate supply chain risk
Process development, qualification documentation, and mold capability information is required

Mold Cavities
Single
Single and multi-cavity
Mold Life
Limited (guaranteed for at least 2,000 shots)
Unlimited
Mold Storage
Stored for 18 months of inactivity
Stored for 3 years of inactivity
Mold Ownership
Upon request
Yes
Quality Documentation
Basic inspection reports available upon request

Scientific molding process development report
In-process CMM inspection of critical dimensions, including 9 GD&T symbols
First Article Inspection
30 part capability study
PPAP, ISO 13485 through trusted partners.

Shared Features

Aluminum molds
Standard lead times as fast as 7 days
Tolerances of +/-0.003 in. plus resin tolerance (in./in.)
Set-up fees apply to each run 
Consultative Design Services (CDS)
Finishing Options
No minimum order quantities (MOQ)
Quick-turn shipping in as fast as 1 day
---
Injection Molding Materials
We have wide selection of more than 100 thermoplastic and thermoset materials. And if you're looking for alternative material options, check out our guide to resin substitutes for ABS, PC, PP, and other commonly molded plastics.
Thermoplastics
Thermosets
Standard silicone (30, 40, 50, 60, and 70 durometers)
Medical-grade silicone
Optical-grade silicone
Fluorosilicone (fuel and oil resistant)
---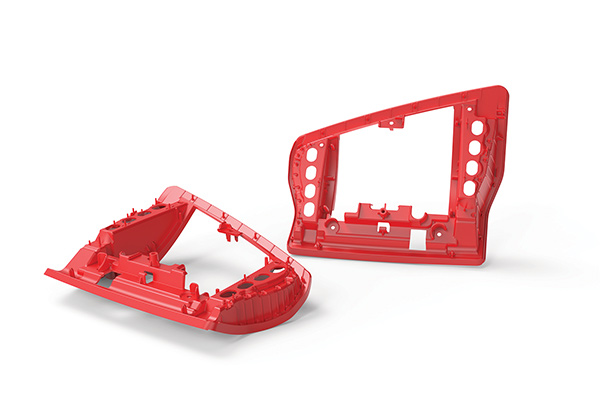 Why Choose Us for Custom Injection Molding?
Unmatched Lead Times
Reduce your product development cycle by weeks—sometimes months—and bridge to production with injection-molded parts within days. Some injection molding orders can ship in as fast as 1 day.
Design for Manufacturing Feedback
Every quote includes real-time pricing and design analysis. We evaluate your 3D CAD and help identify any features that may pose challenges during the molding process such as difficult to machine undercuts and insufficient draft.
No Minimum Order Quantities (MOQs)
Procuring parts on demand, without MOQs, helps you manage market or demand volatility and provides a cost-effective source for bridge production, line-down emergencies, end-of-life production, or product customization.
Injection Molding Expertise
We'll work with you throughout the course of your project to help you quickly move from prototyping to production, including finishing options and inspection reporting.
---
---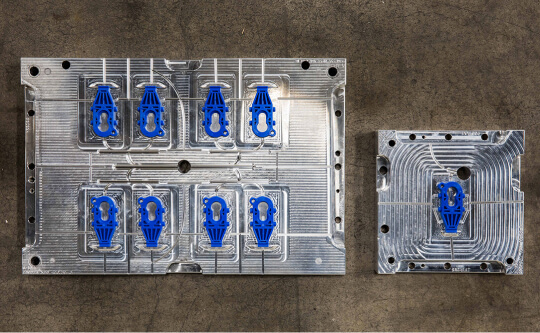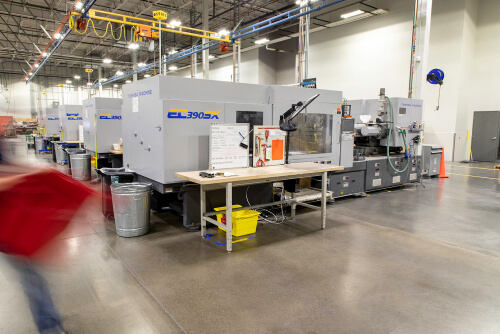 Advantages of Injection Molding
Injection molding is plastic manufacturing process that can produce high quality parts at scale. It's typically used for low- to high-volume production but our aluminum tooling can also make prototyping runs economical.
Low cost at higher volumes
Exceptional part cosmetics and surface finish
Repeatable
Complex parts
Low scrap rate
Large selection of thermoplastic and thermoset materials

Injection Molding Applications
Injection molding is widely used for plastic part production in medical, consumer, and automotive industries. Typical parts include:
Housings
Brackets
Gears
Single-use medical parts
Electrical connectors
Syringes
Containers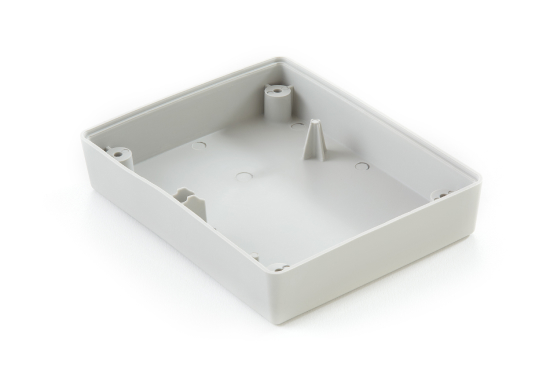 ---
What's in an Online Injection Molding Quote?
How much does injection molding cost?
expand_less
expand_more
Because of the initial capital investment in tooling, injection molding makes sense for higher volumes of parts. Our mold cost starts at $1,495 and will vary depending on part geometry and complexity. Other factors that will impact injection molding cost are lead times and material.
Do you do production molding?
expand_less
expand_more
Yes, we offer a production tooling option called on-demand manufacturing. This tooling option provides several benefits: lower piece part price, multi-cavity capabilities, guaranteed tooling for the life of the project (we will cut a new tool if it wears out), and first article inspections.
What are your tolerances for molded parts?
expand_less
expand_more
In most cases, we can maintain a machining tolerance of +/- 0.003 in. (0.08mm) with an included resin tolerance that can be greater than but no less than +/- 0.002 in./in. (0.002mm/mm).
What is the maximum part size for injection molding?
expand_less
expand_more
The largest size we can support with plastic injection molding is 18.9 in. x 29.6 in. x 8 in. (480mm x 751mm x 203mm).
---
Additional Links and Resources