Injection Molding Service
Digital manufacturing for plastic prototypes and on-demand production parts. Request an injection molding quote today.
Free design analysis included with every quote
Select from hundreds of resins or supply your own
Consult with our team of injection molding experts
CERTIFICATIONS
ISO 9001: 2015 | ITAR Registered
100+
Plastic and elastomeric materials
50,000+
Product developers served
4.4 Million
Parts molded each month
Injection Molding Processes
Make the move from prototyping to on-demand manufacturing for affordable, high-quality molded parts within days. Better yet, your prototyping tool is free once you shift to an on-demand manufacturing tool. Working with a single supplier that provides free design consultation services also massively speeds up the manufacturing process, allowing for greater supply chain flexibility, more consistent parts, and making qualification a breeze.
---
Tooling Options and Quality Reporting
We have two unique offers that meet your needs wherever you are in the product lifecycle. Our prototype molding process helps you cut product development cycles by weeks—sometimes months—and bridge to production with injection-molded parts within days. Our On-demand Manufacturing process helps you qualify parts quickly and seamlessly transition into production with scientific molding, critical-to-quality FAI and capability studies completed on automated CMM machines, and a full suite of secondary operations to make sure that your end-use production parts show up as expected.
 
Prototyping
On-Demand Manufacturing
Objective

I need to validate my design at Protolabs speeds. I need the flexibility to economically iterate before production.

I have on-demand production needs at Protolabs speeds.

Best When

Completing design or material iterations, and assessing cost or manufacturability tradeoffs
Key focus is to reduce design risk, increase R&D productivity and quickly iterate to speed product release to market
Typical Quantities <2,000

Design and configuration is finalized and focus is to reduce supply chain risk, quality, and total cost of ownership
Run-to-run part consistency is critical
Qualification documentation and mold capability information is required

Mold Cavities
Single
Single and multi-cavity
Mold Life
Limited (guaranteed for at least 2,000 shots)
Unlimited
Mold Storage
Stored for 18 months of inactivity
Stored for 3 years of inactivity
Mold Ownership
Upon request
Yes
Quality Documentation
Basic inspection reports available upon request

Critical-to-Quality First Article Inspection*
Critical-to-Quality 30-part capability study*
Critical-to-Quality dimensions checked during all runs
Scientific molding process development report*
In-line CMM measurement technology
PPAP, IQ/OQ/PQ, ISo13485 through approved partners.

Shared Features

Aluminum molds
Standard lead time of 15 days or less
Tolerances of +/-0.003 in. plus resin tolerance (in./in.)
Set-up fees apply to each run 
Consultative Design Services (CDS)
Finishing Options
No minimum order quantities (MOQ)
Quick-turn shipping in as fast as 1 day
*Inspection conducted on initial run of parts
---
Injection Molding Materials
We have wide selection of more than 100 thermoplastic and thermoset materials. And if you're looking for alternative material options, check out our guide to resin substitutes for ABS, PC, PP, and other commonly molded plastics.
Thermoplastics
ABS/PC
Acetal
Acetal Copolymer
ETPU
LCP
Thermosets
Standard silicone (30, 40, 50, 60, and 70 durometers)
Medical-grade silicone
Optical-grade silicone
Fluorosilicone (fuel and oil resistant)
---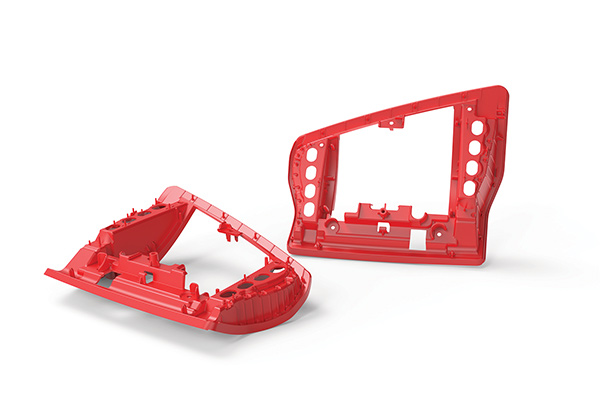 Why Choose Protolabs for Injection Molding?
---
Additional Links and Resources