PBT Injection Molding
PBT resin offers excellent processability, electrical properties, and good surface finish quality
GET PBT PARTS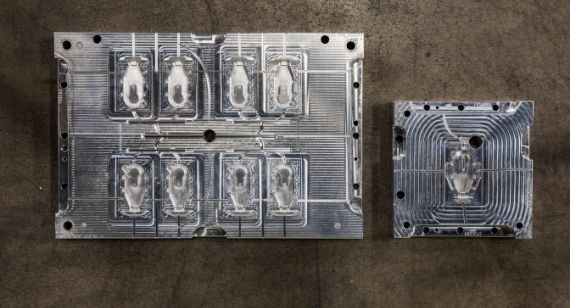 Polybutylene terephthalate (PBT) is semi-crystalline thermoplastic with excellent processibility and good mechanical properties, which make it a versatile general purpose resin for wide range of applications.
We offer three grades of PBT through our injection molding service:
Valox 357: A polycarbonate/PBT blend that is a general purpose resin. It also has flame retardant with a UL V0 and 5VA rating.
Valox 420 SEO (30% Glass Filled): A glass-filled PBT resin with flame retardant and well rounded mechanical properties.
Crastin S600F20: Friction and wear resistance with excellent colorability.
---
PBT Material Properties
 
Tensile Strength
(Yield)
Flexural Modulus
Tensile Elongation (Break)
Rockwell Hardness
(R-scale)
Data Sheet
Test Method
ISO 527
ISO 178
ISO 527
ASTM D785
 
Valox 357
7,250 psi
290,000 psi
30%
117 
VIEW PDF
Valox 420 SEO
17,400 psi
1.38E+6 psi
1.9%
119
VIEW PDF
Crastin S600F20
7,980
319,000 psi
40%
n/a
VIEW PDF
---
PBT Applications
PBT resins are used for a wide range of applications due to its well-rounded mechanical properties.
Enclosures
Switches
Electrical components
Bobbins
Automotive parts