Online CNC Machining Service for Custom Parts
Machined prototypes and production parts in as fast as 1 day. Request an online quote today.
Certifications
ISO 9001:2015 | AS9100D | ITAR Registered
CNC Machining Processes
Looking for a reliable, quick-turn supplier of machined plastic and metal components? With hundreds of CNC machines, our unmatched in-house capacity ensures your parts are shipped on-time, every single time. At Protolabs, our AS9100-certified CNC machining facilities are designed for both rapid prototyping and low-volume production of end-use components.
CNC Milling
CNC milling is a subtractive manufacturing process that uses 3-axis milling and 5-axis indexed milling processes to cut solid plastic and metal blocks into final parts.
CNC Turning
CNC turning with live tooling combines both lathe and mill capabilities to machine parts with cylindrical features from metal rod stock.
Metals
Copper
Steel Alloy
Steel Mild Low Carbon
ABS 
Acetal
CPVC
HDPE 
LDPE
PEI
PET
Polypropylene 
PPSU
PS
PSU
PVC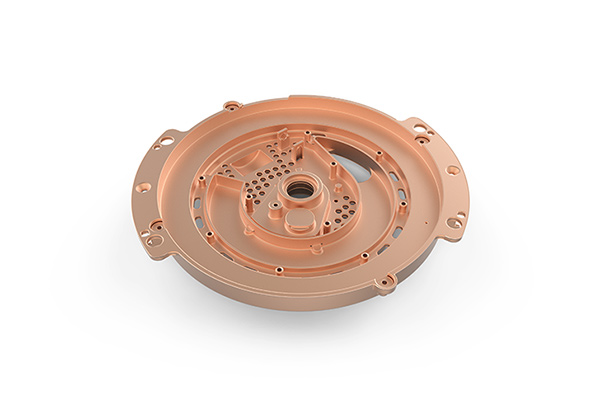 ---
Design Guidelines for CNC Machining
 
 
 
Maximum Part Size
22 in. x 14 in. x 3.75 in.
559mm x 356mm x 95.3mm
Minimum Part Size
0.25 in. x 0.25 in
6.35mm x 6.35mm
Tolerances
+/- 0.005 in.
+/- 0.13mm
Radii
Sharp inside corners on a part will be radiused (rounded) as a natural result of the CNC machining process. Resulting radii will be identified on your quote.
 
Text

Plastic and soft metals: Minimum width of 0.018 in. (0.457mm), depth of 0.0118 in. (0.3mm). Example text size would be 16 point Arial Rounded MT font.

Hard metals: Minimum width of 0.033 in. (0.838mm) and depth of 0.0118 in. (0.3mm). Example text size would be 22 point Arial Rounded MT font.

 
Maximum part size varies by material. View this table to see a complete listing of our maximum part sizes.
 
 
US
Metric
Maximum Dimensions
Diameter
3.95 in.
100.33mm
Length
9 in.
228.6mm
Minimum Dimensions
Diameter
0.16 in.
4.07mm
Length
0.05 in.
1.27mm
Wall Thickness
0.020 in.
0.51mm
Angle
30°
30°
Tolerances
+/- 0.005 in.
+/- 0.13mm
Small features may be allowed, but the diameter in any region should not be less than 0.030 in. (0.76mm). 
Sharp conical points are allowed; angles should be greater than 30 degrees. Walls thinner than 0.020 in. (0.5mm) typically do not survive the machining process
---
Why Choose Us for Custom CNC Machining?
Fast and Reliably Delivery
Iterate part designs quickly and accelerate product development with quick-turn parts. Our automated design analysis will help spot any difficult to machine features before your design is sent to the manufacturing floor and save you from costly reworks further down the product development cycle.
Manufacturing Analysis and Online Quotes
When you upload your 3D CAD file to request a quote, we'll analyze your part geometry to identify any features that may be difficult to machine such as tall, thin walls or holes that cannot be threaded.
Domestic Production and Support
Work with a trusted U.S.-based manufacturer and eliminate the risk of sending parts overseas. You can also call or email us at any time and we'll help with ordering parts, design feedback, material recommendations, and answer any questions.
Infinite Capacity
Eliminate downtime spent waiting for parts and safeguard in-house machining with on-demand relief and infinite manufacturing capacity.
Material Selection
We stock more than 30 engineering-grade plastic and metal materials that are suitable for various part applications and industries. Materials range from plastics like ABS, polycarbonate, nylon, and PEEK to aluminum, stainless steel, platinum, and copper.
---
---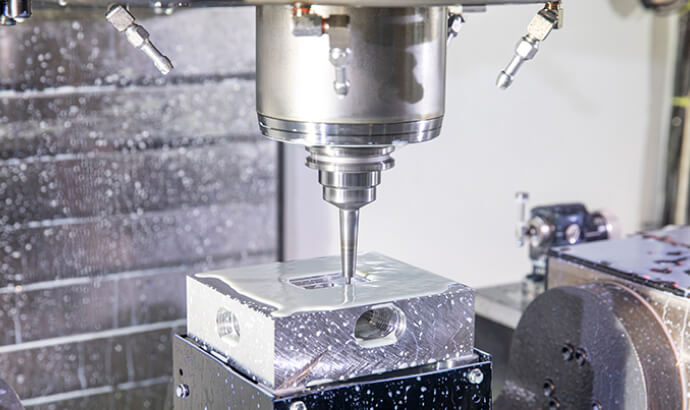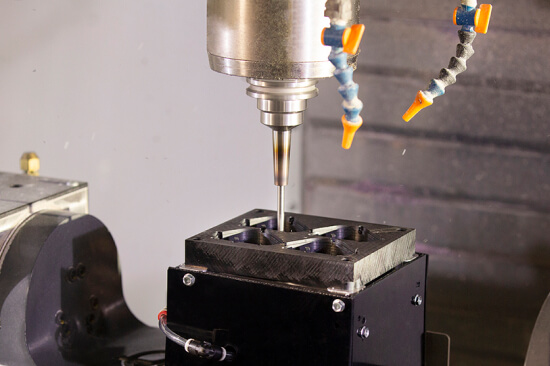 Advantages of CNC Machining
The subtractive process of CNC machining provides multiple benefits for both prototyping and low-volume production parts.
Precision and repeatability
Tight tolerances
Production-grade materials
Quick-turn parts within 1 day

CNC Machining Applications
CNC machining is widely used throughout the aerospace, medical, automotive industries for its ability to rapidly manufacture precise parts in production-grade materials. Typical CNC parts, include:
Housings and enclosures
Brackets
Fixtures for manufacturing
Gears and bearings
Internal mechanical components
Medical instrumentation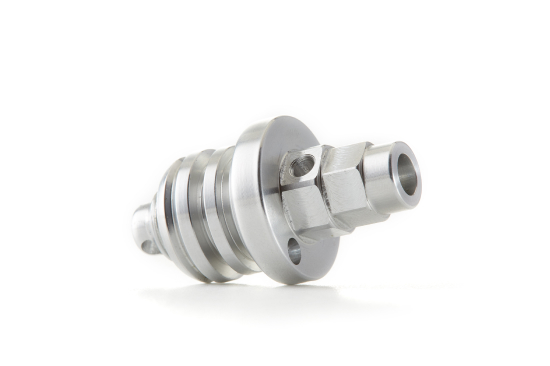 CNC Machining FAQs
How much does CNC machining cost?
Prices start around $65, but vary based on complexity, quantity and lead time. The best way to find out is to submit a 3D CAD model and get an interactive quote with design for manufacturability (DFM) feedback. Because we use proprietary software and automated fixturing processes, there are no up front non-recurring engineering (NRE) costs. This makes purchasing quantities as low as 1 to 200 parts cost effective. Prices compared to 3D printing are comparable to somewhat higher, but machining offers improved material properties and surfaces.
What types of threading options are available?
What is the maximum part size for CNC machining?
Where can I learn more about CNC design?
We have a variety of resources on CNC machining and how to design parts for the process. Here are some of our favorites:
What are the advantages of CNC machining?
Product designers and engineers choose CNC machining to rapidly produce prototypes and production parts. The manufacturing technology offers a high level of precision, engineering-grade materials, quick-turn lead times.
---
Additional Links and Resources