CNC Machining for Aluminum Parts
Aluminum offers excellent machinability, durability, low weight, and low cost for a variety of parts in a variety of industries
Get A Quote
Designers and engineers frequently choose aluminum and aluminum alloys for CNC machining and CNC milling parts. Makes sense. This all-purpose metal has been proven to offer:
Excellent machinability
High strength
Hardness
Heat tolerance
Corrosion resistance
Electrical conductivity
Low weight
Low cost
Overall versatility
---

Compare Aluminum Materials
|   |  Temper | Ultimate Tensile Strength  |  Elongation | Hardness  |
| --- | --- | --- | --- | --- |
| Aluminum 2024  | T351  | 68 kpsi  | 19%  | 60 HRB |
| Aluminum 6061  | T651  | 45 kpsi  | 17% | 60 HRB |
| Aluminum 7075  | T651  | 83 kpsi  | 11%  | 87 HRB |
| Aluminum 7075  | T7  | 73 kpsi  | 13% | 150 HRB |
Aluminum Alloys for Machining
Protolabs offers several aluminum alloys in its long list of available manufacturing materials. Two of those alloys are especially well-suited material options for CNC machining, whether milling or turning: Aluminum 6061 and 7075.
Aluminum 7075 T651 and T7: Benefits include high strength, hardness, low weight, corrosion resistance, and high heat tolerance. See data sheet for more information.
Aluminum 2024 T3: This high-strength alloy offers a high strength-to-weight ratio and high corrosion resistance. See data sheet for more information.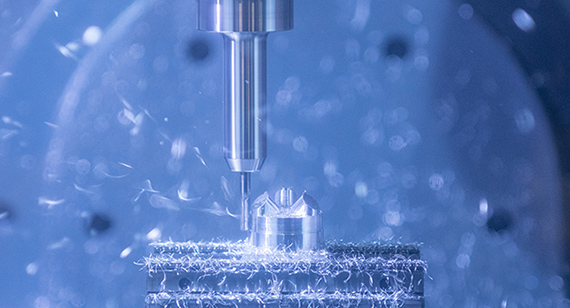 Machined Aluminum Applications
Aluminum parts can be found everywhere, in a range of industries, especially automotive, aerospace, industrial equipment and machinery, and consumer and computer electronics.
Automotive parts (light-weighting provides high strength-to-weight ratio)
Housing, brackets, and other components for aerospace use that must support heavy load capacities but be light weight
Fixtures, calipers, and a variety of other parts for industrial equipment
Enclosures, panels, consoles, knobs, housing, and other applications for consumer and computer electronics
---
Anodizing Options for CNC Machined Aluminum Parts
Anodizing is one of the most common finishing options, offering strong corrosion protection and enhancing the overall appearance of metal parts. Three types of aluminum anodizing are available from Protolabs:
Type I-Chromic Acid: Provides a whisper-thin but still durable coating. Commonly used for welded parts and assemblies, and as a primer before painting. Like all anodized surfaces, it is non-conductive.
Type II-Sulfuric Acid: Harder than Type I it offers an exceedingly durable finish. Usage examples include: carabiner hooks, flashlight handles, motorcycle parts, and hydraulic valve bodies.
Type III-Hard Anodize or Hardcoat: This is the thickest and hardest anodize available, and has a wide range of applications for parts and products in automotive, aerospace, heavy equipment, marine industry, general manufacturing, and military/law enforcement.