CNC Turning Service
Get quality custom turned parts for rapid prototyping and end-use production. Lead times are as fast as 1 day. 
Certifications
ISO 9001:2015 | AS9100D | ITAR Registered
Our CNC turning process produces custom prototypes and end-use production parts in as fast as 1 day. We use a CNC lathe with live tooling so features like axial and radial holes, flats, grooves, and slots can be machined.
CNC turning is often used for:
functional prototypes and end-use parts
parts with cylindrical features
parts with axial and radial holes, flats, grooves, and slots
---
Design Guidelines for CNC Turning
Our basic guidelines for CNC turning include important design considerations to help improve part manufacturability, enhance cosmetic appearance, and reduce overall production time.
 
 
US
Metric
Maximum Dimensions
Diameter
3.95 in.
100.33mm
Length
9 in.
228.6mm
Minimum Dimensions
Diameter
0.16 in.
4.07mm
Length
0.05 in.
1.27mm
Wall Thickness
0.020 in.
0.51mm
Angle
30°
30°
Tolerances
+/- 0.005 in.
+/- 0.13mm

Additional Notes on CNC Turning Guidelines
Small features may be allowed, but the diameter in any region should not be less than 0.030 in. (0.76mm). 
Sharp conical points are allowed; angles should be greater than 30 degrees. Walls thinner than 0.020 in. (0.5mm) typically do not survive the machining process.
---
Materials for CNC Turning
We stock a range of metal materials that are suitable for various part applications and industries. Choose from aluminum, brass, low carbon steel, stainless steel, steel alloy, and titanium for turned parts.
Aluminum

Brass

Low Carbon Steel

Steel Alloy

Stainless Steel

Titanium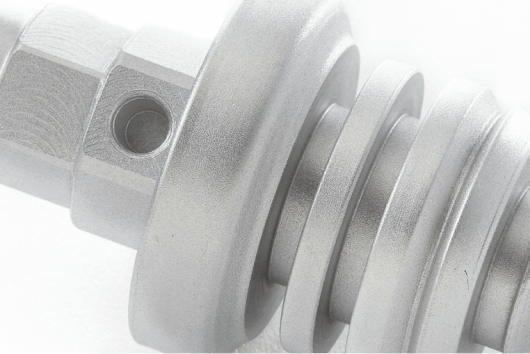 ---
Surface Finish Options for Turned Parts
Parts that are turned typically have a very smooth surface finish. The as-machined surface finish of the cylindrical areas will typically be much smoother using the lathe than the mill, so consider this when selecting the machining method for those parts that qualify for either method. Areas cut with live tooling, such as flats and slots, may have visible tools marks.
If desired, the metal parts can be lightly bead blasted leaving a fine matte finish. Hard metals like steel and stainless steel can also have edges broken (deburred) with a light bead blast to remove metal slivers, and sharp or rough areas.
 
Aluminum
Edges broken with visible toolmarks, edges broken with light bead blast, or sharp edges with visible toolmarks
All other metals
Edges broken with visible toolmarks or edges broken with light bead blast
Material: Aluminum
Surface Finish: Broken Edge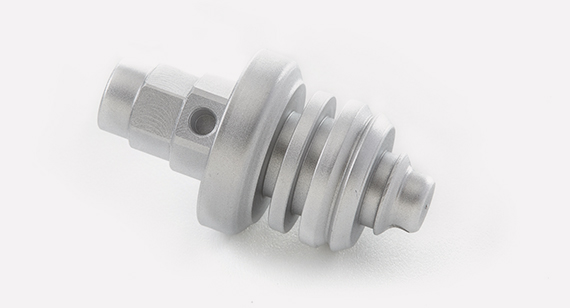 Material: Aluminum
Surface Finish: Bead Blast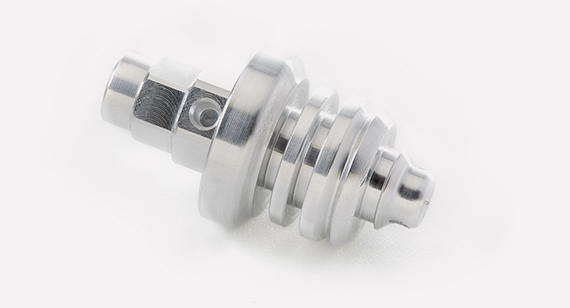 Material: Aluminum
Surface Finish: Sharp Edge
---
Anodizing and

Chromate Plating Specifications
Anodize
Hard Anodize
Chromate

MIL-A-8625 Type II, Class 2 (Blk)

MIL-A-8625 Type II, Class 1(Clr)

MIL-A-8625 Type III, Class 2 (Blk)
MIL-DTL-5541 Type II, Class 3 (Clr)
---
Quick-turn Finishing
Here are the requirements to get parts in as fast as 4 days (1-day expedite + 3 days for plating):
High-requirement Finishing
Have AS9100 and ITAR requirements? Try our domestic precision machining option. If you have more complex anodizing and plating requirements, work with our digital network of manufacturers. The network works well for components that require a specialized color or material option such as titanium or nickel.   
What is CNC Turning?
CNC turning is a subtractive manufacturing process that rotates a metal rod while a cutting tool is held against the stock to remove material and create final parts. Our CNC lathes are also equipped with live tooling that can machine flat features and holes into the workpiece. Outside diameter (OD) and inside diameter (ID) threading is also available.
Turned parts can then be left as-machined, with visible tool marks, or bead blasted. When the run is complete, parts are inspected, boxed and shipped shortly thereafter.