Online Sheet Metal Fabrication Service for Custom Parts
Sheet metal prototypes and low-volume production components in as fast as 1 day. Get an online quote today.
Certifications
ISO 9001:2015 | ITAR Registered
50,000+
Product developers served
37,000+
Parts fabricated each month
Sheet Metal Parts in as Fast as 1 Day
Accelerate your product development cycle with sheet metal prototypes and production parts faster than ever. Get expedited sheet metal parts in as fast as 1 day and custom flat and formed sheet metal components in our standard 3-day lead time.
Upload a Part
Our Sheet Metal Fabrication Process​
Unlike traditional sheet metal shops, we have infinite capacity and an easy-to-use online quoting system ensuring on-time shipment every time—whether you need a single part or 500 parts. You also have access to our team of knowledgeable engineers to optimize part designs and user-friendly online resources. Trim your production time and launch products faster with one local sheet metal supplier from prototypes to assemblies to finishing options.
View Design Guidelines
Our Sheet Metal Material Options
Aluminum (1)
Brass (2)
Copper (3)
Stainless Steel (4)
Steel: CR Non-treated (5)
Steel: CR Galvanneal and CR Galvanized (6)
Sheet Metal Finishing Options
Why Choose Protolabs for Sheet Metal Parts?
---
---
Fast and Simple Online Quoting
Our easy-to-use interface offers an average one-day upload-to-quote lead time (simple design quoting in as fast as one hour). Easily configure part specifications like material selection, and finishing options.
---
Reliable Delivery 
Quality parts delivered within our five-day standard lead time. 
---
Expansive Capacity
With more than 200 machines all under one roof, we're dedicated to continuously evolving our capabilities.
Domestic Production

All sheet metal parts are made in New Hampshire with secondary operations such as hardware placement, welding, and finishing done in-house or locally by an approved vendor.  
---
Sheet Metal Technical Expertise
Work with our team of engineering experts that offer technical design guidance and can inform you on manufacturability and cost-saving opportunities.
---
Sheet Metal Surface Finish Guide
Check out our sheet metal guide for a quick snapshot of our Standard and Cosmetic finishing options available for various sheet metal materials.
Download Guide
---
Advantages of Sheet Metal Fabrication
The sheet metal fabrication process is ideal for metal components and can support both prototyping and production quantities.
Low material waste
Can cost-effectively scale to production volumes
Multiple finishing options like anodizing and powder coating
Sheet Metal Applications
Sheet metal is a versatile manufacturing process for a range of metal components. The process can support high-volume commodity products and low-volume, one-of-a-kind applications. Common sheet metal parts include:
Electrical enclosure
Parts for computer electronics
Chassis
Brackets
Cabinets
Mounts
Appliances
"Partnering with Protolabs was easy. We ended up with high fidelity hardware at a bargain price on a very competitive schedule."

How Does Sheet Metal Fabrication Work?
During the sheet metal fabrication process, thin sheet metal stock is placed on a flat bed where a laser cutter (1) draws programmed part patterns. Depending on the part geometry, a sheet metal punch (2) can form additional features. Once the parts are deburred, they move to the press brake (3) where they are formed into the final geometries. Additional secondary operations are often used to finish the sheet metal parts.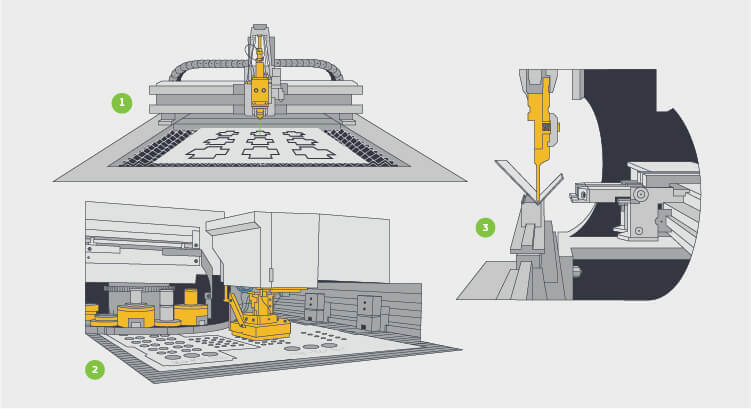 ---
Get an Online Sheet Metal Quote
Additional Links and Resources