---
Online Digital Manufacturing Services
Choose from both subtractive and additive manufacturing technologies that include injection molding, sheet metal fabrication, CNC machining, and 3D printing services. Our unmatched capacity and automation enable us to produce custom prototypes and production parts in as fast as 1 day.
---
Choose a Manufacturing Service
---
Enhanced Machining Capabilities with Our Digital Network 
Get anodizing, tighter tolerances, and volume pricing options through our network of manufacturing partners powered by Hubs. You'll find plating (black oxide, nickel), anodizing (Type II, Type III), and chromate coating at scale; tolerances down to ±0.0008 in. (0.020mm); and cost-efficient machined parts at higher volume.  
Try Digital Network at Hubs
---
---
Compare our Digital Manufacturing Services
| Service | Lead Times | Materials | Tolerances | Max Part Size |
| --- | --- | --- | --- | --- |
| Injection Molding | 1-20 days | Thermoplastic and Thermoset | +/- 0.003 in. | 18.9 in. x 29.6 in. x 8 in. |
| CNC Machining | 1 - 7 days | Metals and Plastics | +/-0.002 in | 22 in. x 14 in. x 3.75 in. |
| 3D Printing | 1 - 7 days | Metal and Plastics | +/-0.002 in | 29 in. x 25 in. x 21 in. |
| Sheet Metal | 1 - 7 days | Metal | Varies depending on features | 47 in. x 119 in. |
---
Large Format Metal 3D Printing
We recently added the GE Additive X Line to our fleet of metal 3D printers to build Inconel 718 parts up to 31.5 in. x 15.7 in. x 19.7 in. (800mm x 398mm x 500mm). Our large format GE Additive X Line machine produces metal 3D-printed parts well suited for various applications in aerospace, medical, industrial machinery, and other segments.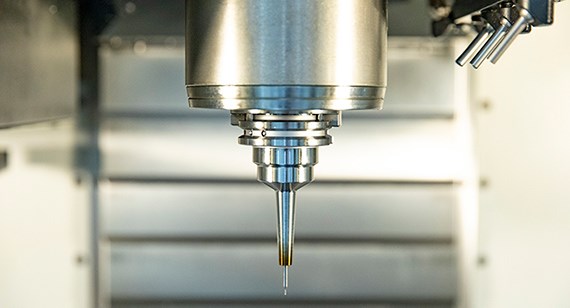 CNC Machining Updates
Anodizing and Chromate Plating
Need a protective and aesthetic coating on your machined parts? We have you (and your parts) covered. Submit your order through our quoting system and get your parts in as little as seven days.
Precision Machining
Sometimes your project requirements outweigh the need for speed. Our precision machining offer produces parts with tight tolerances with lead times as fast as 10 days.
Tolerances as tight as +/-0.002 in. (0.0508mm)
Fulfillment of quality requirements (including CoC, FAI, ISO 9001, and AS9100)
---
Online Quoting and Manufacturing Analysis
Tour Our Machining Facility
Take a quick tour through our 215,000 sq. ft. CNC machining facility in Minnesota to see how we manufacture parts in as fast as 24 hours. 
Manufacturing Materials
Choose from hundreds of plastic and metal materials suitable for prototyping and end-use production applications. Learn More >
What's in a Digital Manufacturing Quote?
Want to see what's included in a quote? Check out our sample quotes below to navigate through our online quoting system. Within each quote, you can adjust the material, quantity, and turn time and see pricing updates in real time as well as explore interactive design analysis on various parts.
Injection Molding
Look for the in-depth moldability analysis and our prototyping vs. ODM pricing comparison feature.
View Quote
CNC Machining
See how easy it is to assign threads to holes and check out some of the machining advisories you may encounter.
View Quote
3D Printing
Explore our material feature that lets you compare the cost of 3DP processes, materials, and resolutions.
View Quote