Robotic Automation and Artificial Intelligence
Streamline and accelerate development of robotics innovation with rapid prototyping and on-demand production
CERTIFICATIONS
ISO 9001:2015
---
Precision Manufacturing for Robotics Industry
Robotics is a diverse, relatively new industry, but most prominent in the industrial and manufacturing sectors. Applications here include robotic arms, collaborative robots (aka cobots), robotic process automation, integrated artificial intelligence (AI), predictive maintenance, and service robots. For components created for the robotics industry, dimensional accuracy is vital. Parts are complex and must be precise to work in sync with other components assembled within a robot. Surviving the stresses of repeatable actions is also essential. Other key considerations include customizability, low-friction surface finishes and complex geometries. And that's why digital manufacturing is uniquely valuable in the production and assembly of parts for the robotics industry.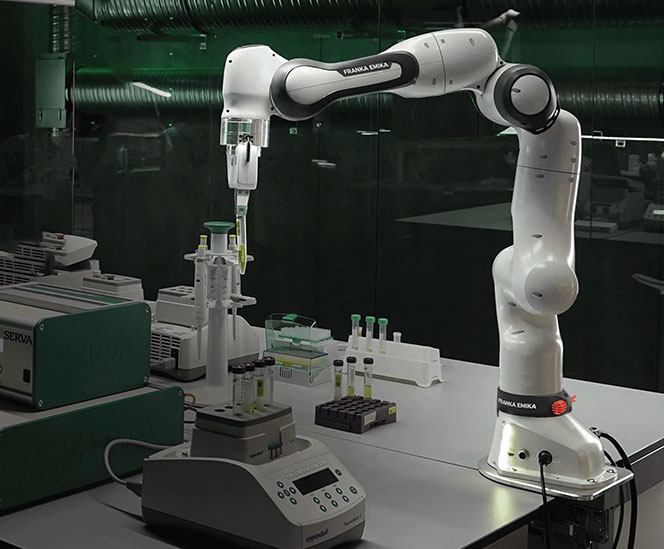 ---
Why Protolabs for Robotics Components and Equipment?
---
---
Precision CNC Machining
Leverage high-speed 3-axis and 5-axis milling processes as well as turning with live tooling for increasingly complex, precision metal and plastic components.
Rapid Prototyping
Get quality parts manufactured within days to accelerate iterative development, functional testing, and low-volume production runs before market launch.
Range of Materials
Choose from machined metals like aluminum, titanium, and stainless steel 17-4 PH along with plastics such as POM and elastomeric resins.
On-demand Production
Whether it be custom parts at low volumes or repeatable parts at higher quantities, on-demand production at Protolabs is tailored to your project needs.
Quality Certifications and Traceability
Take advantage of our ISO 9001-certified manufacturing processes for high-requirement parts.
3D Printing in the Robotics Industry
3D printing is increasingly being used in the robotics industry due to its ability to produce organic, complex, and efficient additive parts. It offers endless possibilities regarding geometries that may not be possible with machining or molding and has a broad material selection of plastics and metals. Additive manufacturing also allows for multi-part assemblies to be combined into a single design, saving production dollars. 
Why 3D printing for the robotics industry?
Rapid prototyping
Design versatility for organic features and complex geometries, including lattice structures
Weight reduction
Manufacture of parts in a single part, saving time on assembly 
Waste reduction
---
What are common robotic applications of 3D-printed parts?
Cameras
Motors
Sensors
Microcontroller
Feedback devices
Controllers
Manipulators
Robotic Arms
---
What 3D printing, finishing, and quality processes does Protolabs offer for robotics?
Stereolithography
Selective laser sintering
Direct metal laser sintering (metal 3D printing)
Multi Jet Fusion
PolyJet
3D-printed silicone
Post-process machining
Mechanical testing
Heat treatments
Vapor smoothing
Painting
Insert fitting/tapping
Assembly
Measurement reports (3D scan)
---
---
CNC Machining in the Robotics Industry
CNC machining is an ideal service for robotics development due to precision and dimensional accuracy as well as material selections. Machined parts have tighter tolerances than other services, and 5-axis CNC milling can produce highly complex parts, important for applications that demand precise, repeatable movements. During post-processing, machining allows for controlled surface finishes, which are needed for low-friction components in interactive parts. Machining is perfect for customized robotics components in low quantities.
Why CNC machining for the robotics industry?
Automated process for fast, efficient machining
Precision parts
Strong, durable materials
Design flexibility wiht 5-axis milling 
Range of surface finishes
What are common robotic applications of machined parts?
Gears
End effectors
Custom fixtures
Motor components
What machining, finishing, and quality processes does Protolabs offer for robotics?
CNC milling
CNC turning
Standardized machines and tools for consistency
Anodizing and chromate conversion
Basic assembly, part marking, and inspection reports
---
---
Injection Molding in the Robotics Industry
Injection molding offers a repeatable option when low- to mid-volume production is required. Piece-part price will often be reduced as quantities increase with our volume pricing model. It's not the primary manufacturing process used for producing robotic components, it is commonly used for production of housings, frames, and casings, for example. Liquid silicone rubber (LSR) molding is also becoming increasingly common with the introduction of soft robotics.
Why injection molding for the robotics industry?
Precision components
Repeatability
Lightweighting
Scalability
Rapid rrototyping
What are common robotic applications of molded parts?
Housings and casings
Frames
Gears
Camera mounting frame
LED indicators
What molding, finishing, and quality processes does Protolabs offer for robotics?
Plastic injection molding
LSR molding
Overmolding and insert molding
Assembly
Part marking
Measurement inspection
Traceability
---
What Materials Work Best for the Robotics Industry?
---
---
Aluminum
A popular choice for the robotics industry due to its lightweighting capabilities. Certain alloys also display corrosion resistance, good weldability, and high heat resistance, all important properties to have for applications in the robotics industry. For those alloys that don't offer great corrosion resistance, further treatments such as anodizing can be used to improve resistance.
There are also good surface finish options for aluminum to enhance cosmetics for on-display robots, for example. It also has the added benefit that is machinability.
Stainless Steel
A common material used by those in the robotics industry. Stainless steel is a solid choice for components on robotic applications that need to be durable and survive repeatable processes and harsh conditions.
Stainless steel can also be hardened easily, which can be useful when using it in the framework or body of a robot, for example. It is the ideal material for parts that need to combine corrosion resistance with high strength and temperature resistance.
Acetal/Delrin
Acetal (aka Delrin) is a common plastic robotics. It is light weight so it can be a good alternative for lightweighting applications. Acetal boasts excellent dimensional stability and has low friction, both critical characteristics for robotic components that may be sliding or performing repeatable actions. And it's relatively inexpensive compared to other common materials used in the industry.
Elastomeric Materials
Elastomers are becoming increasingly popular in the robotics industry due to the rise of soft robotics, which are used for more delicate tasks that require a less heavy hand. These materials are also used for internal components in standard robots, such as semiconductors and casings where flex is needed.
---
Manufacturing Robotics Report
An engineer's guide to understanding state-of-the-art hardware, materials, and the future of robotics manufacturing.
Download the Guide
---