CNC Turning
Get precision turned parts for rapid prototyping and end-use production in as fast as 1 day with our CNC turning services.
Our precision turning process uses cutting edge CNC lathes with live tooling. This means features like axial and radial holes, flats, grooves, and slots can be machined with accuracy.
CNC turning is often used for:
Functional prototypes and end-use parts
Parts with cylindrical features
Parts with axial and radial holes, flats, grooves, and slots
Materials for CNC Turning
We stock a range of metal materials that are suitable for various part applications and industries. Choose from aluminium, brass, low carbon steel, stainless steel, steel alloy, and titanium for turned parts.
Brass
Carbon Steel
Copper
Mild Steel
Stainless Steel
Titanium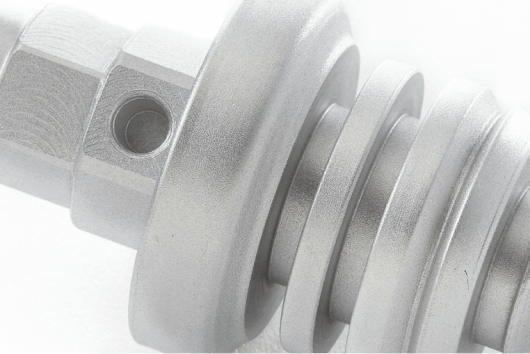 ---
Anodising and

Chromate Plating Specifications
Anodise

Hard Anodise

Chromate

Decorative Anodising | ISO 7599

Equivalent to - MIL-A-8625 Type II, Class 2 (Black)
MIL-A-8625 Type II, Class 1(Clear)

Hard Anodising | ISO 10074



Equivalent to - MIL-A-8625 Type III, Class 2 (Black)

Chromate Conversion Non-Hexavalent | SurTec(R) 650



Equivalent to - MIL-DTL-5541 Type II, Class 3 (Clear)
---
Quick-turn Finishing
Here are the requirements to get parts in as fast as 6 days (1-day expedite + 5 days for plating): 
Aluminium 6082 and 7075 material eligibility 
Threaded holes plugged 
No masking available 
---
High-requirement Finishing
If you have more complex anodising and plating requirements, work with our digital network of manufacturers. The network works well for components that require a specialised colour or material option such as titanium or nickel.   
---
About CNC Turning
What is CNC turning?
expand_less
expand_more
CNC turning is a subtractive manufacturing process, programmed and managed by computer numerical control (CNC). The lathe machine works by rotating the material, whilst it is fed through the tool, removing what is not needed to create the final part.
Turning has been around for thousands of years, you may have heard of 3D printing machines building machines. But, the first automated lathes relied on machine screws, accurately produced on lathes! Modern turning centres use even more accurate ball screws, these are actuated by motors controlled by a computer (PC or PLC - stands for Programmable Logic Controller, CNC stands for Computerised Numerical Control). This means we can take your CAD file and accurately produce it, and automate the cutting cycle.
What is a turning centre?
expand_less
expand_more
A turning centre gets even more versatile – part lathe, part mill. It has bar-stock in a spindle, so can produce a screw and thread, but also milling tools which can then make the hex-head, cut slots or drill holes.
Which is best milling or turning?
expand_less
expand_more
With a turning centre you get the best of both worlds, but a dedicated milling machine will still be most suitable for larger parts. The more cylindrical the part the better suited to a lathe, and you get access to outside diameter threading. Still not sure? If you upload your 3D design, we will quote for the most suitable or both lathe and mill and explain any trade-offs an threading options in 3D.
How does CNC turning work?
expand_less
expand_more
The components of a CNC lathe include: workpiece (1), sleeve (2), spindle (3), cutting tool and tool holder (4), live machining (5), and tool tower (6).
During the CNC turning process, a metal rod is rotated while a cutting tool is held against the stock to remove material and create final parts. The lathe rapidly machines your parts in a subtractive turning process with additional live tooling. Outside diameter (OD) and inside diameter (ID) threading is also available.
Turned parts can then be left as-machined, with visible tool marks, or bead blasted. When the run is complete, parts are inspected, boxed and shipped shortly thereafter.
Why use CNC turning for your project?
expand_less
expand_more
Protolabs' CNC machining service can deliver machined parts, in both plastic and metal, in less time than it takes to get a quote from other, more traditional machine shops. Upload a CAD file, choose the material and part quantity, and tell us when you need the parts. We also offer a number of CNC specific secondary services to support your project.
CNC material data sheets can be found in our Material Comparison Guide
How much does it cost to manufacture CNC machined parts?
expand_less
expand_more
There are 4 key factors that contribute to your parts, raw material, machine time, labour and speed.
It will be no surprise that some materials are more expensive than others, for metals, steel and aluminium are abundant and have the lowest raw material cost per kg whilst for plastics Acetal, Nylon, Acrylic and ABS tend to work out cheaper.
In the middle of the spectrum for metals you have more specialist aluminiums and stainless steels (containing expensive alloying elements) and for plastic glass-filled grades.
Things such as part complexity and material machinability play a factor here and of course the quicker you want something the more you are likely to pay, remember to compare costs like for like, considering both price and delivery.
What are the benefits of using a lathe?
expand_less
expand_more
The main benefit of CNC lathes is that they are computer-controlled machines and so are a more efficient use of time compared to manual lathes. They can produce parts faster and with less waste, and often to a higher accuracy. They are less prone to manual errors so you can be sure your design will be accurately reproduced.
As lathes rotate they are good for largely cylindrical (round) parts. The addition of live tools (spindles) makes them ideal for producing high-quality, complex metal parts.
They can be used to machine a wide variety of materials, including steel, aluminium, brass and titanium. In addition, CNC lathes can produce parts quickly. Here are some of the key features and benefits:
• Circularity (run-out): as the work-piece rotates a lathe is best suited to the production of cylindrical components, they will have a much more circular form than parts produced using milling or 3DP. This makes it great for shafts, guides, and pins for example.
• Precision: CNC lathes can produce parts with a high degree of precision. This is because the cutting tools are controlled by a computer, which can ensure that the parts are made to the exact specifications.
• Complexity: CNC lathes can be used to produce complex parts that would be difficult or impossible to make with traditional methods. This is because the computer can control the movement of the cutting tools in a very precise way. And multiple tools in different shapes are used.
• Speed: CNC lathes can produce parts very quickly. This is because the cutting tools can be moved at high speeds and the computer can control the cutting process very precisely.
• Versatility: CNC lathes can be used to machine a wide variety of materials. This includes metals such as steel, aluminium, brass and titanium.
• Efficiency: CNC lathes are very efficient. This is because they can produce parts quickly and with little waste.
• Cost-effectiveness: CNC lathes are a cost-effective way to produce metal parts. This is because they can produce parts quickly and with little waste.