Injection Moulding Tool Options for Plastic Parts
Choose from two moulding options tailored to your manufacturing needs
Injection moulding can provide a range of lifetime part volumes—from as few as 10 to more than 10 million. We're a low-volume manufacturer, typically producing 10 to 10,000+ parts from aluminium moulds. We provide two injection moulding service options. One is best suited for those who need smaller part quantities often associated with prototyping and the other a good fit for those who require larger part quantities common in low-volume production.
Prototyping or On-demand Manufacturing?
While the moulds themselves are similar, part quantities, lifetime maintenance, quality documentation, and pricing vary depending on which service option is chosen. The right one depends on your project needs.
Why Rapid Prototyping?
Reduce design risks
Test multiple designs simultaneously
Accelerate speed to market
Why On-Demand Manufacturing?
Manage demand volatility
Reduce total cost of ownership
Leverage cost-efficient bridge tooling
---
 
Prototyping
On-Demand Manufacturing
Objective
I need to validate my design at Protolabs speeds. I need the flexibility to economically iterate before production.
I have on-demand production needs at Protolabs speeds.
Best When

Completing design or material iterations, and assessing cost or manufacturability trade-offs
Key focus is to reduce design risk, increase R&D productivity, and iterate faster to reduce time to market.
Typical Quantities <2,000

Design is finalised and run-to-run part consistency is crtical.
Key focus is to improve quality, reduce cost and mitigate supply chain risk
Process development, qualification documentation, and mould capability information is required 

Mould Price
Lower
Higher
Part Price
Higher
Lower
Mould Cavities
Single
Single and multi-cavity
Guaranteed Mould Life
Limited (guaranteed for at least 2,000 shots)
Unlimited
Mould Storage
Stored for 18 months of inactivity
Stored for 3 years of inactivity
Mould Ownership
Upon request
Yes
Quality Documentation
Basic inspection reports available upon request

Scientific Moulding Process Development Report
In-Process CMM inspection of critical dimensions, including 9 GD&T symbols
First Article Inspection (CTQ)
30 Part Capability Study (CTQ)

Shared Features

Aluminium moulds
Standard lead time of 15 days or less
Tolerances of +/-0.08mm plus resin tolerance (mm./mm.)
Set-up fees apply to each production run 
Consultative Design Services (CDS)
Finishing Options
No minimum order quantities (MOQ)
Quick-turn shipping in as fast as 1 day
Not sure which manufacturing service is right for your project? You can get quotes for both to compare. Alternatively, contact one of our representatives on +44 (0) 1952 683047 to chat about your requirements.
---
On-demand Injection Moulding – Critical to Quality (CTQ)
Our on-demand injection moulding includes Critical to Quality (CTQ) inspection and measurement without affecting the rapid dispatch times that you have come to expect from us.
It means that you can have quality assured parts, complete with a First Article Inspection (FAI) report and a CTQ capability report, shipped in as little as one day.  This is something that normally takes days or even weeks of extra time from other suppliers.
This will help keep you ahead of the competition in the race to get your product to market.
How it works
All you need to do is send us your 3D CAD model and identify which features are critical to quality and measuring for verification as detailed below:
Send us a drawing of your model

Use up to 5 red circles to highlight critical features

Use blue circles to indicate features for reference only
Review your Inspection Statement of Work
Our engineering team will then review your model and email you an Inspection Statement of Work (ISOW), which lets you know if there are any tolerance or mouldability issues with any of the features that you have circled in red.
If we can meet these specifications for the red circled features, then the manufacturing process will continue as normal and you can expect your delivery to meet the schedule that you have set.  In the unlikely event that there are any issues with meeting your defined tolerances, then we will contact you and discuss what options are available.
We will also measure and record those features highlighted with a blue circle, but we will still deliver the parts without requiring approval if these tolerances cannot be met.
Final Parts Report
As soon as we have finished the moulding process development, we will inspect the first three shots from the tool using a coordinate measuring machine (CMM) and provide you with a FAI report.
We will then inspect another 30 parts taken at equal intervals from the production run and produce the CTQ capability report.
Key benefits of our CTQ service
Advantages of using this CTQ service
In process quality feedback at the press with no impact on lead time

Reduction in cost and time by eliminating in-house metrology

You get a dimensional report to validate samples

Critical design and material performance lessons for current and future iterations

Improved part accuracy and adherence to your specified critical dimensions.
If you want faster quality assured injection moulded parts then put us to the test now.
Geometric Dimensioning and Tolerancing (GD&T) in Injection-Moulded Parts
What is GD&T?
GD&T is an industry standard symbolic language used to communicate allowable geometric represents the evolution of the CTQ quality inspection process. When you submit a 3D CAD model, it gives us a strong indication of the specs for your part. GD&T takes it even further, providing us with specific features, such as position or flatness, that you would like us to measure. Specifically, you can provide us with the GD&T features listed below.
Position
In terms of the axis, point or plane, position defines how much variation a feature can have from a specified exact true location. The tolerance is a 2- or 3-dimensional tolerance zone that surrounds the true location where a feature must lie. This means that you will have an exact point where the position should be, and your tolerance specifies how far away the feature can be. This is usually called out as a diameter to represent a circular or cylindrical tolerance zone.
---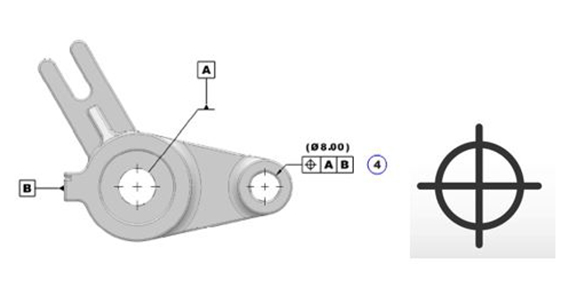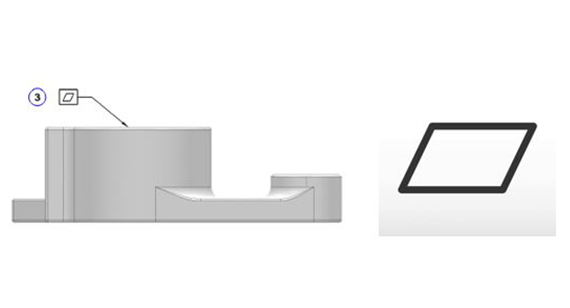 Flatness
This is a straightforward feature that measures how flat a surface is. It's important to note that this symbol references flatness of a surface regardless of other features or datums that might exist on the part. Defined by two parallel planes, this feature is useful to call out on features that need to be uniformly flat without adjusting other dimensions on the drawing.
---
Straightness
Straightness can be defined as either surface straightness or derived median line (DML) straightness. Surface straightness is the standard form and is used to verify uniform straightness across a feature or surface. This is often applied to flat features but can also be applied to cylindrical features. In both cases, this feature is defined by the variance of a surface within a specific line.
DML straightness differs from surface straightness, in that it applies to the bend of the central axis of a part, usually a cylinder.  In this case, DML becomes a 3-dimensional tolerance which defines how far the centre axis of a part may bend or twist.
---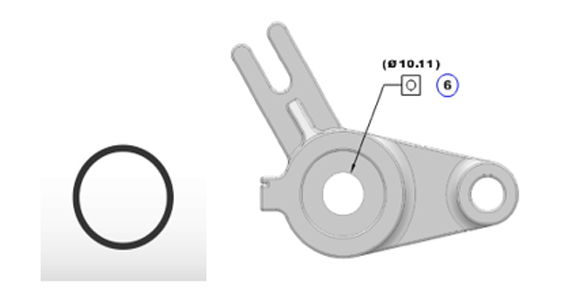 Circularity
Circularity, or roundness, defines the allowable variance between a circular feature and a true circle. This 2-dimensional tolerance defines the form of a circle, with the intent of verifying that the circle is not oblong, square, or otherwise out of round. Like flatness, circularity is measured independently from other features or datums.
---
Concentricity
Concentricity, or coaxiality, defines the central derived median points of a referenced feature to a datum axis. This feature is complex, because it relies on mathematically derived median points instead of the physical axis of a surface or feature.
---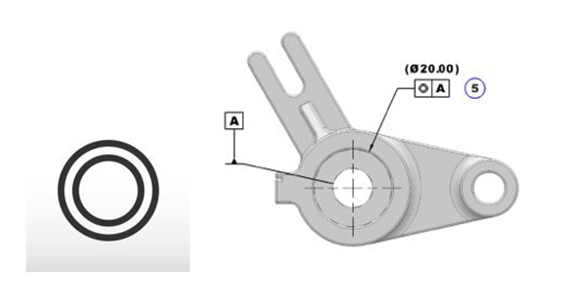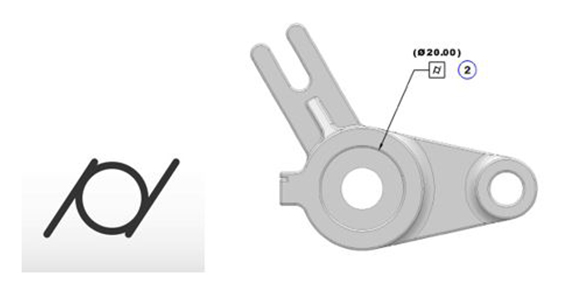 Cylindricity
Cylindricity defines how close an object conforms to a true cylinder. This 3-dimensional tolerance defines roundness and straightness of the overall form of a cylindrical feature. Once again, this is measured independently of any other datum, and forms a cylindrical boundary around the object that the 3-dimensional feature must lie in.
---
Parallelism

Parallelism describes the orientation of one referenced feature to a datum surface or line. This commonly relates the orientation of one surface plane parallel to another datum plane in a 3-dimensional tolerance zone. This effectively means that the tolerance controls the angle between 2 features by controlling where the surface can lie.
Perpendicularity

There are two types of perpendicularity: surface and axis. It is defined by how close to 90 degrees a surface or line is from a datum surface or line. In general, surface perpendicularity is used to verify orientation of a one surface plane perpendicular to the datum plane. Axis perpendicularity can be referenced for a circular feature, and defines the cylindrical boundary where the axis of the referenced feature must be.
Profile of a Surface
Profile of a surface defines a 3-dimensional tolerance zone, usually in the form of an advanced curve or shape. Thus, when a profile measurement is called out on a curved surface, such as a fillet, the entire surface of the radius must fall within the tolerance zone. In this case, any variance inside or outside of the tolerance must fall within the surface profile tolerance.
As we referenced at the beginning of this blog, the addition of these GD&T features to our automated inspection capabilities provides an added layer of transparency to the quality control process. If you would like us to inspect any of the previously mentioned features on your next project, simply reference our inspection overview, contact our applications engineers, or speak with your account manager.