Injection Moulding Quality Control and Standards
How we use digital processes, scientific moulding, and inspection reporting to manufacture quality parts consistently
Manufacturing analysis
Scientific moulding and process qualification
Critical to quality reporting
GD&T specifications
Producing high-quality injection moulded parts consistently requires a combination of in-process inspections and controls and dimensional verification after production. Designing a part with the manufacturing process in mind is the first step in ensuring a quality moulded part. That's why we provide design analysis with every injection moulding quote. Getting manufacturing analysis early in the moulding process can help eliminate costly redesigns, save development time, and take the guesswork out of the moulding process. Before placing an order, you'll know if your design requires any changes, get recommendations to improve its mouldability, and see other useful information to understand how the final part will be moulded.


Design for Manufacturing (DFM) Analysis
When requesting a quote through our online quoting system, you will receive manufacturing analysis and pricing. The first step in the digital manufacturing process can enable customers to test multiple designs simultaneously, thereby arriving to design validation sooner, which saves time in the development cycle.
How our manufacturing analysis can improve the quality of injection-moulded parts:
Identifies thick walls
Identifies features with insufficient draft
Select gate location
Select the ejector pin location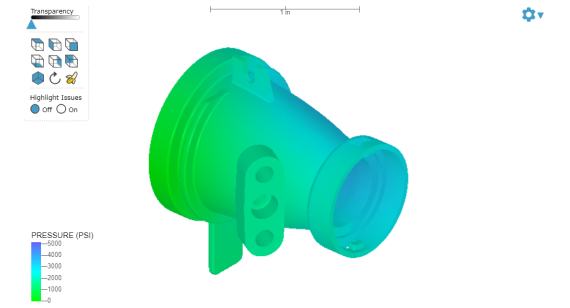 ---
Design Support from Injection Moulding Experts
Consultative Design Services: Work directly with an injection moulding applications engineer to improve the mouldability of your design. Think of it like having your very own injection moulding consultant on your team. During this process, our applications engineer will collaborate with you to understand your design goals, review the manufacturing analysis provided in your online quote, and make changes to the 3D CAD file.
Protolabs Proposed Revision (PPR): In some instances, we can provide a second CAD model to you—called a Protolabs Proposed Revision (PPR). This is a new CAD file with changes already made. The revised model can be used immediately or you can transfer the modifications to the original model. Following the DFM analysis, and, in some cases, the PPR, once the part has been approved, Protolabs moves into the final step before actual production—the digital preparation.
---
---
Scientific Moulding: Consistently Delivering Quality Parts
We use scientific, or decoupled injection moulding process to manufacture consistent, repeatable parts for our injection moulding customers. We develop, optimise, and document the ideal set up process for each injection moulding project so that the same process and parameters are followed for every single run of a customer's mould. Any modifications are documented to provide traceability across molding runs.
Whether the part will be run again or on a different injection moulding press, or if it will be ordered once several months later, scientific moulding ensures part-to-part and run-to-run consistency by documenting the exact process  used to set up the tool in order to meet the particular resin needs and dimensional requirements.
By following these industry best practices we can ensure that each part has the same properties as the previous part, by controlling fill, pack, and hold. This results in two key benefits for our customers: more consistent parts that are higher quality and inspection reports for qualification.
---
Our Critical to Quality (CTQ) Capability Report
Critical to quality (CTQ) reporting is a feature of our inspection process that allows you to identify up to five critical features or dimensions of importance to your part functionality and performance. It is included for all on-demand manufacturing mould orders. Customers receive both a first article inspection report and a 30-piece capability report. Simply put, our CTQ process allows you to identify aspects that are most critical to your parts and those that are of secondary importance, ensuring that the parts you order are consistent with your model.
Our CTQ report provides you with:
In-process quality feedback at the press with no impact to lead time
Reduction in cost and time by eliminating in-house measurements
A dimensional report to qualify samples
Critical design and material performance lessons for current and future iterations
Improved part accuracy and dimensional adherence on customer-specified critical dimension(s)

We offer the following GD&T features as part of our CTQ process:
Position
Flatness
Straightness
Circularity
Parallelism
Perpendicularity
Concentricity
Cylindricity
How are Part Dimensions Measured? 
We use industry standard coordinate-measuring machines (CMM)—calipers and pin guages—just as you would expect from an industry leading manufacturing partner. What differentiates our process is that we've applied patented automation technology to our CMMs to enable in-process inspection with no additional cost or lead time.
Parts are measured at an equidistant cadence of n/30 where n = total part order quantity. Along with the measurement data from each part, the Capability Report will also provide the average measurement, standard deviation, and a Process Capability Index (Cpk) value for all critical dimensions. 
---
---
Additional Quality Capabilities
Production Part Approval Process (PPAP)
PPAP is a quality inspection process typically used in the automotive industry. The method is used to verify that a production process can reliably produce a quality part repeatedly. There are 18 components to a PPAP inspection that range from customer approval to sample part production.
---