Selective Laser Sintering
Order custom SLS parts suitable for rapid prototyping and end-use production.
Selective laser sintering (SLS) is an industrial 3D printing process that produces accurate prototypes and functional production parts in as fast as 1 day. Multiple nylon-based materials and a thermoplastic polyurethane (TPU) are available, which create highly durable final parts that require heat resistance, chemical resistance, flexibility, or dimensional stability. With SLS 3D printing, no support structures are required making it easy to nest multiple parts into a single build and an economical solution for when higher volumes of 3D-printed parts are required.
Common uses for selective laser sintering are:
jigs and fixtures
housings
snap fits and living hinges
---
Compare Material Properties
Material
Colour
Tensile Strength
Tensile Modulus
Elongation
PA 12 Smooth White
(PA 650)
White
50 MPa ± 4 MPa
2000 MPa ± 200 MPa
11% ± 4%
PA 12 Vapour Smooth White
White
 
 
 
PA 12 - Glass Filled Smooth White
White
50 MPa ± 4 MPa
3600 MPa ± 400 MPa
5% ± 2%
PA 12 - Carbon Filled Smooth Black*
Black
85 MPa ± 5 MPa
8300 MPa ± 400 MPa
3.2% ± 2%
PA 12 Flex Pure Black
Black
50 MPa ± 4 MPa
2000 MPa ± 200 MPa
17% ± 4%
TPU-88A Pure*
Black
20 MPa ± 5 MPa
 
520% ± 50%
* X plane
These figures are approximate and dependent on a number of factors, including but not limited to, machine and process parameters. The information provided is therefore not binding and not deemed to be certified. When performance is critical, also consider independent lab testing of additive materials or final parts.
---

Material: PA12 40% Glass-Filled (PA614-GS)
Resolution: Normal (0.004 in. layer thickness)
Finish: Standard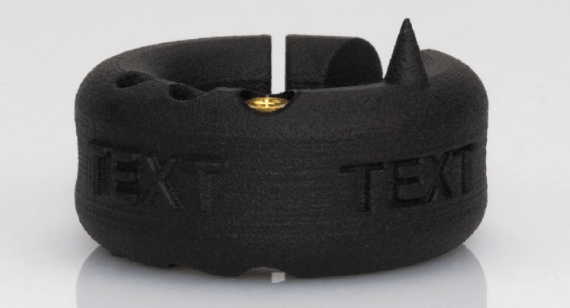 Material: PA11 Black (PA850)
Resolution: Normal (0.004 in. layer thickness)
Finish: Standard