Liquid Silicone Rubber Injection Moulding
Get custom silicone rubber parts within days.
Our liquid silicone rubber (LSR) moulding process produces custom prototypes and end-use production parts in 15 days or less. We use aluminium moulds that offer cost-efficient tooling and accelerated manufacturing cycles. What's more, we stock various grades and durometers of LSR materials.
Common applications for silicone rubber moulding:
low-volume production
bridge tooling
pilot runs
functional prototyping
Liquid Silicone Rubber Materials
Standard Silicone (30, 50, 60, and 70 durometers)
Dow Corning MS-1002 Clear
Dow Corning MS-4002 Optical Clear
Surface Finish Options
| Finish | Description |
| --- | --- |
| PM-F0 | non-cosmetic, default |
| PM-F1 | low-cosmetic, most toolmarks removed |
| SPI-C1 | 600 grit stone, 10-12 Ra |
| PM-T1 | SPI-C1 + light bead blast |
| PM-T2 | SPI-C1 + medium bead blast |
| SPI-A2 | grade #2 diamond buff, 1-2 Ra |
---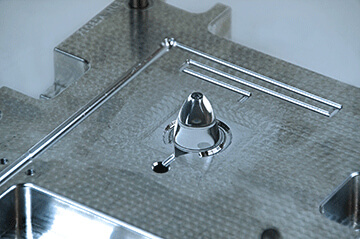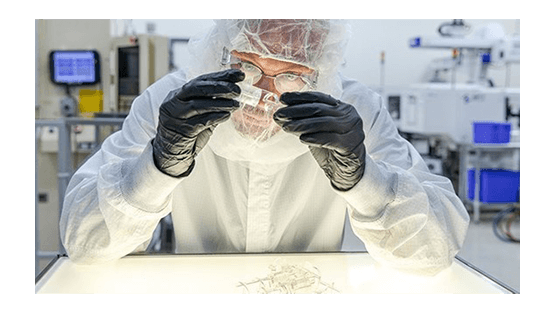 Quality Inspections and Finishing Options
Depending on your application's requirements, you can choose from the following when requesting a quote for your silicone rubber parts.
Quality Inspections available for on-demand manufacturing orders
Designing for Manufacturability (DFM) Feedback 
Scientific Moulding Process Development Report
In-process CMM inspection and machine monitoring
First article inspection (FAI) and process capability report with GD&T
---
Learn More About Liquid Silicone Rubber Moulding
---
About Liquid Silicone Rubber
What is liquid silicone rubber moulding?
expand_less
expand_more
Liquid silicone rubber moulding is a thermoset process that mixes a two-component compound together, which is then heat cured in the mould with a platinum catalyst to produce a final LSR part.
Why choose liquid silicone rubber moulding for your project?
expand_less
expand_more
Liquid Silicone Rubber has excellent thermal, electrical, and chemical resistance properties, although it can be attacked by certain solvents such as gasoline or mineral spirits, which is why it can be used in high-temperature automotive applications but not for fuel lines. And it has low compression set—low permanent deformation when a force is applied and removed—making it ideal for elastomers. This allows for faster and most cost-effective tooling when compared to traditional steel moulds. We offer a number of additional secondary services to support your project.
How does liquid silicone rubber moulding work?
expand_less
expand_more
From left to right, the components of a silicone rubber injection moulding press include: ram (1), screw (2), silicone rubber part A (3), silicone rubber part B (4) mixer (5), barrel (6), chilled silicone rubber (7), nozzle (8), heated mould (9). and thermoset part (10)
Due to the flexible nature of LSR, parts are manually removed from the mould, and thus, ejector pins are not built into the mould design. Like a standard aluminium tool, an LSR moulding tool is fabricated using CNC machining to create a high-temperature tool built to withstand the LSR moulding process. After milling, the tool is polished by hand to customer specifications, which allows six standard surface finish options.
The finished tool is loaded into an advanced LSR-specific injection moulding press that is precision geared for accurate control of shot size to produce the most consistent LSR parts.
Since LSR is a thermosetting polymer, its moulded state is permanent—once the rubber mould set, it can't be melted again like a thermoplastic. When the run is complete, parts (or the initial sample run) are boxed and shipped shortly thereafter.
For more information on liquid silicone rubber (LSR) moulding process to help you improve your LSR moulded parts, read our LSR white paper.
---
Rapid injection moulding works best for on-demand production, bridge tooling, pilot runs, and functional prototyping. Our affordable aluminium moulds and quick turnaround times help reduce design risks and limit overall production costs.
---
Watch an initial concept for a product move from sketch to 3D CAD model to final part. Once a design is uploaded at Proto Labs, we provide an interactive quote with real-time pricing information and manufacturability feedback within hours. Product designers and engineers can choose from various injection moulding, CNC machining and 3D printing manufacturing processes — all built to produce quick-turn parts in as fast as 1 day.
---