Injection molding can provide a range of lifetime part volumes—from as few as 10 to more than 10 million. We're a low-volume manufacturer, typically producing 10 to 10,000+ parts from aluminum molds. We provide two injection molding service options. One is best suited for those who need smaller part quantities often associated with prototyping and the other a good fit for those who require larger part quantities common in low-volume production.
Prototyping or On-demand Manufacturing?
While the molds themselves are similar, part quantities, lifetime maintenance, quality documentation, and pricing vary depending on which service option is chosen. The right one depends on your project needs.
 
PROTOTYPING
ON-DEMAND MANUFACTURING
OBJECTIVE
I need to validate my design
I need the flexibility of on-demand production of end-use parts
BEST WHEN

Lifetime volumes are likely below 2,000 parts
An affordable entry point for tooling is important
Part production is only needed for 1 year or less

Lifetime volumes exceed 2,000 parts
Lower part price is critical
Part production is needed for several years

MOLD PRICE
Lower
Higher
PART PRICE
Higher
Lower
MOLD CAVITIES
Single
Single and multi-cavity
GUARANTEED MOLD LIFE
Limited (guaranteed for at least 2,000 shots)
Unlimited
MOLD STORAGE
Stored for 18 months of inactivity
Stored for 3 years of inactivity
MOLD OWNERSHIP
Upon request
Yes
QUALITY DOCUMENTATION
Basic inspection reports available upon request
Basic inspection reports included; enhanced reports available upon request
SHARED FEATURES
Aluminum molds
Standard lead time of 15 days or less
Tolerances of +/-0.003 in. plus resin tolerance (in./in.)
Set-up fees apply to each run 

Why Rapid Prototyping?
Reduce design risks
Test multiple designs simultaneously
Accelerate speed to market
Why On-Demand Manufacturing?
Manage demand volatility
Reduce total cost of ownership
Leverage cost-efficient bridge tooling
Piece-Part Price Comparison
This chart shares the potential cost savings you can achieve with on-demand manufacturing for molded parts with varying levels of complexity.
PART COMPLEXITY
SIMPLE
MEDIUM
HIGH
EXTENTS
1 in. x 1 in. x 0.65 in.
3.5 in. x 2.5 in. x 1 in.
4.2 in. x 4.2 in. x 2.9 in.
PART VOLUME
0.16 in.³
2.73 in.³
7.31 in.³
PIECE-PART PRICING

PROTOTYPE
SINGLE-CAVITY MOLD

$1.50
$2.45
$7.50

ON-DEMAND MANUFACTURING SINGLE-CAVITY MOLD

$1.00
$1.70
$5.30

ON-DEMAND MANUFACTURING
MULTI-CAVITY MOLD

$0.40
$0.85
$2.00
Note that this is just an example of parts to illustrate the potential piece-part price savings offered by on-demand manufacturing.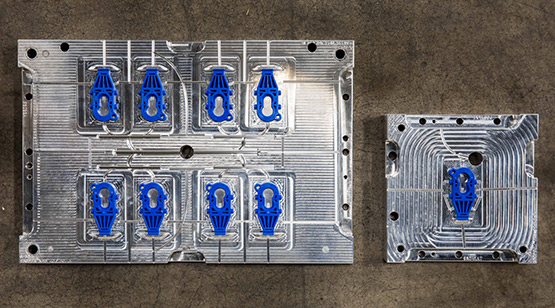 ---