CNC Machining for PEEK Parts
PEEK parts are high-temperature engineering thermoplastics that maintain excellent flexural, impact, and tensile characteristics
Get A Quote
Using PEEK materials (chemically known as polyetheretherketone) is ideal for a wide spectrum of CNC machining applications where thermal, chemical, and combustion properties are critical to performance. 
Whether in a sheet, rod, tube, or film, PEEK is a high-performance material that can be cut to size and used for a variety of CNC machining projects.
PEEK Material Properties
|   | Tensile Strength | Impact Strength | Tensile Modulus | Flammability | Heat Deflection |
| --- | --- | --- | --- | --- | --- |
| PEEK | 14,000 PSI | 1.55 ft-lbs/in | 522,100 | V-O | 285-482° F |
---
Benefits of PEEK Machining
The primary benefit of PEEK is its ability to retain its flexural and tensile properties at extremely high temperatures. It maintains those required properties when exposed to temperatures in excess of 482 degrees F. When glass fiber or carbon fiber reinforcements are added, that significantly enhances the mechanical and thermal properties of PEEK material.
Outstanding flexural, tensile, and impact characteristics
Substantial continuous working temperature
High continuous working temperature
High heat distortion temperature
Strong chemical resistance
Superior dielectric at high temperatures and frequencies
Exceptional radiation resistance
Excellent wear and abrasion resistance
Low emissions of smoke and toxic gas
Strong hydrolysis resistance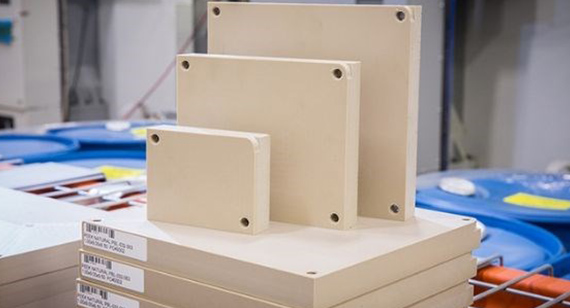 ---
PEEK Machining for Industrial Applications
Due to PEEK's exceptional property profile, it is used in many critical areas throughout the generalized industry. PEEK materials are featured prominently within the automotive, medical, electronics, marine, nuclear, construction, transportation, sign and lighting, mining, manufacturing, pharmaceutical, earth moving equipment, energy and power, and aerospace fields.
PEEK materials have proven to be a highly popular plastics material throughout the industrial world, due to its proven resistance to wear, heat, and radiation, as well as its low levels of flammability, and low smoke and toxic gas emissions.
Example parts include:
Bearings
Thrust washers and seals
Piston parts
Semiconductor fabrication
Pumps
Compressor plate valves
Cable insulation
Ultra-high vacuum applications