CNC Machining for Stainless Steel Parts
Stainless steel parts provide excellent machinability, workability, and uniformity, and are resistant to corrosion and oxidation
Get A Quote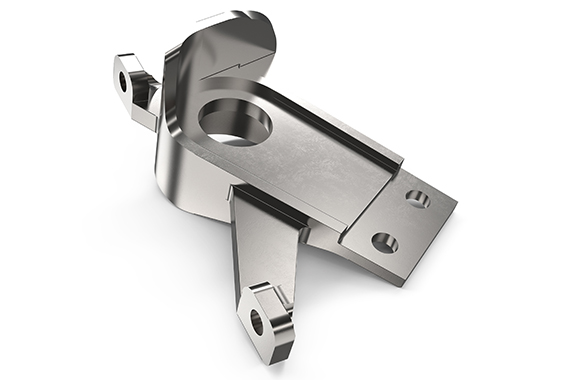 Stainless steel is well-suited for a wide array of CNC machining projects, due to its excellent machinability and outstanding uniformity. It also has good workability and weldability to match your specific machining needs, as well as high ductility and formability to meet the specification requirements of any project.
Because of its advantageous physical properties, stainless steel has proven to be one of the more popular industrial alloys for CNC machining projects. The metal has a very high tensile strength, and has high resistance to corrosion and wear, resulting in added product durability and part longevity.

Compare Stainless Steel Alloys
We offer a variety of stainless steel options to suit any specifications or requirements. Stainless Steel 304/304L and 316/316L as well as Stainless Steel 303 and Type 360 (17-4) have all proven to be high-quality options for CNC machining projects that require either milling or turning. Check out our material comparison guide for more information.
|  Stainless Steel Alloy |  Ultimate Tensile Strength | Elongation  | Hardness  |
| --- | --- | --- | --- |
| Stainless Steel 303 | 100 kpsi | 40% | 96 HRB  |
| Stainless Steel 304 | 73 kpsi | 70% | 70 HRB |
| Stainless Steel 316 | 84 kpsi | 50% | 79 HRB |
| Stainless Steel 17-4PH | 150 kpsi | 8% | 33 HRC |
Stainless Steel Machining Applications
CNC machining of stainless steel is used to produce a variety of parts in the medical industry, robotics, food and beverage industry, aerospace, and any industry that requires high-strength applications. Stainless steel is an ideal material for applications such as:
Medical instruments
Machine parts
Gears
Parts for tractors
Heavy construction equipment
Vacuum and pressure vessels
Stainless steel provides excellent machinability, outstanding uniformity, and is corrosion and oxidation resistant, leading to longer product life and lower total cost of machined parts.
Designed to exhibit improved machinability
Non-magnetic austenitic stainless steel
Corrosion-resistant properties
Resistant to oxidation

Benefits of Stainless Steel Type 360 (17-4)
Precipitation-hardening martensitic stainless steel
Superior corrosion resistance
High strength in all conditions
Good machinability