ABS Injection Molding
High heat resistance, strength, durability, and low cost make ABS a versatile material for plastic parts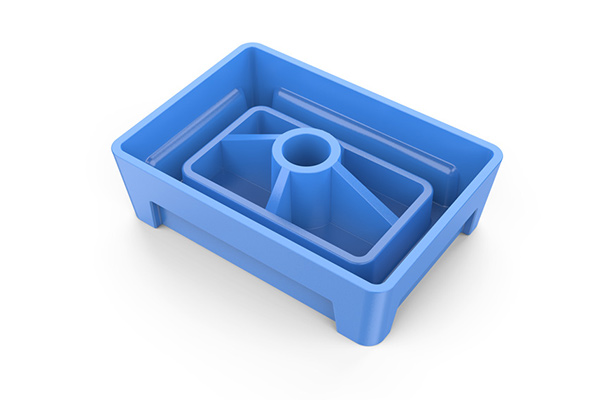 Our injection molding ABS materials are opaque thermoplastics available in black and natural color options. The best material option will depend on your specific project needs. We offer various grades of ABS for injection molding, including:
Polylac
Cycolac
Lustran
RTP
ABS Molding Design Guidelines
| | |
| --- | --- |
|   |   |
|  Maximum Part Size |  18.9 in. x 29.6 in. x 8 in. (480mm x 751mm x 203mm) |
|  Maximum Volume |  59 cu. in. (966,837mm) |
|  Recommended Wall Thickness |  0.045 in. - 0.140 in. (1.143mm - 3.556mm) |
|  Tolerances |  +/- 0.003 in. (0.08mm) with an included resin tolerance that can be greater than but no less  than +/- 0.002 in./in. (0.002mm/mm) |
---
Compare Material Properties of ABS Materials
Acrylonitrile butadiene styrene (ABS) is a tough, impact-resistant plastic. Its low shrink, high dimensional stability, and good resistance to corrosive chemicals make it a versatile option used across a variety of industries. ABS has a glass transition temperature of approximately 221 °F (105 °C) and is an amorphous polymer, meaning it has high temperature resistance and no true melting point.
 
Tensile Strength
ASTM D648

Elongation
ASTM D648

Hardness (R-Scale)
ASTM D785

Heat Deflection
Data Sheet
Polylac PA-746
40.6 MPa
30%
118
82. 0 C - 96.0 C
View PDF
Polylac PA-765
38.1 MPa
15%
100
73.0 C - 83.0 C
View PDF
Cycolac MG47
44.0 MPa
15%
112
80.0 C - 94.0 C
View PDF
Lustran 433
42.1 MPa
30%
109
85.0 C - 99.4 C
View PDF
Lustran PG298
40 MPa
30%
110
84.0 C - 94.0 C
View PDF
Lustran 348
48.3 MPa
25%
112
84.0 C - 92.0 C
View PDF
RTP 605 (30% GF)
97 MPa
1% - 2%
N/A*
93 C
View PDF
*Resin has not been tested for this property
---
---
Key Benefits of Our ABS Grades
We offer several grades of ABS to meet the needs of applications in a variety of industries, including medical and automotive.
Polylac PA-746
Flame Rated
RoHS Compliant
High Flow
Impact Resistant
Polylac PA-765
Flame Retardant
RoHS Compliant
High Flow
Cycolac MG47
Multi-purpose
Balance properties
Lustran 433
High impact resistance
High Gloss 
UL 94 HB rated
Lustran PG 298
SAE J1685: ABS0111
Plating grade
Outstanding plate adhesion
Increased scratch resistance
RTP 605 (30%GF)
Glass filled
High tensile strength
Stiffness
Lustran 348
Healthcare certifications
High gloss
Meets FDA modified ISO 10933-1 requirements
Meets U.S. Pharmacopeia 23 Class VI test requirements
UL Classification 94HB
---
ABS is a versatile thermoplastic often used in automotive, medical device, and consumer applications.
ABS Injection Molding Applications
The material properties of ABS make it a good choice when impact resistance, strength, and stiffness are required. A few key applications include:
Cosmetic parts
Enclosures
Handheld devices
Housings for electrical tools, remote controls, computers, and telephone components
ABS is also widely used in prototyping because it is relatively inexpensive and has excellent dimensional stability for product testing.