ABS Injection Moulding
High heat resistance, strength, durability, and low cost make ABS a versatile material for plastic parts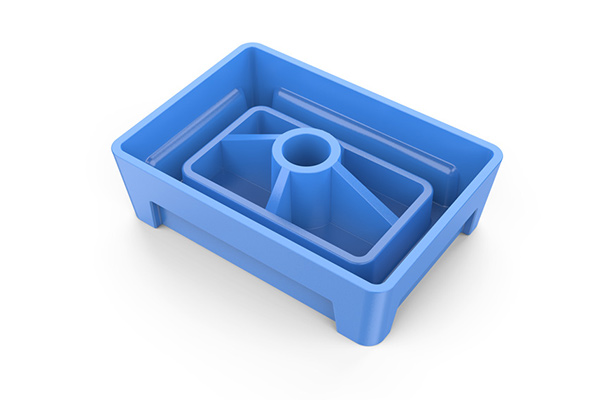 Our injection moulding ABS materials are opaque thermoplastics available in black and natural colour options. The best material option will depend on your specific project needs. We offer various grades of ABS for injection moulding, including:
Polylac

PA-717C Black
PA-727 Natural
PA-758 Clear
PA-765 Natural/ Black
PA-717C White

Novodur HD 15 ABS (Natural)
Bayblend

Baylend FR3010 Black
Bayblend T65 XF Black
Bayblend T65 XF Natural
Bayblend FR3010 Natural
---
ABS Moulding Design Guidelines
 
 
 Maximum Part Size
 480mm x 980mm
 Depth
 101mm from parting line with 3° of draft

 Up to 208mm of the part
 Maximum Volume
 966,837mm³
 Recommended Wall Thickness
 1.143mm - 3.556mm
 Tolerances

Protolabs can maintain a machining tolerance of +/- 0.05mm. Depending on the material selected the resin tolerance can be as accurate as 0.002mm/mm. The resin tolerances of all thermoplastic materials are now visible on your quotes.
---
Compare Material Properties of ABS Materials
Acrylonitrile butadiene styrene (ABS) is a tough, impact-resistant plastic. Its low shrink, high dimensional stability, and good resistance to corrosive chemicals make it a versatile option used across a variety of industries. ABS has a glass transition temperature of approximately 105 °C and is an amorphous polymer, meaning it has high temperature resistance and no true melting point.
 
Tensile Strength
ASTM D638/ ISO 527
Elongation
ASTM D638/ ISO 527

Hardness (R-Scale)
ASTM D785

Heat Deflection
ISO 75-2/A
Data Sheet
Polylac PA-717C
42.1 MPa
30%
115
82°C
Data Sheet
Polylac PA-727
45.06 MPa
40%
113
87°C
Data Sheet
Polylac PA-758
39.7 MPa
40%
107
77°C
Data Sheet
Polylac PA-765
38.1 MPa
15%
100
74°C
Data Sheet
Novodur HD 15 ABS (Natural)
48 MPa
10%
 
99°C
Data Sheet
Bayblend FR3010 Black/ Natural
60 MPa 
>50%
 
100°C
Data Sheet
Bayblend T65 XF Black / Natural
54 MPa
>50%
 
122°C
Data Sheet
---
Material Alternatives for Plastic Injection Moulding
Navigating supply chain issues is a constant challenge, especially in times of material shortages. To help, we created a detailed guide to resin substitutes for commonly moulded thermoplastics.
Read More
---
Key Benefits of Our ABS Grades
We offer several grades of ABS to meet the needs of applications in a variety of industries, including medical and automotive.
Polylac PA-717C Black
Medium Impact Resistance
RoHS Compliant
Polylac PA-758 Clear
Clear/ Transparent
RoHS Compliant
Bayblend FR3010 Black / Natural
Flame Retardant
Improved chemical resistance and stress cracking behaviour
Increased Heat resistance
Polylac PA-765 Black / Natural
Flame Retardant
RoHS Compliant
High Flow
Bayblend T65 XF Black / Natural
Novodur HD 15 ABS Natural
Sterilisable
Well-balanced mechanical properties
Excellent chemical and stress cracking resistance
---
ABS is a versatile thermoplastic often used in automotive, medical device, and consumer applications.
ABS Injection Moulding Applications
The material properties of ABS make it a good choice when impact resistance, strength, and stiffness are required. A few key applications include:
Cosmetic parts
Enclosures
Handheld devices
Housings for electrical tools, remote controls, computers, and telephone components
ABS is also widely used in prototyping because it is relatively inexpensive and has excellent dimensional stability for product testing.