Injection Molding for Polypropylene (PP) Parts
Thermoplastic polymer is used in packaging of consumer products and plastic components
Get A Quote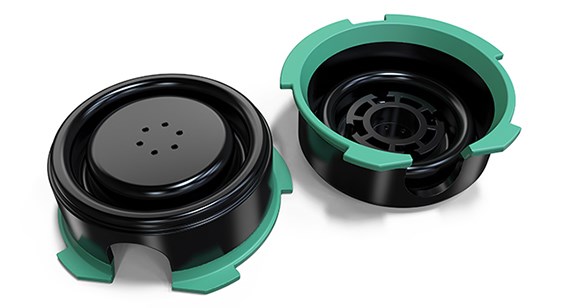 Polypropylene (PP) is a thermoplastic addition polymer, which is used predominantly in injection molding applications. PP is inexpensive and easy to access, and due to its semi-crystalline property it possesses a high flexural strength.
Key Benefits: PP is resistant to moisture absorption, and has a very slippery surface that makes it a good substitute for other plastics in a variety of low-friction applications. Polypropylene's properties are similar to polyethylene, but PP is slightly harder and more heat resistant.
---
Compare Properties of Molded Polypropylene
We offer numerous polypropylene options available for injection molding applications, each with their own distinctive qualities.
 
Tensile Strength
ASTM D638
Elongation
ASTM D638
Flexural Modulus
ASTM D790A
Heat Deflection
ASTM D648
Key Attributes
Pro-fax 6323
4,930 psi
11%
210,000 psi
199.0 F

General purpose
Stress-crack resistant

Pro-fax SG702
2,900 psi
6%
150,000 psi
180.0 F

High impact resistance
Automotive

Pro-fax 6523
4,790 psi
12%
200,000 psi
190.0 F

Good stiffness
Food containers

Pro-fax PD702
4,500 psi
12%
170,000 psi
190.0 F

Dimensional stability
Good processability

FHR P5M6K-048
3,900 psi
11%
153,000 psi
183.0 F
---
Polypropylene Uses
Polypropylene is featured in an array of injection molding applications, including the packaging of consumer products as well as being regularly used in plastic components in the automotive industry. Because of its relatively low density and weight, polypropylene can also be used in a variety of molded PP products such as:
Children's toys
Sporting goods
Caps
Closures
Automotive applications
Food trays
Cups and to-go containers
Household goods and appliances like dishwashers
To learn more about all materials we offer, check out our material comparison guide. And, read our new white paper exploring material alternatives for plastic injection molding.
---
Related Resources