Delrin (POM) Injection Moulding
Delrin is a high strength material with excellent wear resistance
Get Delrin Parts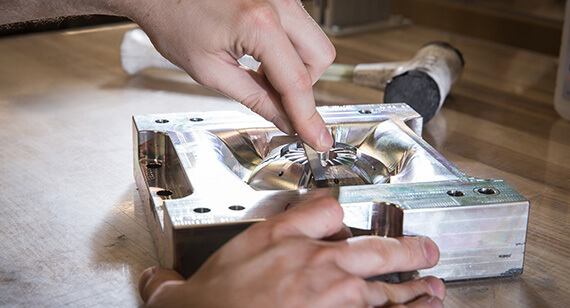 Injection-moulded Delrin (POM) offers high-tensile strength, low-friction and high-wear resistance, creep and warp resistance, and overall durability and toughness. It's a high-performance material for parts that will be in harsh environments or experience heavy wear.
The Main Benefits of Delrin (POM):
Dimensional stability
Superior impact and creep resistance
High fatigue endurance
High strength and stiffness properties

Chemical resistance to fuels and solvents
Low moisture absorption
Good wear and abrasion properties
Natural grade is FDA compliant
---
Delrin Material Properties
 
Tensile Modulus
ISO 527-2

Tensile Strain (Yield)
ISO 527-2

Rockwell Hardness
ISO 2039-2

Heat Deflection
ISO 72-A/B
Data Sheet
Delrin 500P
3,100 MPa
17%

M-Scale: 90
R-Scale: 120

0.45 MPa, Unannealed: 162 °C
1.8 MPa, Unannealed: 96 °C
VIEW PDF
---
Grab a Design Cube
Want to learn more about injection moulding? Sign up to receive a Design Cube. This physical aid demonstrates how to properly design features commonly found on moulded parts.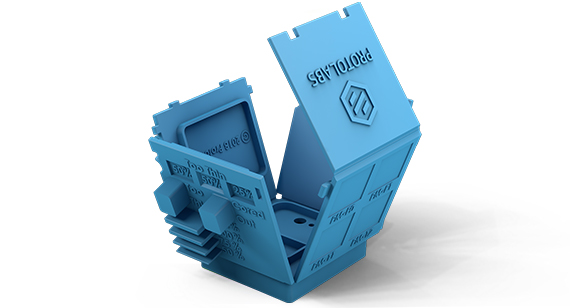 ---
Uses for Moulded Delrin Parts
The robust mechanical properties of Delrin makes it a good material choice for parts that are in moist or wet environments and high wear applications. In many cases, it can be used as an alternative to metal.
Typical parts include:
Pump and valve components
Gears
Bearings
Bushings
Fittings
---
Related Resources