Secondary Services
Your masterclass in product design and development
Protolabs' Insight video series
Our Insight video series will help you master digital manufacturing.
Every Friday we'll post a new video – each one giving you a deeper Insight into how to design better parts. We'll cover specific topics such as choosing the right 3D printing material, optimising your design for CNC machining, surface finishes for moulded parts, and much more besides.
So join us and don't miss out.
Insight: Secondary Services
Transcript
Hello and welcome to this week's masterclass. 
Over the last few weeks we've covered all sorts of advice and tips about injection moulding, 3D printing and CNC machining.
In this video we're going to explore some of the extra services that your supplier should provide to help you meet specific project requirements. It's well worth asking them how else they can help you.
Now, let's put together a checklist of what you might expect.
Let's start with something that you may need to provide your customer with: proof that your product or parts meet their exacting standards. Increasingly quality control is demanded right down the supply chain and you should expect the same from your suppliers.

You need to know that the parts that you designed on your CAD is what you get back. Can your supplier provide the documentation to prove it? Not just to you but to your customer?
I am sure that you expect a quality inspection report as standard, but you may need more than that. Ask them how they measure the co-ordinates of your parts.  Do they use callipers, 3D laser scanning or a co-ordinate measurement machine?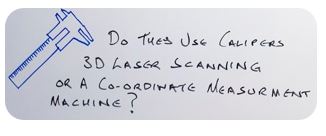 And ask what reports they can produce, especially if you need this for your customers. For example, can they put together a Part Approval Process Package for you?
Above all ask the questions about quality control processes and documentation.  If nothing else it will provide proof and help you sleep at night.
Next on the list – can they help you with any post production operations? You might want to get them involved in some sub assembly, heat staking or ultrasonic welding. You may be surprised at what they can do.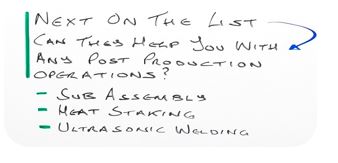 For number three on our list, there are some features on a finished part that might need adding after injection moulding or CNC machining. For example I'm talking about drilling and tapping holes and threads.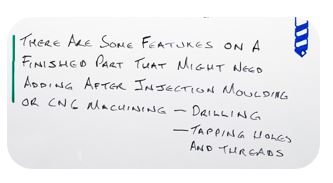 And now for number four. Technology changes and constantly moves the boundaries of what is possible. If you've watched the other insight videos from this series, you will know that I have talked about the best way to design your parts for injection moulding manufacturability and I stand by that.  But what if you really must have that complex part?
Well, as I've said, things evolve. So check with your supplier what their limits are. Some suppliers will have a specialist team that can push the boundaries for you.
By the way, most of the time it's best if you tweak your design to make it more suitable for manufacturing. This way usually saves a lot of cost and heartache.
There are of course other options for that impossible part – most notably 3D printing. You can 3D print with a wide range of materials, both plastic and metal. One of the great things is that as a designer you can explore and create geometries that go beyond the limits of other processes.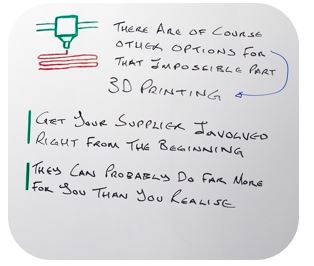 This brings me neatly onto my next point. If you are 3D printing a part then think about the finish.  If you need a smooth surface finish, ask your supplier how and if they can achieve this.
Appropriately, my final few points are all to do with finishing.  We've covered 3D printing, but what about injection moulding? What finishes are available from the mould?  Your supplier should be able to provide a number as standard from unfinished to a high polish, or perhaps even a texture.
If you want something a bit special, then laser texturing offers features that were until recently unavailable, such as multiple gloss levels, haptic touch features, the elimination of paint and optimised scratch performance. Other processes such as chemical texturing or engraving can produce carefully designed textures and finishes without seams or distortion.
The number of different finishes for injection moulded parts is growing rapidly, so have that conversation and you may find out that what was unachievable a few months ago, is now possible. 
There are also a number of different surface finishes for other parts or assemblies. Think about grinding, polishing, painting and varnishes. You might want aluminium parts anodized for hardwearing protection or aesthetics, or if you want to retain its conductivity then chromate conversion coating may be a better choice.
I could go on, but the lesson from all of this is to get your supplier involved right from the beginning.  They can probably do far more for you than you realise.
So, ask them: what else can you do for me?
Right that's it for this week. I look forward to seeing you again next Friday.
With special thanks to Natalie Constable.
---