Small Robot Company
Protolabs climbs aboard the fourth agri-revolution
The Small Robot Company is revolutionising farming. The company's autonomous, precision agri-robots are the 21st century answer to a 21st century problem: the UN says that the world must produce 70% more food by 2050, without using more land or destroying more ecosystems.  
Using tractors and other similar machinery is no longer the best way to address this vital challenge. The raw technology already exists which could produce food more cheaply, more accurately and with less waste. Autonomous robotic farming is already a familiar sight across parts of our agricultural landscape, from fruit picking robots to driverless sprayers, but the advancements by Small Robot Company are uniquely born out of a collaboration between farmers, professors, service designers and engineers. Their work combines the cutting edge of robotics technology and artificial intelligence, creating a new model for regenerative and profitable farming – Per Plant farming – where the Tom V4 robot stands above all others.  
This is the story of how Protolabs, the world-leading digital manufacturer, supported the development and creation of such game-changing hardware.  
"The Protolabs quoting platform is always really quick and we also get manufacturing feedback from them. The system automatically details any issues which means that we can address those issues before anything goes out for manufacture. That's really handy and it's so easy to upload a file." 
Rhian Griffith, Mechanical Engineer at Small Robot Company 
The product 


The Tom V4 is a scanning robot which scans the crop at a level of detail that identifies individual plants, gathering data on plant and weed distribution to determine the optimum treatment path. This information, via a 'Per Plant' approach, is used to inform variable rate fertiliser applications and to spot-apply herbicides through nozzle control and sectional control sprays. 
Small Robot Company currently has five manufactured and functioning Tom V4s, which as well as providing a technological service to farming businesses, also serve as a jumping off point for further advancements in agri-robotics.
As described by Rhian Griffith, Mechanical Engineer at the company: "We built the first Tom V4 in the Summer of 2021 which was our alpha prototype, a proof of concept robot. Whilst highly advanced, it's a modular driving platform that can be used as a base for any of our future robots. The two parts manufactured by Protolabs – the SSD mount and the steering actuator cap – are components on this platform and will continue to serve the robot as it advances through its various iterations in the years to come. The core driving platform would remain, whether the robot is further developed for tasks other than scanning, such as planting or herbicide spraying. This flexibility, designed within the robot, whether looking at individual parts such as those made by Protolabs, or looking at the robot as a whole, is vital to its success and endurance." 
Currently, the robot has a core driving platform with a deployable boom that houses a camera system for crop scanning.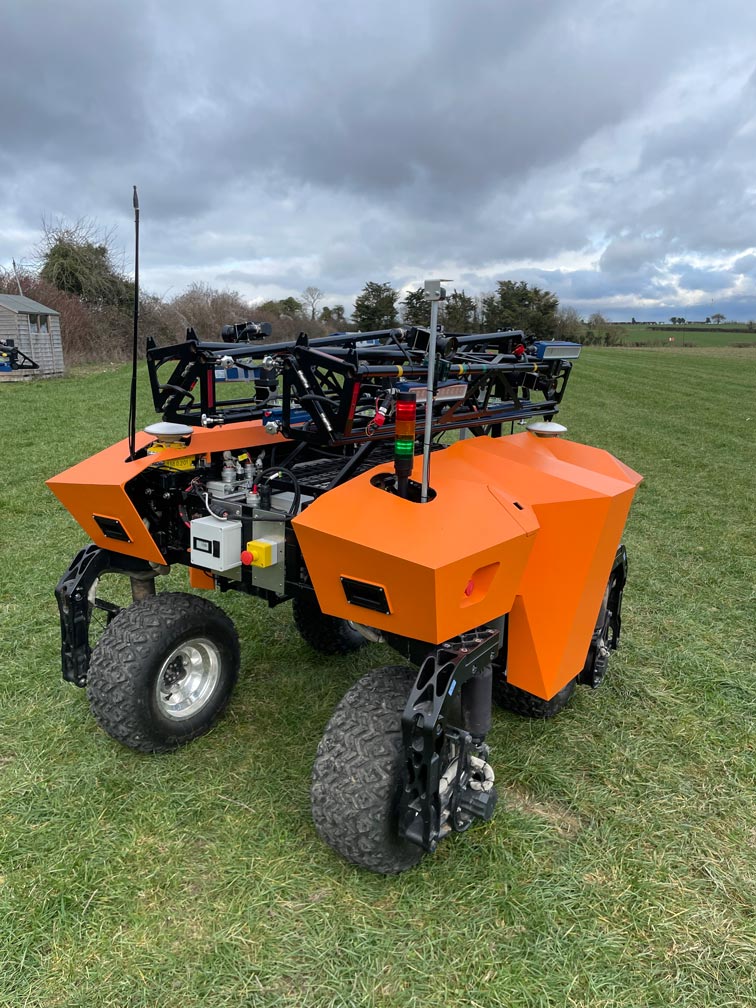 At A Glance
Challenge
3D print two different parts for Small Robot Company's latest agri-robot – an SSD mount (for data storage) and a steering actuator cap (to cover the delicate actuator assembly underneath) – within a very tight deadline.  
Solution
Combine the efficiency of Protolabs' quoting platform, the expertise of Protolabs' engineering team and the rapidity of Protolabs' world-leading additive manufacturing service.  
Outcome
Protolabs helped improve the design to ensure better functioning parts, in particular for the steering actuator cap, along with providing a solution for colouring the part, before rapidly printing the parts using Multi Jet Fusion and shipping them to the customer for testing and evaluation.  
The steering actuator
 
In essence, a steering actuator is a mechanism that provides simple pathfinding for a robot by moving it towards a target object.  
For the Tom V4, whichever purpose the robot is adapted to in the future, as later generations of the robot are designed, the current form of the steering actuator designed by Small Robot Company will remain a key component in their functionality. Rhian continues: "The steering actuator is a sub-assembly within the core driving platform. It is made up of a motor inside, a planetary gear system, some bearings and an aluminium housing around the majority of it. Then on top sits a cap, 3D printed by Protolabs, that seals the unit. The cap helps prevent water and dust ingress because the assembly is quite sensitive so if we did get anything inside, that could potentially cause problems such as damaged parts, binding up or overheating." 
As well as serving as protection from outside, the cap's design includes a channel that helps secure wires running up to the motor controller, so its multiple functions derive a relatively complex shape which 3D printing is an ideal manufacturing solution for. 
"The previous robot didn't use the same steering actuator. For the Tom V3 we sourced a steering actuator from a third-party, but it was heavy and we had a number of issues with it. So when we came to design Tom V4, we decided to take the steering actuator in house, design the whole steering actuator ourselves including the cap, which meant we could reduce the BOM cost, improve the design and reduce the robot weight." 
Protolabs comes on board 


The team at Small Robot Company decided quite early on that they'd need to 3D print the cap as there was a strict weight budget for the robot, for two reasons. Firstly, they needed to minimise the entire system weight so that ground pressure was reduced meaning less damage to crops and top soil compaction when the robot is driving through fields; secondly, the core driving platform is designed to support a wide range of payloads, so keeping the platform weight low means more options – essentially allowing a larger weight budget for payloads. 
Rhian explains, "We were in our alpha system design a couple of years ago when we were building the first prototype of the driving platform. We knew that Protolabs offered 3D printing services, but we weren't really selecting them as a prototyping supplier – instead we selected them as a production supplier, due to the relatively low numbers needed but also the fact that Protolabs' additive technologies can create end-use parts.
"We'd used their quoting platform in the past and we'd had success with that in support of our development procedure. We really like that feature. The Protolabs quoting platform is always really quick and we also get manufacturing feedback from them. The system automatically details any issues which means that we can address those issues before anything goes out for manufacture. That's really handy and it's so easy to upload a file. Also, Protolabs' 3D printing service usually has a quick turnaround time and sometimes that's vital when it's a matter of urgency. It was a no-brainer to partner with Protolabs." 
Following the initial upload of the early cap iteration, the team at Small Robot Company were struggling to have the wire channel clear from the build material. Also, when attempting to put together the component parts of the steering actuator and put the wires through the channel, this caused assembly problems that clearly needed addressing. But with design feedback and advice from Protolabs, the model was changed making the assembly process easier. 
In terms of aesthetics, Protolabs worked hard to also deliver a satisfactory result for Small Robot Company. 
"We've had a very positive experience with Protolabs where we received some of our caps and they hadn't come to us as black as we'd hoped. We ordered them in a PA12 material, which Protolabs advised has a dark grey appearance – not something we felt was quite right for the part – but we wanted to see the result to decide a path forward. On initial receipt of the parts, the colour advice was indeed correct, but Protolabs were very happy to take them back and post-process them with a further spray of black paint. Ultimately, we had the parts back a short time later, so we were in possession of the parts we wanted – in terms of both functionality and aesthetics." 
"This is why we like Protolabs so much. You don't have to spend time having thorough design reviews with them. They just give you the information you need via the platform, or in person, then we address the design how we want, and move on to ordering the parts. So simple."
Rhian Griffith, Mechanical Engineer at Small Robot Company 
Multi Jet Fusion – a 3D printing process for rapid prototyping and end-use parts 


The cap for the steering actuator was produced by Protolabs' Multi Jet Fusion (MJF) process. MJF selectively applies fusing and detailing agents across a bed of nylon powder, which are fused in thousands of layers by heating elements into a solid functional component. Final parts exhibit quality surface finishes, fine feature resolution, and more consistent mechanical properties when compared to processes like selective laser sintering.
Common applications for MJF are parts requiring consistent isotropic mechanical properties, functional prototypes and end-use parts with complex or organic geometries.
The fourth agricultural revolution 


The fourth agricultural revolution is characterised by the anticipated changes brought about by artificial intelligence and autonomous robots. The overwhelming feedback from farmers is that farming is not working: yields are stagnating, machinery costs are rising, and profit is suffering. The world is also facing an environmental crisis, with heavy machinery and chemical use playing a key part. Small Robot Company is reimagining farming to make food production sustainable. Using robotics and artificial intelligence, they have created an entirely new model for ecologically harmonious, efficient and profitable farming. They call this Per Plant farming and it is representative of the revolution we're currently seeing across agriculture. 
The future of Tom V4 


Rhian concludes: "Our biggest focus at the moment is actually on cost reduction and engineering tasks now. We're hoping to refine the design so that we can pass these efficiencies on to our customers. But whether for revisions of existing robots or the development of later generations of robots, we look forward to working with Protolabs to receive their support in the product development phase as well as in production."