Executive Summary
The future is electric. For Europe to meet its climate goals, the fossil-fuel age must give way to the electric age. And that means it needs a domestic battery supply.
Expected increase in global battery demand by 20301
Europe's battery industry is still in its infancy
The global market for lithium-ion batteries is dominated by the Asian first-movers: China, Japan and South Korea.
*Europe's share of world battery cell production2
So Europe is still heavily reliant on battery cell imports. As demand grows, it must: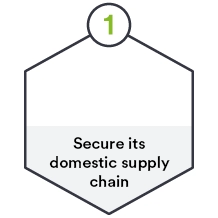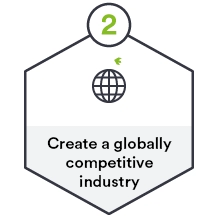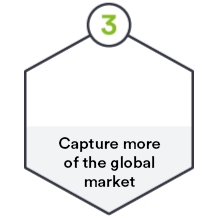 Achieving these by the end of this decade is now a strategic goal.
But is Europe's battery industry ready to grow?
Just how prepared is the continent's battery industry to meet this challenge? What does it need to do to reach that goal, and what threatens its ambitions? Protolabs decided to find out. 
We surveyed 200 industry executives in 7 European countries: France, Germany, Italy, Spain, UK, Netherlands and Norway*.
* Please note, Norway and the Netherlands are included in the average but are not shown as individual country charts due to their smaller sample size.
What we found out
Europe's competitive strengths will lie in innovation...
The majority of respondents are either currently doing or planning to do the following in the next 12 months:
Below are some of the messages that came out of the research:
Sustainability will be Europe's differentiator
Europe understands that it is a challenge to compete against China on price, so it has committed to making its batteries sustainable. This means the entire value chain – raw materials, supply chain, manufacturing, recycling – will need to comply with strict ESG criteria.
But there is work to do
A majority of respondents say they find it challenging to use renewable energy, which is a crucial way to cut the supply chain's carbon footprint.
Re-shoring and near-shoring are essential to resilience
Avoiding supply chain shortages and ensuring speed to market are critical for competing in a global market.
Battery makers have to continue innovating
They need to innovate in weight, density and cost to remain competitive – not only with other fuels, but also with new types of batteries.
Increased government investment and supportive fiscal policy are essential
These will be key to overcoming industry uncertainty about returns on investment and policy direction – which currently pose the greatest risks to Europe's battery industry.
Read our other thought leadership and industry support content
Much of this will be driven by the European Commission's regulations, targets and financing, which are designed to steer countries, companies and consumers in a more sustainable direction. This dramatic change is mirrored by demand.
Europe is now the biggest EV market in the world
In 2020, Europe's EV sales overtook China's for the first time since 2015 – to become the largest EV market in the world.5
"We now see a tremendous acceleration towards a 70% penetration of fully electric cars by 2030," says Francisco Carranza, Vice President Sales and Marketing at Automotive Cells Company (ACC), a joint venture between Total and Groupe PSA. "The battery industry has been prompted to respond to that acceleration, with a big focus on European capabilities."
Respondents to our survey say that the surge in transport-related battery demand is driving manufacturing growth and boosting confidence.
Surging consumer demand is helping to drive battery and battery storage manufacturing in Europe
Which of the following are driving the growth of battery and battery storage manufacturing in Europe?
Europe's batteries: not cheaper – but better?
Almost 80% of the world's lithium-ion battery cells are made in China6.
Unable to beat China on volume any time soon, European manufacturers are focusing their efforts on making batteries that are ultra-high-performance and sustainable. At the heart of this effort lies innovation, in which respondents expressed high confidence: 65% are confident in their R&D efforts, 63% are confident in innovative product design, and 56% are confident in their ability to scale up innovation.
Europe's battery industry is confident it can compete
How confident are you in your company's ability to compete in the following categories? (Extremely/very confident)
Are gigafactories the answer?
R&D and manufacturing capabilities are growing quickly, with more than 20 gigafactories, which promise to deliver batteries on a large, or 'giga' scale, slated for development in Europe.
Lars Carlstrom, Founder and Chief Executive Officer of Italian start-up Italvolt, says the benefits of gigafactories are "far outweighing the negatives".
"Not only will they bring confidence to the European EV market, but they will also bring much-needed jobs and reduce the carbon footprint of importing parts from around the world," he told Automotive World in a recent interview.7
In the UK alone, six companies are involved in talks to build gigafactories8, including start-up Britishvolt, which is due to start producing battery cells by the end of 2023.
But until these plants are up and running, there is an imbalance between the projected surge in battery demand and domestic supply – not just at the manufacturing level, but also in terms of raw materials and other parts of the supply chain.
"We all understand that in order to get the risk of supply under control, we need to localise the supply chain as much as possible. Not just the assembly of cells and modules and packs, but also the active materials for the cathode and anode manufacturing."
— Francisco Carranza
Vice President Sales and Marketing, Automotive Cells Company (ACC)
Read our other thought leadership and industry support content
A resilient supply chain, talent and speed to market are critical.
The Covid-19 pandemic has accelerated the trend of moving supply chains closer to destination markets in Europe. This re-shoring and near-shoring process shortens supply chains, which increases resilience and speed to market, and lowers the carbon footprint.
Eight in 10 respondents to our survey say they are either currently in the process of bringing the supply chain closer, or are planning to do so in the next 12 months.
Re-shoring is a priority for many
Which of the following activities is your company currently doing or planning to do over the next 12 months?
Additive manufacturing and technology partnerships will be key to this re-shoring effort by helping to bring manufacture of specialty components closer to home, and 79% are building partnerships with a technology specialist provider to enable this, or with an end-customer to secure off-take. End-customers such as carmaker Volvo are ready to partner up. In June, Volvo secured future supply through a joint venture with Swedish battery start-up Northvolt.9
"You can't just buy on the general market. We want to start from zero. The best way to build up this knowhow is . . . with very tight cooperation with a partner," Volvo Chief Executive Hakan Samuelsson told the Financial Times.
With a better grasp of the supply chain also comes the ability to innovate. Additive manufacturing gives manufacturers flexibility, which makes it important for the next generation of batteries, such as solid-state batteries.
Solid-state batteries have a solid electrolyte (rather than a gel-like substance) at their centre. This allows them to store a greater charge more quickly, which could double the range of EVs.
Pilots of solid-state batteries are planned for the first half of the decade.10
The majority of respondents are busy innovating
Which of the following activities is your company currently doing or planning to do over the next 12 months?
The talent quest is set to get harder
Another benefit of re-shoring is that it helps to develop a skilled local workforce capable of innovating.
Fifty-eight percent of respondents say the European workforce already has a good or fairly good level of skills to drive innovation. And only 16% say they need to recruit from abroad. But with new gigafactories set to open across Europe, the demand for talent is likely to increase.
"There are so many companies that are establishing operations now, and it's very hard to recruit the right talent if they're already working within the industry," says Francisco Carranza, Vice President Sales and Marketing at Automotive Cells Company (ACC), which is currently planning to develop gigafactories in Douvrin, France, and Kaiserslautern, Germany.
"So we need to work very heavily with universities and engineering schools – try to help them with the transition, so we get more people with the right expertise and the right motivations going into the electrical and chemical side of the industry after graduation."
Europe currently has a good level of skills to drive battery innovation
To what extent do you believe the following skills and specialisations are available to drive battery innovation in Europe?
"We're in a technology race against Chinese giants. Europe needs to be able to keep up and develop a product that has the right performance in terms of energy density and
cost-competitiveness."

FRANCISCO CARRANZA
Vice President Sales and Marketing, Automotive Cells Company (ACC)
Europe's companies must now embed sustainable practices
Batteries can help the European Union to achieve climate neutrality. But more industrial processes could easily have the opposite effect, so European battery and battery storage manufacturers need to prioritise sustainable production, deployment, and waste management.
"ESG is becoming really important in this industry. We have to make sure we take the carbon out of the conversion processes of the refined material or post refining." Isobel Sheldon, Chief Strategy Officer, Britishvolt
Sustainable benefits
A sustainability focus will build greater efficiencies and environmental compliance into the production processes – by using less energy and recycling, for instance. This should lead to advantages over Asia, where sustainability is not such a priority.
Green energy needs to be for everyone
With pressure to lower emissions in the industrial supply chain, shifting to renewable energy is an obvious move.
"We've got to reimagine manufacturing and conversion processes, because we've got to lower the energy use," says Isobel Sheldon at Britishvolt, which is seeking a low-carbon energy supply for its Northumberland manufacturing site.
Another example is Northvolt, which has committed to using 100% renewable energy from hydropower at its gigafactory in Sweden.11 However, it is not straightforward for all companies.
Incentive to prepare
By 2022, the European Commission hopes to have in place strict new environmental standards for batteries,12 and these will also include regulations on recycling. This should help to keep out imports of cheaper, less sustainable components and boost local production.
"This whole thing about needing to localise and rules of origin for the UK or for vehicles that are being built in the EU and exported to the UK, is really important, because it means we now have this incentive to green up the supply chain, to localise it, and bring some of those conversion processes back into the European geographical area," says Britishvolt's Isobel Sheldon.
Our survey respondents agree with Sheldon.
'Europe must step up reuse and recycling of batteries and materials to meet growing demand.' Do you agree?
'Raw-material shortages will make it necessary to embed more circular-economy principles in the future.' Do you agree?
The circular economy is not ready yet
But respondents say they struggle with waste disposal and mandatory and voluntary recycling targets.
Many struggle to embed sustainability measures in their organisations
How much of a challenge is it for you to implement the following in your organisation?
But there is still time to get the infrastructure in place, given that the first generation of batteries put in electric cars a decade ago still have several years before they expire and become available for recycling. In the meantime, production will have to ramp up to make up for the missing circular feedstock.
"Demand for batteries is too high versus the potential number of batteries that could come back as recycled. Even if all batteries that were commercialised in 2010 are going to be recycled in 2025, we're talking about 10,000 batteries versus the 1 million you could say we have ambitions to produce," says Francisco Carranza, Vice President Sales and Marketing at Automotive Cells Company (ACC).
"ESG is becoming really important in this industry. We have to make sure we take the carbon out of the conversion processes of the refined material or post refining."

ISOBEL SHELDON
Chief Strategy Officer, Britishvolt
As competition intensifies, the fight for funding and profit gets tougher
of respondents see government financial support as the best way to grow Europe's international battery market share.
Fortunately, battery manufacturing is a key part of the EU's plans to decarbonise the transport sector under its Green Deal, which is designed to make the bloc carbon neutral by 2050.
What will it take for European battery manufacturers to grow?
Which of the following factors do you think would help the European battery market gain more international market share?
In 2021, the European Commission approved €2.9bn in support for research and innovation in the battery value chain. Fitch Solutions, meanwhile, estimates that global investment into battery manufacturing projects in 2020 totalled $21bn, and Europe accounted for 43.5% of that.13
Based on the cost of recent projects, McKinsey estimates that investments totalling $150bn are needed across Europe to meet the expected cell demand of 1,200GWh per year by 2040.14
What could hold Europe back?
There are significant pinch points in the process of increasing battery manufacturing capacity, and it could become a capacity constraint on the market.
One of those pinch points is cathode-active material and its manufacturing capability. Growing battery demand has already put pressure on scarce materials supply: global cobalt production in 2025, for instance, will have to be double that of 2016 to satisfy global EV demand.15
worry about the future availability of raw materials.
The greatest risks to the growth of Europe's battery industry
Raw-material costs now account for 50–70% of total battery costs – up from 40–50% five years ago,16 so higher mineral prices would have a significant effect on companies' return on investment. For 53% of respondents, a lack of return on investments for all but the market leaders is already one of the biggest risks to Europe's battery industry.
If lithium or nickel double in price, battery costs would increase by 6%. If both lithium and nickel prices double at the same time, it would offset all the anticipated unit cost reductions caused by doubling battery production capacity.17 So battery and battery storage manufacturers should secure supply contracts from end-customers (such as automotive OEMs) before the battery plant is built.
Policy is another worry: will national governments continue to commit to Europe's battery industry? Over the next two to three years, 45% of respondents worry that their governments will be over-incentivising hydrogen projects at the expense of battery storage technology.
Competing with hydrogen
To what extent do you agree that government in your country is now over-incentivising hydrogen projects at the expense of battery storage technology?
But for some who are already invested in the European battery space, there is no debate about what the alternative to the internal combustion engine will be. The future has already been won – by electric.
"The future is going to be electric – and that's probably what has reassured all car companies that they need to go in that direction as quickly as possible."

FRANCISCO CARRANZA
Vice President Sales and Marketing, ACC
---
References: