Interview with Gareth Daglish-Saunders, CNC Supervisor
Posted On 27/07/2023 By Protolabs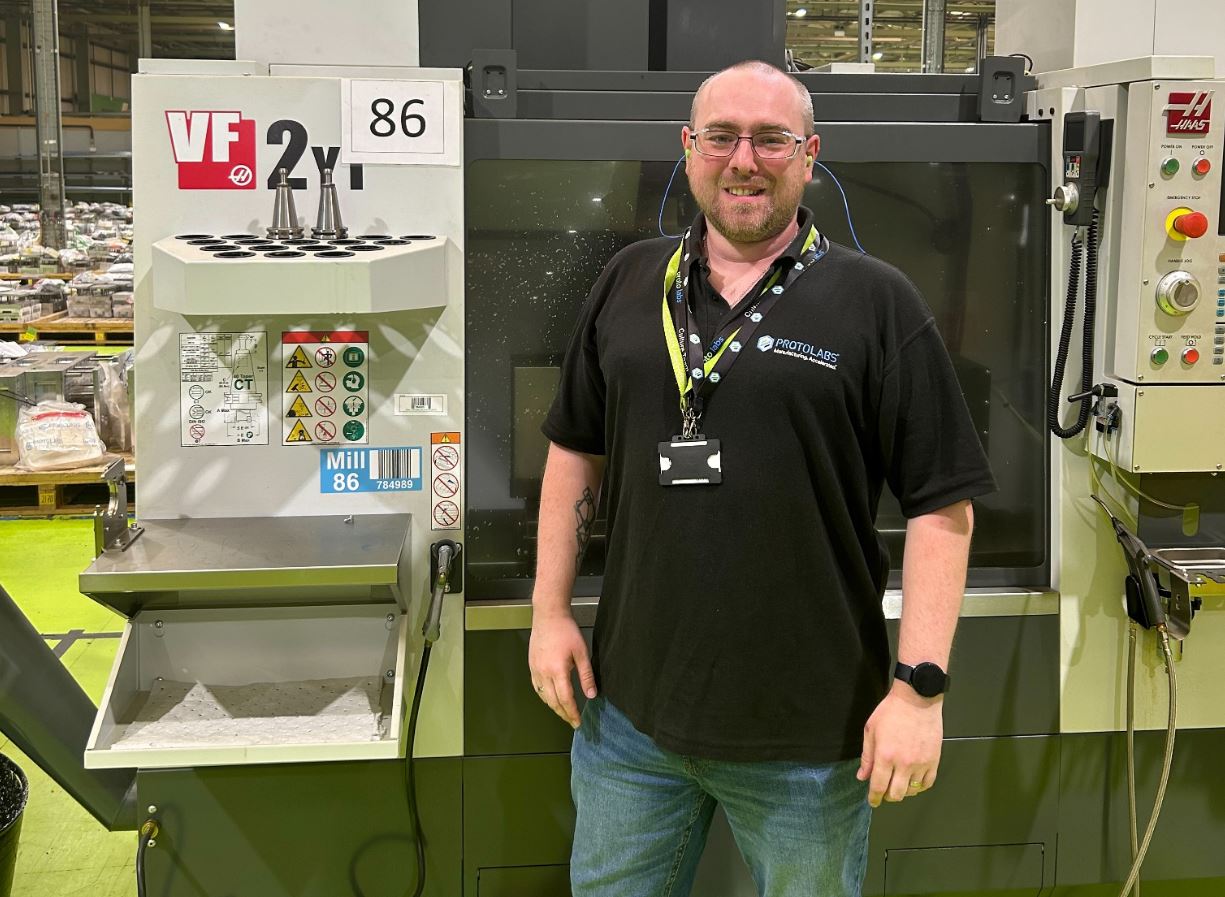 Who are you and what is your position at Protolabs? 
I'm Gareth Daglish-Saunders, the Production Supervisor for CNC Shift 2 at Protolabs. I started at Protolabs in July of 2016 as an Injection Moulding finishing operative on the night shift, from there I transitioned to Quality Coordinator.  Using the knowledge I had accrued in IM I was lucky enough to be given the opportunity to lead my first team within Protolabs as IM team leader on shift 1. 
How does a typical working day look like for you? 
In the fast-paced CNC environment at Protolabs, I ensure quick turnaround for customers across various sectors. We operate on a rotating shift pattern, and I start my day by speaking to the outgoing team about their performance and any issues.  
I have a morning meeting with the process manager to discuss challenges and successes. Throughout the day, I review work queues, check job progress, prioritize workflow, conduct team briefs, address training needs, attend project meetings, and handle man management tasks. Towards the end of the shift I will complete a digital handover sheet outlining the days events. This will include updates on KPI's and priority jobs to look out for. I am also involved in man management tasks, such as recruitment, probationary meetings, 1 to 1's, holiday requests, return to work interviews and closing down any near miss/hazard spot reports.
 What do you like most about your job? 
Supporting my team so that they feel valued and acknowledged for the work they do. I like to do this as part of regular 1 to 1's but will also give immediate praise on good ideas and proactive practices. Where someone has gone above and beyond, I will put someone forward for a reward and recognition voucher. 
What's your favourite lunch routine? 
A nice sandwich, probably an all-day breakfast, and a good book, I'm a big fan of historical fiction and Sci-Fi. I'm currently reading Trudi Canavan's Dark magician trilogy for the 2nd time. 
What's the most unique thing you've done/worked on at Protolabs so far? 
One standout experience was working on components destined for space. It's not every day that you handle something that will be part of a satellite. We successfully prioritized and completed the full order within three days, solidifying our relationship with the customer. 
Why did you choose Protolabs? 
Protolabs stood out to me because of its inclusive and accepting culture. Working with the amazing people here to create products that have a tangible impact on the world is a privilege. I've also had the opportunity to be part of the Culture Team, the amazing people on this team volunteer their time to come up with ideas on ways to improve employee engagement along with charity events. 
What advice would you give to yourself looking back on starting at Protolabs? 
I would advise myself to prioritize doing things right rather than rushing, emphasizing quality over speed. It's better to have 100 good parts than 1000 flawed ones. Additionally, I would encourage myself not to hesitate in asking for help when needed. 
Describe what Protolabs means to you in 3 words. 
Future made real.