ZERMATTVIEW
A work of art of pure design, accentuated by a mirror polished finish
Material: ABS
Process: Injection moulding
Eddy Morel and Joachim Cretegny are the proud parents of ZERMATTVIEW, a modern interpretation in volume of the mythical view of the Matterhorn as it appears from the village of Zermatt.
This unique model will undoubtedly appeal to contemporary art lovers and will fit in perfectly with their interior. Magnificent and financially accessible to the greatest number, it has everything to become the piece to offer as a souvenir of an exceptional stay in the Swiss Alps.
Protolabs has once again demonstrated its expertise and ability to provide the high quality surface finishes required in the luxury, medical and aerospace industries by producing this object on its injection moulding machines.


Translate an artistic 3D model into an injection-ready CAD file
The creation phase of this artistic and friendly adventure was ultimately the longest. It took Eddy Morel months of research, using cardboard, modelling clay and various materials, and then months of work with Joachim Cretegny and a designer to arrive at the ZERMATTVIEW 3D model registered by CMC Associés with the Swiss IPI.
Everything picked up steam when Protolabs got involved. The artistic model was optimised and converted into a CAD file adapted for injection moulding in about ten working sessions. ZERMATTVIEW was ready to emerge in its final form: a snowy peak drifting above a black ebony base.
Being able to work quickly and still have the option of choosing between different solutions is what made us decide to work with Protolabs. And indeed, our project quickly became a reality: At each working session we found solutions and defined the next steps", explains Eddy Morel. "Responsiveness was always the order of the day".
At A Glance
Challenge
Find a manufacturing solution that would make a work of art accessible to as many people as possible.
Solution
Use Protolabs' design optimisation service and injection moulding finish quality.
Outcome
A perfect appearance straight out of the mould.
"Protolabs' promise of going from prototype
to production very quickly with a choice of
solutions completely won us over"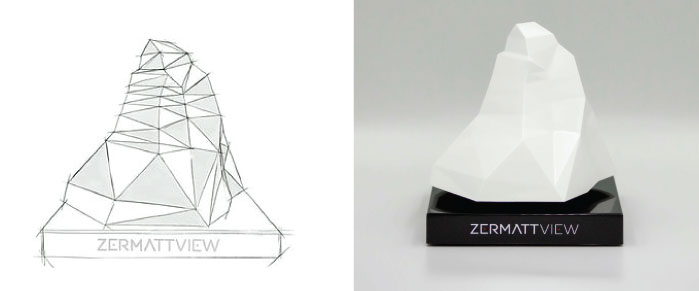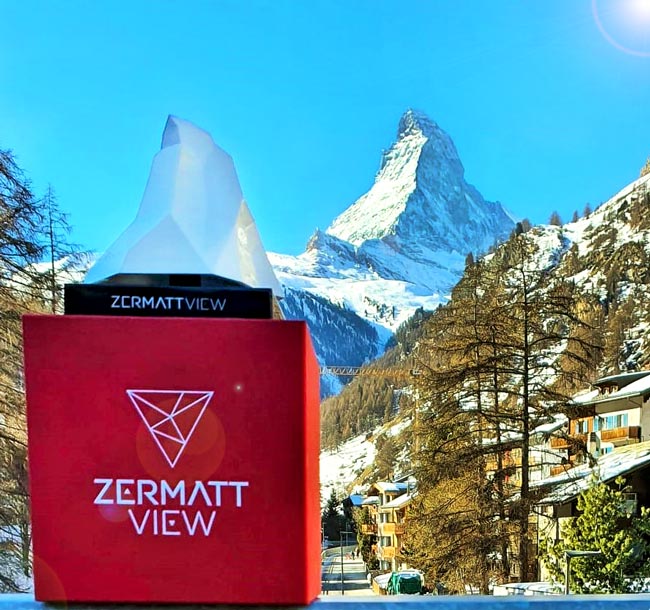 Design tips for quality assembly
ZERMATTVIEW passed into the expert hands of Protolabs' newest design optimisation service. This engineering team can significantly modify submitted CAD files to improve the manufacturability, assembly and durability of products.
From the outside, ZERMATTVIEW is still the same. But inside, a few ingenious touches are in place to keep it easily and securely on its base. It is thus particularly pampered at the time of assembly.
"Our contacts at Protolabs were always very professional and proactive. They advised us perfectly with regard to the constraints related to injection. We also trusted them completely with the assembly elements", adds Joachim Cretegny.
"Our contacts at Protolabs were always very professional and proactive"
Obtaining a mirror polished finish at the end of the mould
Move closer to ZERMATTVIEW and you'll see your own reflection on the Matterhorn because of its smooth surface. This result was of course a non-negotiable requirement for Eddy and Joachim. This is obtained right from the mould, without any subsequent reworking, thanks to the right choice of material and Protolabs' know-how in mould preparation.
"For ZERMATTVIEW, we have chosen a high quality ABS grade and a class A finish according to SPI standards, which is similar to the mirror polish of a car body. Our moulds are polished by hand, by highly skilled people, until we achieve the desired surface finish", explains Thibaut Jeannerot, Application Engineer at Protolabs. "In every project where aesthetics are paramount, it is essential to get everyone on the same page. Because aesthetics is a matter of subjective opinion. At Protolabs, we always validate this dimension with a few dozen or even a few hundred samples, depending on the size of the series under consideration", he adds.
"Our moulds are polished by hand, by highly skilled people, until we achieve the desired surface finish".
Elegantly housed in its own case, ZERMATTVIEW is currently on a tour of the shops on Bahnhofstrasse. There is no doubt that it will soon take up residence in several of them.
---
About ZERMATTVIEW:
The first version of ZERMATTVIEW (height 10.5 cm, white) is available for sale. The concept is customisable, both in terms of colour and size, so that everyone can extend the Zermatt experience according to their wishes.
For further information, please contact: [email protected]