Outsourcing Partnerships that Prosper
Posted On 28/03/2018 By Stephen Dyson
Manufacturers now consider 'outsourcing' as a partnership, rather than a supplier relationship.  Stephen Dyson, Special Operations Manager, at Protolabs explains why outsourcing projects with trusted partners makes sense.
For many manufacturers, challenges are associated with the capacity to meet production demand particularly when up against time-critical pressure. When in-house resources are stretched, outsourcing can be the solution.  
The outsource scenario
Manufacturers often have split responsibilities. The first is to manage their day-to-day workflow, which involves standardised, routine processes. These processes are generally predictable to manage, with orders completed within quoted time frames and customer expectations met.  In addition, there are ad-hoc challenges.  These occur when routine is disrupted due to insufficient capacity to deal with the increased level of work—often driven by an unforeseen spike in demand, or an urgent or special order.   At this stage, manufacturers need an outsource solution to assist delivering their assignment on target.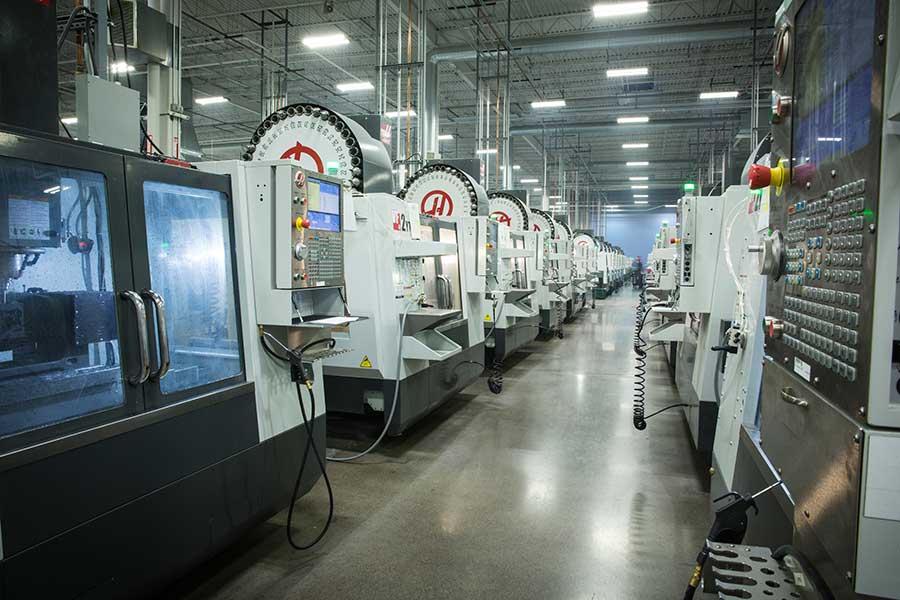 The benefits of outsourcing
An outsourced 'partner' can be considered an extension of the customer's manufacturing facilities, with considerably lower costs and minimal risk. When a part design is complete, manufacturers can rely on their outsource partner for production consistency and repeatability.  Whether the project is for a small engineering shop needing ad-hoc assistance, or for a larger manufacturer that requires a substantial or preferred supplier relationship, collaborative outsourcing can be the optimum solution.
Outsourcing provides the flexibility to fulfil unexpected demand for parts or prototypes using 3D printing, CNC machining and injection moulding services.  Outsourcing 3D printing to create and compare complex parts quickly, allows for design adjustments to be made easily.  With CNC machining or injection moulding, low to mid volume part quantities are produced in days.   Outsourcing offers on-demand services and quick delivery capabilities—giving manufacturers a competitive edge—supported by design for manufacturability analysis and expert technical advice.
A two-way road to success
Outsourcing is most effective when the both the customer and outsource partner use integrated, online systems. These systems are essential for securing two-way flow of data, and to fully manage orders from start to finish.
Customer confidentiality is a vital component in a successful outsource partnership. Outsourcing to a third party at any level in the supply chain requires a high level of trust, particularly when tackling ground-breaking technology. Sectors such as aerospace, automotive and medical, demand the utmost secrecy. A close, trusting, working relationship with the outsource partner is needed when rapid prototyping is required to bring a new product to market. Ultimately, the manufacturer and outsource partner share the same goal: to achieve the commercial objectives within the target time-frame, without compromising on quality and confidentiality.
At Protolabs, we recognise that flexibility and adaptability in service provision are increasingly vital for manufacturers, particularly in engineering and technology-related sectors. In response, prototyping and on-demand production requirements are being outsourced to partners that offer an effective combination of technology, process management and expertise.  These benefits are alongside other essentials such as consistency, reliability and delivery speed.  Companies outsourcing to Protolabs will be supported by online quoting capabilities that offer real-time design for manufacturing feedback—including material specifications and quantity detail.  With the design and manufacturing stages seamlessly linked through our proprietary software, orders can be completed in a matter of days.
The difference outsourcing makes is clear
Protolabs manufactures prototypes and end-use parts, supported by on-demand production—with our speed and scale of production to keep pace with changing manufacturer demands. We believe successful outsourcing is based on a simple formula: partnering in a way that works best for the customer, meeting their precise needs with every order, every time.