Protolabs adds high performance Aluminium 5083 to its rapid CNC service
Posted On 22/02/2022 By Matt Hatch
As the world's leading digital manufacturer, we have added Aluminium 5083-H111 (3.3547 or AlMg4.5Mn0.7) to our range of over 40 stocked metal and plastic materials for our fast turnaround CNC service. The material is widely used in extreme environments with its high magnesium content making it highly resistant to saltwater and industrial chemicals.
It is also one of the strongest non-heat treatable aluminium alloys available, has a good strength to weight ratio and is weldable, so it is ideal for marine and automotive applications.
Design engineers simply upload their CAD to our online portal, choose their material and then designate their preferred shipping timeframe, choosing between rapid 1 to 3 day standard manufacturing or 7 to 12 day flexible option. The engineer will then receive a quote including 3D design for manufacturability analysis. As manufacturability has already been simulated as soon as the  quote is approved we will allocate machines, and ship the part, to meet their deadline.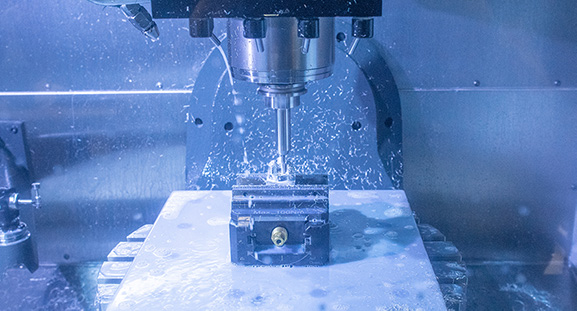 Adding this versatile aluminium alloy to our range of stocked materials gives our customers more choice within our CNC service, whether they need parts for rapid prototyping or low volume production of end use components. 
Material selection for a component depends on its application and what properties are needed. By adding this aluminium alloy to our stocked materials portfolio, we are offering customers a metal with a good strength to weight ratio that is cost effective and resistant to harsh environments, and critically with the option of a faster turnaround than many other suppliers.
Our stocked materials for CNC machining include multiple grades of plastics (such as ABS, acetal, polycarbonate, nylon and PEEK) and metal alloys (such as brass, copper, titanium, a range of stainless steels and aluminiums). Our pocket-sized CNC Material Selector is a quick reference guide to help design engineers choose the right plastic or metal material to suit their requirements. It lists specific measurements such as heat deflection, tensile strength and hardness to identify the most suitable material for a part's application, along with its suitability for milling and turning.
---