Cleanbrace
Hygiene Innovation on Your Wrist, With the Support of Protolabs
A combination of design and functionality: That was the goal of the creators of Cleanbrace, a hygiene wristband that allows convenient hand disinfection at any time. Together with world-leading digital manufacturer, Protolabs, it is now ready to go into production. 
Clean hands are one of the core foundations of hygienic interaction with other people. Of course, regular hand-washing is deemed polite and prudent, and not only since the Covid-19 pandemic began. Due to recent circumstances and the importance of the 'Hands, Face, Space' campaign, correct hand hygiene has become essential. 
However, it is not always possible to carry out hand hygiene and disinfection easily and without problems. For example, hand-washing may not be possible because there is no soap or running water, and you have to carry the appropriate disinfectant with you in order to disinfect your hands. Whilst many people carry their face covering with them, very few have disinfectants to hand at all times. For the founders of Cleanbrace, a start-up company based in Germany, this was the stumbling block in the battle against unhygienic hands. Together with manufacturing service provider Protolabs, they were able to revolutionise hand disinfection in just a few months and turn a newly designed disinfection wristband into an everyday accessory.
A Small Wristband With a Big Impact 
The common goal of the founders when they started working on this idea in February 2020 was to use the simplest possible means to produce a wristband that combines design, functionality and durability without risking skin damage. The idea behind the accessory was as simple as it was persuasive: disinfectant was to be stored in a small, refillable reservoir inside the wristband, which was then released at the push of a button. In order to obtain a functional prototype as quickly as possible, the start-up focused on individual parts that were already available on the market in this form.
At A Glance
Challenge
Create a wearable, fashionable device that doubles up as an on-the-go hand disinfectant dispenser which is refillable. 
Solution
Dedicated team set up to ensure design for manufacturability, which included suggesting a two tool system for the brackets to ensure simultaneous production and a two cavity moulds approach for the cap.
Outcome
Three tools were injection moulded in just three days and, thanks to the Protolabs' manufacturing approach, daily volumes of both parts were achieved. From the initial enquiry being made to full delivery of all components was just 14 days.
Wristbands made of silicone, which are also used with well-known activity trackers, were to become the basis for Cleanbrace. The reservoir for the disinfectant was simply converted from a pipette head allowing between 5 and 6 applications, and this could be filled using slightly modified craft bottles with a capacity of 30 millilitres.
A key advantage of these parts is that they already have the most important requirements for use in a disinfection wristband: They are skin-friendly and resistant to alcoholic solutions such as disinfectants. To turn these individual parts into a stylish and functional disinfection wristband, one central adapter piece was missing.
In order to manufacture this core piece in which the reservoir of disinfectant would sit, production of the first prototypes was based on additive manufacturing. In line with the 'can-do' spirit that prevails in start-ups, the team procured a 3D printer and began producing the first adapter pieces. "After a short time, we reached the limits of production with the first printer. Both resolution and production capacity were soon no longer sufficient for our concepts," commented André Maaß, in charge of development at Cleanbrace. "For this reason, we quickly acquired our own small fleet of SLA 3D printers to produce the adapter pieces. Then the quality of the parts was already much better."
The Path to Batch Production
Cleanbrace's success with the first prototypes soon made another change necessary. The disinfection wristband which, just as planned by the creators, can be integrated discreetly into everyday life enables the wearer to disinfect hands. The prototype was such a success that producing the adapter piece using additive manufacturing was soon no longer sufficient. The next logical step was to switch from additive manufacturing to batch production using injection moulding to produce the centrepiece. 
After a brief search across the market, the creators found the right partner for injection moulding production in Protolabs, a company that specialises in prototype and batch production using a range of digital manufacturing services, including injection moulding. "Our original design for the adapter piece was optimised to be made using additive manufacturing. In order to enable batch production using injection moulding, we had to modify the design again. We found a really skilled partner in Protolabs," explains Maaß.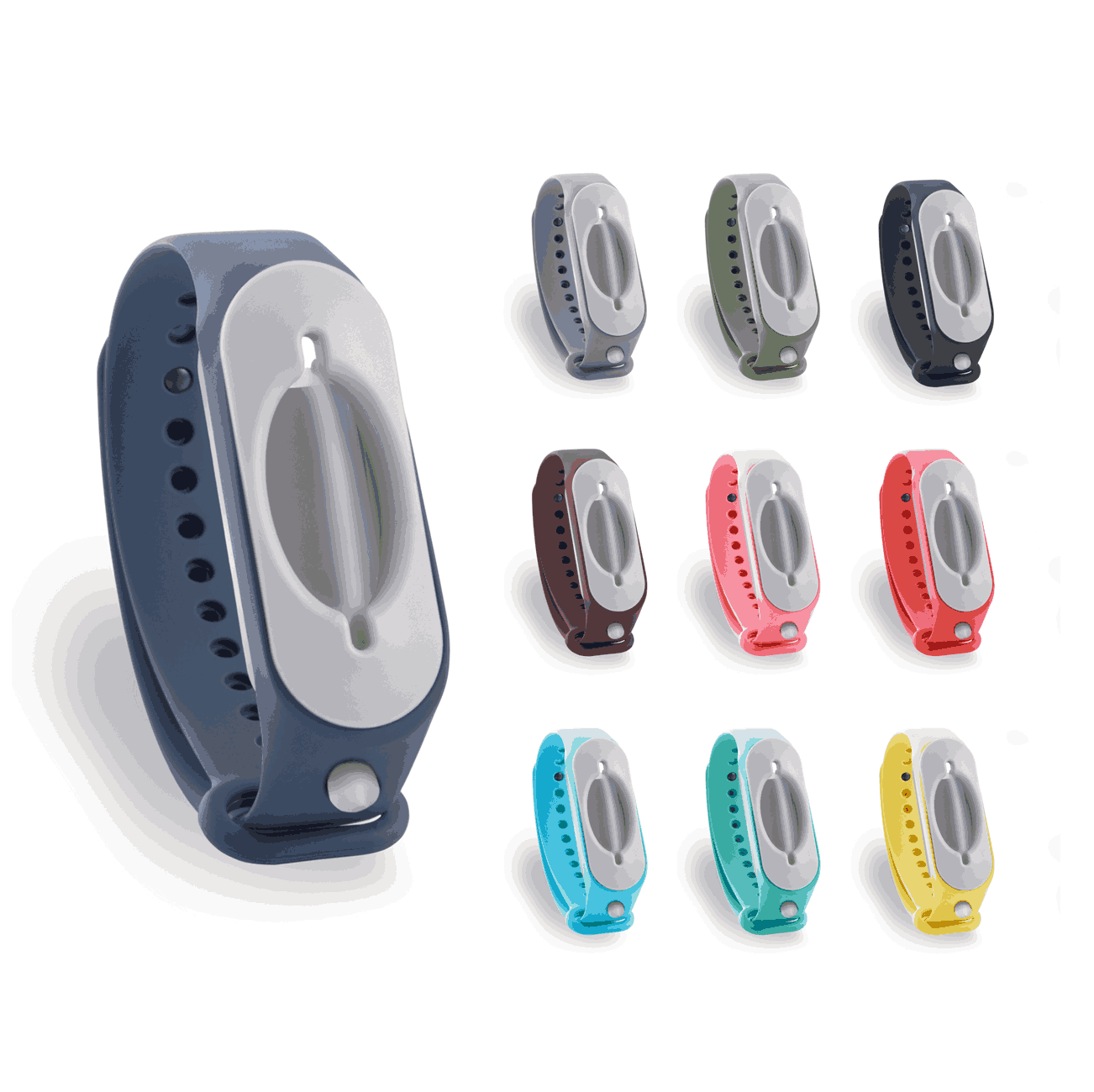 "In contrast to additive manufacturing, manufacturing by injection moulding allows significantly higher volumes and faster production. But the design of the respective parts must also be viable with the production method. While 3D printing allows for extensive freedom in terms of design, essential design aspects must be considered with injection moulding because of the dependency on tools and moulds," explains Julian Lietzau, Senior Marketing Manager Protolabs.
"Undercuts, such as construction elements that protrude freely from the casting, can prevent the desired part from being removed from the mould, for example." It is precisely these undercuts and other aspects of the adapter that were modified at Cleanbrace with the help of Protolabs. Protolabs' Design for Manufacture (DFM) service was also very helpful to the disinfection wristband team. "Since we had hardly dealt with injection moulding before, Protolabs' automated feasibility study was very useful. But we were also able to learn a lot from face-to-face discussions with the team," sums up Maaß. After a total of 14 revision processes and iterations, all parties were finally satisfied with the design of the new adapter piece and batch production began. 
Successful Collaboration as the Foundation for Joint Further Development 
Mutual professional collaboration played a major role in the success of the rapid batch production. "In order to help our customers quickly, it is important that we work closely with them and go through and make all adjustments to the design together," reports Fischer. "At Protolabs, you get rapid, targeted support. In particular, the speed with which problems are tackled and solved persuaded us to continue to rely on its services in the future," adds Maaß. 
In the future, the wristband should enhance the wearer's everyday life even more effectively. Cleanbrace is also forward-thinking when it comes to finishing the individual parts in post-production. The disinfection wristbands are processed in a nearby village where people with a range of disabilities put the individual parts together, attach the re-fillers, and package the finished product so that the wristbands can go on sale. Future projects are also already being planned. "In order to use Cleanbrace for longer, we are currently working on a valve that will be anchored in the housing. In this way, we want to manage the evaporation effect better and simplify dosing," explains Maaß. Because even after the pandemic, hand hygiene will hopefully still be a top priority, and what better way to meet it than wearing a stylish hygiene wristband.
"Since we had hardly dealt with injection moulding before, Protolabs' automated feasibility study was very useful. But we were also able to learn a lot from face-to-face discussions with the team."
Client quote
"At Protolabs, you get rapid, targeted support. In particular, the speed with which problems are tackled and solved persuaded us to continue to rely on its services in the future."
André Maaß, CTO & Co-Founder at Cleanbrace
Want to learn more about how Protolabs supports similar businesses with CNC machined, injection moulded or 3D printed prototypes?