Salta Lure
World-leading fishing lure innovator brings Protolabs on board for vital product development
Swedish start-up company Salta Lure design high performance lures - artificial bait used to attract fish - for offshore fishing. Salta Lure's radical approach and determination to create a range of products that are the highest performing lures in the world has seen the company win a number of awards. Most recently, Salta's MagTrak®, lure was voted "Best New Saltwater Lure of 2020" in the USA.
From an early age, company founder Georgios Toris had a flare for design, driven by a desire to create unique forms that could not be found anywhere else. During his school days, Georgios achieved the accolade many kids dream of – his metalwork projects were exhibited for all to see in a glass display case outside the Principal's office.
Fast forward to the early 1990's, and Georgios had developed a passion for wahoo fishing. As the largest of the mackerel species, the wahoo can weigh over 100 kg and is capable of swimming at speeds of up to 80 knots, making it one of the fastest fish in the ocean. This speed combined with tasty, high-quality flesh makes the wahoo a highly prized and valued game fish.
However, Georgios discovered there was a problem when it came to fishing for these high-speed marine animals. "I fished with the only lures that were available in the tackle shops at the time. However, after using them I was greatly disappointed with the results. I realised the lures weren't efficient and there was a gap in the market for a more durable, faster-running and deeper-diving lure" explains Georgios. 
Georgios determined to overcome the obstacle by using his own well-honed skills to design, develop and bring to market the world's best wahoo lure. "I decided the best approach would be for my lure to imitate the form that nature had already created for fast fish such as the wahoo and tuna, and then add my own creative touch to give the lures an enticing and unique appearance."
After a number of iterations, Georgios developed what was to become Salta Lure's signature lure design. Like the wahoo, the lure had a low-angle planning head, a streamlined low-profile compressed body and a tail with caudal keels, a unique feature for a lure.
At A Glance
Challenge
Develop two high-performance fishing lures that revolutionise the approach to offshore fishing.
Solution
Start-up company Salta Lure approached Protolabs to support the product development of a Hybrid-Head skirted trolling lure and a FRED (Fast Running Extremely Deep) lure through the company's world-leading digital manufacturing platform and industrial 3D printing services.
Outcome
Working together and with guidance from Protolabs' expert support team, parts were manufactured using Protolabs' DMLS (direct metal laser sintering) and SL (stereolithography) 3D printing services in aluminium and nylon PA12 white, respectively.
Caudal keels can be found on each side of the tail fin in mackerel and billfish. These keels strengthen the tails and create a hydrodynamic effect that gives the fish their high speed. By incorporating caudal keels on his innovative design, Georgios had prototyped the world's most streamlined and fastest running planning head lure.
Salta first approached Protolabs for support in the development of a totally new concept - the world's first so-called Hybrid-Head skirted trolling lure. Created to look and behave like dying, injured or fast moving fish, the Hybrid-Head lure's patented design consists of a hybrid head with a skirt for additional attraction. Importantly the lure requires a balance weight in order to perform successfully.
Testing quickly with a prototype weight was vital to the development of the lure, which Protolabs supported through its metal 3D printing service (direct metal laser sintering) – creating and shipping the aluminium part in record time.
With this prototype, Salta Lure were able to confirm the correct size and form for the weight, which had attractive Abalone or Mother of Pearl Thin Lam adhesive sheets attached on the outside, before being placed in a compartment inside the lure. Thanks to the Thin Lam being applied by hand, every individual Hybrid-Head lure will be unique.
"Protolabs offer the widest range of different rapid prototyping methods and have a comprehensive range of materials. Their superb software makes it simple to find and determine the printing method and material that suits your needs."  
Georgios Toris, Salta Lure
Protolabs also collaborated with Salta on the development of a full size prototype of the high performance 'FRED' lure which stands for Fast Running Extremely Deep. This is the world's deepest diving lipped lure, running unassisted at depths of 35 metres. Testing iterations were again key to the ultimate release of the product, so Salta relied on Protolabs' SL (stereolithography) 3D printing service to produce a part in nylon PA12 white.
This confirmed the diving, running and swimming characteristics of the lure – as well as its geometry. Swift prototyping and the subsequent conclusions meant the team at Salta Lure has quickly moved onto internal CAD geometry and a finished design will soon be ready for production.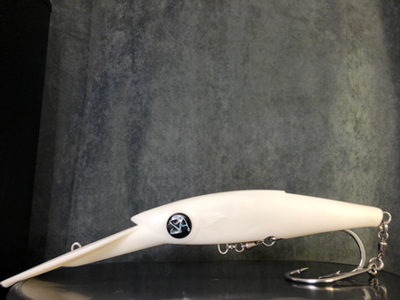 ---
The company initially chose to partner with Protolabs following a recommendation from a supplier. Additional careful research by Salta of Protolabs' user interface, services, prices, quality and speed were favourable and after great communication with the support team at Protolabs in Sweden, Georgios felt confident that Protolabs were the best choice for their prototyping needs – fast and comprehensive in their offering.
He explains, "One of the things that really surprised us and made us choose Protolabs, was their personal service and flexibility. The technicians let us decide the wall thickness for our SL-printed lure prototype, from 2-4 mm. We choose 3.5 mm, and this made things very easy for us."
Having collaborated on two projects now, Georgios is delighted with the support he has received from Protolabs. He explains, "I felt in control of the process at every stage. Protolabs offer the widest range of different rapid prototyping methods and have a comprehensive range of materials. Their superb software makes it simple to find and determine the printing method and material that suits your needs."
"The Protolabs technicians offered support and guidance throughout. They make you feel that no question is too silly and they encourage you to think outside of the box to make the right choices. Even with all that support, Protolabs' prices are very competitive and you receive top quality for the money. And we are very pleased with Protolabs' fast delivery time."
In 2020 Salta Americas Inc. was founded in Florida, USA, to sell the full range of the company's lures to the American market. 2022 is set to be another exciting year for Salta Lure with the launch of both the patented Hybrid-Head skirted trolling lure and the patented FRED lure.
Georgios is still driven by the same passion for progress he had as a schoolboy, and the future looks bright for Salta Lure.
"I'm proud that my lures are the choice of every tournament fisherman" says Georgios. "We are the world's most innovative high-performance lure company and are pleased with the support we've had from Protolabs to help us achieve what we've done so far."
---
Hybrid-Head skirted trolling lure
U.S. Patent No. D937,963
U.S. Patent No. D912,197
U.S. Patent Pending No. D29/715,135
FRED lipped trolling plug
U.S. Patent Pending No. D29/819,053
U.S. Patent Pending No. D29/753,624
European Patent Pending No. 008728281
+
Fishing lure with magnetic holder to releasably retain belly hook in Stinger position. A.k.a. the HookMag® instant Stinger hook magnetizer
U.S. Patent No. 11,185,060
Chinese Patent Pending No. 201811130554.8
European Patent Pending No. 18196736.5
Australian Patent Pending No. 2018233051
---