Interview with Adam Mason, Design Supervisor
Posted On 23/02/2023 By Protolabs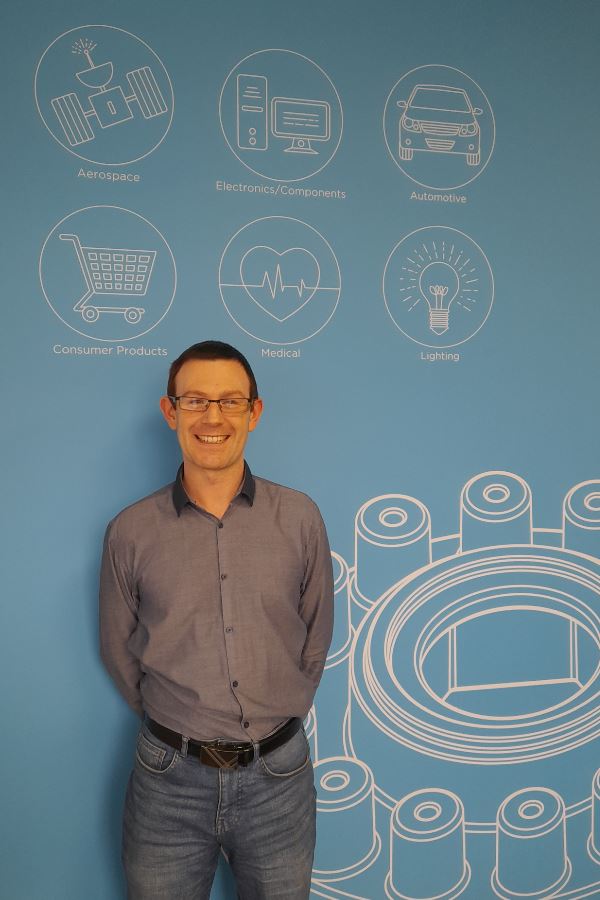 Who are you and what is your position at Protolabs? 
I am Adam Mason and I am the Design Supervisor at Protolabs in Telford, I lead half of the Design Analysis Team for our Injection Moulding service line, which analyses the designs uploaded to our website, to understand their manufacturing capabilities. I ensure that the team are hitting targets, and getting ready the outputs onto the shop floor, whilst analysing data. I also hold regular staff meetings and one to ones that focus on the wellbeing of my team and making sure that they are happy.  
How does a typical working day look like for you?  
In the morning I review what's actually been uploaded by customers and collate the analysis list then delegate the workload between the team. They then will quote these uploads for the customer with assistance from the manufacturing team if required then they will send them back to the customer. The Designers oversee the part once an order has been place, and then split into A and B sides moulds as well as tool pathing and then side it to the shopfloor via our computer system ready for it to be milled.
What do you like most about your job?  
Everyday is completely different and the days go very, very fast. There's always some sort of challenge the fact that we deal medical, aerospace, automotive to name a few, so you can wonder what a design will turn into. I love working with all the people as everyone has their own unique ways of working. Everyday there's something different you do. 
What's your favourite lunch routine?  
I don't have a set lunch routine because my day consists of a wide variety of meetings whilst I support my team with their duties. I drink a lot of coffee to keep me focused in those meetings. My lunch is also varied but I normally sit down in the canteen for a 
break with a tuna mayonnaise salad wrap. Sometimes we have a selection of cakes in the Design Department if there's a birthday or we have hit targets, so these normally help keep me going. 
What's the most unique thing you've done/ you've worked on at Protolabs so far?  
The most unique thing was before I was a Supervisor I was a Designer and I actually designed parts for the ventilators. It gave me such a feeling of achievement and pride knowing that Protolabs was part of the relief effort against COVID 19. 
Why did you choose Protolabs?  
So I came out of the Royal Air Force and was looking for a role and signed up to an agency, I've always enjoyed just being hands on and knew that manufacturing is very hands on job. So when the agency explained more about Protolabs, what they manufactured and about the duties of the role, I was very keen to start as it seem like a very family orientated company to work for. 
What advice would you give to yourself looking back on starting at Protolabs? 
Not to put so much pressure on myself and to take onboard positive comments when they are given to you. My Milling Team Leader saw my natural ability and discipline and pushed me down the people management route within 3 days of working at Protolabs, so taking those opportunities when given to me. 
Describe what Protolabs means to you in 3 words.  
A Fun atmosphere, seriously hardworking and a great place to work.
Adam Mason, Design Supervisor at Protolabs was interviewed by Mary O'Brien, Talent Acquisition Advisor at Protolabs.