T+A elektroakustik
Luxury headphones developed with Protolabs' injection moulding service
To implement its own version of top-quality headphones, T+A elektroakustik called on the support of Protolabs, a manufacturing service provider. The results of the collaboration are impressive – state-of-the-art technology created through artful manufacturing methods.
Excellence is a term reserved for very few products. When talking about excellent technological achievements and brilliantly planned and implemented products, everyone imagines something from the luxury sector – whether that's yachts, automobiles, or other designer items.
One company that delivers the highest quality products in its own industry is T+A elektroakustik GmbH, which was established in 1978. This Herford-based company, which employs around 80 people, was founded by Siegfried Amft and has become specialised in the decades since it opened for providing its customers with the best possible acoustic audio experience. The masterpieces of this hi-fi "forge" are distributed primarily in Europe and North America through a network of selected specialist distributors and enjoy a special reputation among audio enthusiasts.
This is not least attributable to the fact that T+A elektroakustik does not regard itself as a manufacturer of electronic components for occasional music enjoyment. Instead, in keeping with the company's philosophy, the employees see themselves as scientists who seek to coax the very last musical tone out of the available materials, state-of-the-art technology and trailblazing electronics.
An Addition to the Portfolio
In order to produce the entire range of electronic equipment for music enjoyment, the company has relied on its own experience and expertise as much as possible since its founding days. For example, the loudspeakers, audio systems and amplifiers produced by T+A are developed and manufactured independently by employees from all relevant technical and electronic departments. It is no wonder then that the company employs its own engineers, specialist technicians, acoustics supervisors, production craftsmen and software developers, who personally handle around 90 percent of the design and development, production, assembly and commissioning in the company's own factory.
The fact that the employees are one of the company's most important assets – together with their shared passion for an optimal listening experience – can also be seen from the length of time they have been with the company. "There is very little turnover at T+A elektroakustik," reports Sebastian Kobelt, design engineer and project manager at T+A elektroakustik GmbH. "Some of our employees have been with the company for more than 20 years and have therefore built up a wealth of knowledge. It goes without saying that this benefits us in the development of new devices."
In order to complement the existing range of products, T+A decided in 2019 to implement an idea that had been simmering for some time. A pair of headphones that meets T+A's customary standards and criteria should also give music lovers who want to indulge in their hobby without disturbing their surroundings the chance to benefit from T+A elektroakustik's high-end hi-fi equipment. Since it was necessary for there to be room for the sophisticated and intricate diaphragm from the company's own development expertise alongside all the other critical components needed for the outstanding sound, it was already clear during the planning phase of the exceptional product Solitaire that conventional production methods would not be enough.
At A Glance
Challenge
Develop two state-of-the-art pair of headphones based on the principles of luxury and audio quality, which utilise high-quality components. 
Solution
T+A elektroakustik needed to find a way to create a headphone shell that stayed in line with the project's vision of quality and luxury, while still accommodating magnets and diaphragms that form the internal components of the headphones. 
The company turned to Protolabs' injection moulding service to create the parts needed for the project. 
Outcome
Working together, Protolabs and T+A elektroakustik developed two different pairs of headphones which both required unique approaches. The outcome? Two high-end devices which set a new standard for audio quality.
Support for Product Development and Series Production
In order to be able to make the vision of the Solitaire headphones a reality without compromising on their quality and performance, T+A therefore decided to look for a suitable partner to provide support for manufacturing the headphone shell. Since the first prototypes consisted of a single aluminium part that could not be manufactured using CNC milling due to its complex design, there was no way around additive manufacturing and collaboration with a competent production service provider.
"When selecting a partner, it was important for us to have a wide range of materials to choose from. In addition, it was important to us to also have the ability to use injection-moulded parts to carry out series production as soon as the prototype phase was completed," Kobelt explains. "Protolabs satisfied all these criteria, which is why it was not difficult for us to choose them as a manufacturing partner."
Along with the original premium headphones – the Solitaire P, which is distinguished by its aluminium housing – there were also plans right from the start for slightly more affordable headphones, the Solitaire P-SE. This was supposed to be made of the plastics ABS, PCABS and nylon and supplement the luxury goods manufacturer's product range with an entry-level model as a companion for the Solitaire P.
"What is decisive for the Solitaire P and the Solitaire P-SE is that the components used are closely matched. Deviations need to be kept to a minimum, as a large number of important components have to fit into a very small space," recalls Viktor Pöss, Account Manager at Protolabs. "The challenge in the project therefore did not involve the component design, which had already been brilliantly solved by T+A."
While the aluminium ear shell for the Solitaire P was milled in around an hour and Protolabs also contributed other smaller components to the project, implementing the Solitaire P-SE proved to be much more difficult.
"The human interaction and the competence of Protolabs employees – both in terms of their understanding of engineering as well as administrative concerns – is convincing, pure and simple."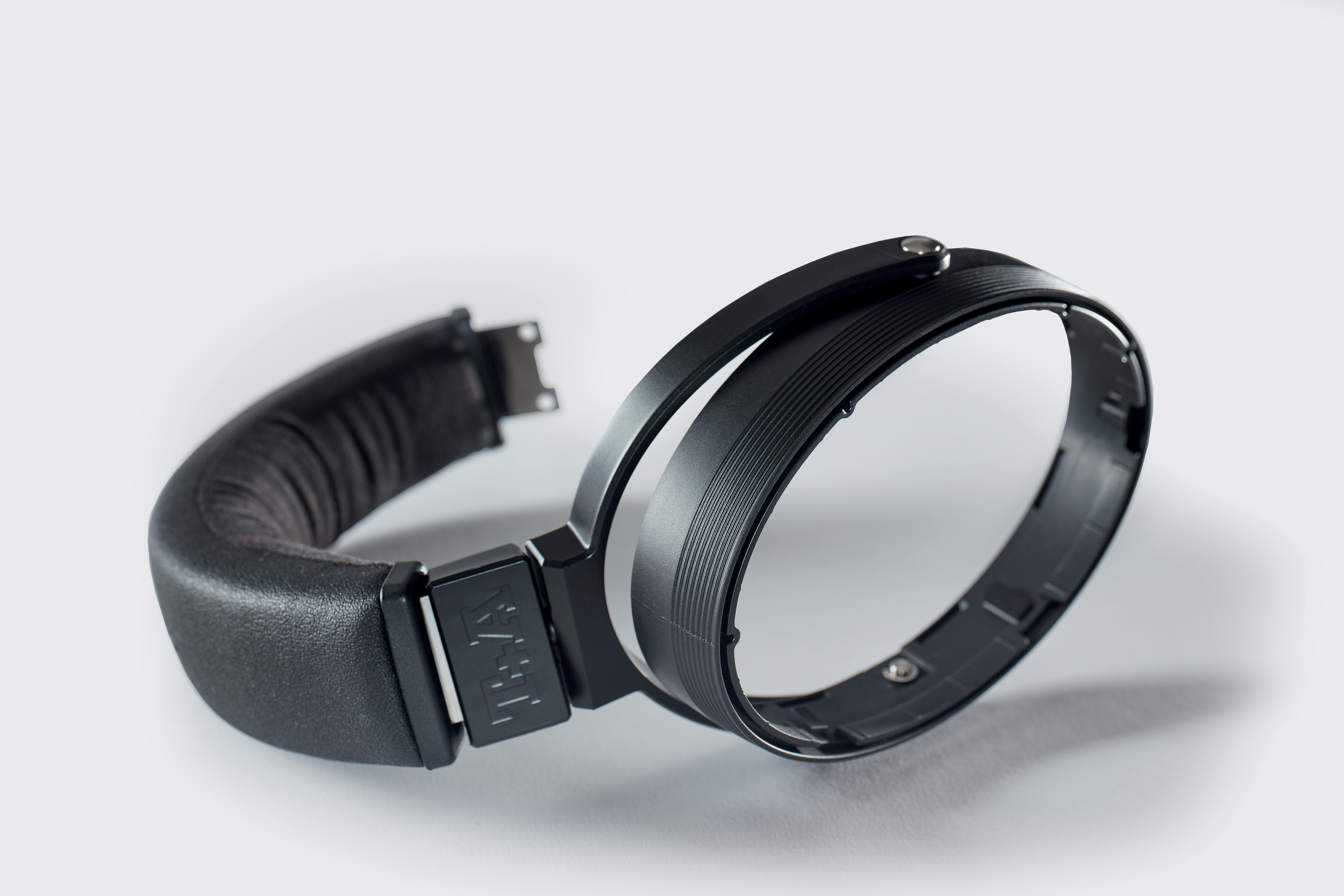 Experts in Implementing Complex Geometries with Injection Moulding
While the Solitaire P had five smaller injection-moulded parts inside the headphone shell and the aluminium shell itself, the Solitaire P-SE was to be mass-produced without any aluminium parts at all. However, since the foregoing of aluminium and the focus on plastic parts needs to influence the design only minimally, both Protolabs and T+A had to get creative.
"One of the advantages of 3D printing is the extensive flexibility for designing components," Pöss explains. "In injection moulding production, however – i.e. when components are to be created based on a negative mould – a number of aspects need to be considered when designing the moulds to implement undercuts and avoid sink marks."                                                                                                                                                                                                                                                                                                                                                                                                                                                                                                                                                                     
"I come from a mould-making background myself and was aware of the complex task of implementing the headphone shell of the Solitaire P-SE," Sebastian Kobelt adds. "It was all the more gratifying to work together with Protolabs on equal footing. Cooperation was very pleasant due to the profound expertise on both sides, and we were able to start manufacturing the injection moulds after only a few rounds of iteration."
One of the main challenges in designing the headphone shell was that it had to accommodate a large number of different magnets and diaphragms. In addition, these central components also had to harmonise with the 13 different components for the Solitaire P-SE, which were also assigned to Protolabs for production with injection moulding. What is more, the design also had to incorporate the attachment points for the ear pads.
Time for Development? Allegro!
How efficient the joint project work of T+A elektroakustik and Protolabs ultimately was, however, is not only evident in the successful implementation and finished luxury headphones. The exceptionally short development time for the Solitaire P-SE components also demonstrates the extent of the harmony that was present during the collaboration. For example, only six months passed from the first contact regarding the project in July 2020 until the sale of the first high-end hi-fi units in January of the following year.
"The human interaction and the competence of Protolabs employees – both in terms of their understanding of engineering as well as administrative concerns – is convincing, pure and simple," Sebastian Kobelt says in conclusion. "With Protolabs, we had a partner on our side for this project, with whom we were successful in greatly shortening the development times. Our teams were also able to exchange ideas and challenges on an equal footing at all times, which made working together very pleasant."
The resulting product from the joint project is definitely something to be proud of and is already inspiring music lovers around the world with its unique acoustics – and only a few are likely to be aware of the engineering masterpiece is quietly hidden just outside their ears.          
--
Want to learn more about how Protolabs supports similar businesses with CNC machined, injection moulded or 3D printed prototypes?
Why not check out our case study about Boxing Hand Grenade, a training device which reduces injuries and improves the performance of boxers. 
---