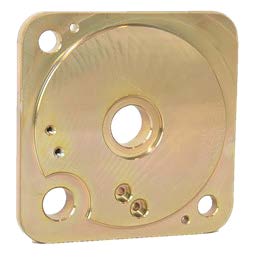 Benefits of Chromate Conversion
Helps prevent corrosion

Retains conductive properties of aluminium.

Good basis for paint
Chromate Conversion coating is a type of conversion coating used to passivate aluminium alloys.
It is primarily used as a corrosion inhibitor, primer, decorative finish, or to retain electrical conductivity
Surtec 650 - is a hexavalent chromium free passivation for aluminium, suitable for alloyed and cast aluminium. It is also used as a pretreatment before lacquering, powder coating and gluing. Electrically it has a low contact resistance and good electrical conductivity.
We offer
Flexible solution across multiple geometries
Single source partner to get finished parts shipped in days
Typical lead times of 5+ business days
Types
Materials
Aluminium 6082, 7075 and 2024
Note: We are continuously expanding our capabilities. If you have specific questions around these capabilities, please contact your account representative at 01952 683522
Request More Information about our Secondary Operations service
Thank you for requesting more information about our Complex Mould Tooling service. A member of our team will be in touch with you shortly.