Rapid Prototyping for Prototype Manufacturing
Get your product to market faster with unmatched manufacturing speed and capabilities
Three manufacturing services
Hundreds of material options
1 day lead times available for all services
Manufacturing analysis with each quote
ISO 9001: 2015 | JOSCAR | ISO 14001:2018 | ISO 13485 | DNV Qualification of Manufacture Certification for Inconel 718
---
Our Manufacturing Capabilities for Rapid Prototyping
Our Rapid Prototyping services are available in 3 core manufacturing processes; these include 3D Printing, CNC Machining and Injection Moulding. Each process has its own unique features and benefits. The process you choose will depend on your specific product and project stage. Continue reading to learn more about our prototype manufacturing capabilities. 
---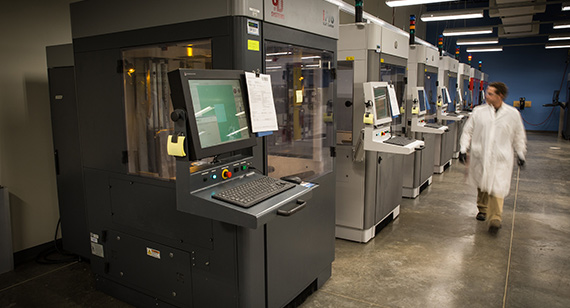 3D Printing
Our online 3D printing service consists of five 3D printing technologies to build plastic, metal, and elastomeric parts. In addition to a broad material selection, we offer several post-processing options like painting, heat treatment, polishing, and more.
---
CNC Machining
Our CNC machining capacity is totally unrivalled. This means your parts will be shipped on time, every single time. At Protolabs, our CNC machining services are available with finishing options like anodising and chromate plating.
---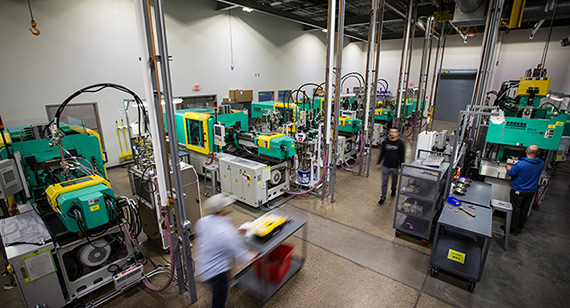 Injection Moulding
Are you ready for a more cost-effective and time-efficient way to manufacture parts? Our injection moulding services utilise aluminium moulds which start at just £995, and are also available in as fast as 1 day with our quick turnaround service. Need more? Our finishing options for Injection moulding include pad printing, laser engraving, threaded inserts, and more.
---
Our automated design analysis and quick-turn prototype manufacturing accelerates product development by integrating rapid prototyping into the design, testing, and validation phases.
---
How to Leverage Rapid Prototyping?
Discover how rapid prototyping can transform the success of your product design with speed and precision, to help you get to market sooner, with greater success.
---
What are the Benefits of Rapid Prototyping?
1
Reduce new product development cycles.
2
Mitigate internal prototype capacity issues.
3
Reduce risks by prototyping in final-grade materials.
4
Streamline product development by incorporating rapid prototyping into the design process.
5
Iterate multiple designs simultaneously.
6
Reduce time to market by validating design quicker.
---
Protolabs is a tremendous ally because they enable us to develop and iterate at a much higher speed.
---
Rapid Prototyping Materials
Among each of our service lines you'll find several thermoplastic, thermoset, elastomeric, and metal options, so you can prototype and test in actual production-grade materials.
View Materials
---
Online Quoting and Manufacturing Analysis
Upload a 3D CAD file to get an online quote. Each quote includes real-time pricing and manufacturing analysis. To start, simply a select a manufacturing process and upload a 3D CAD file.
We can accept the following file types:
SolidWorks (.sldprt)
ProE (.prt)
IGES (.igs)
STEP (.stp)
ACIS (.sat)
Parasolid (.x_t or .x_b)
.stl files 
Get a Quote
What is Rapid Prototyping?
expand_less
expand_more
Rapid prototyping is a development process used to quickly create functional models or prototypes of a product. It allows designers, developers and stakeholders to visualise and test concepts before investing significant time and resource.
Why is Rapid Prototyping Important?
expand_less
expand_more
Rapid prototyping accelerates the design and development process, whilst reducing the risk of costly errors. It supports with providing feedback early on in the development cycle. This way any design flaws, features that need refining and improvements required can be made before moving on to production.
How is Rapid Prototyping different from Traditional Development Methods?
expand_less
expand_more
Traditional methods often involve extensive and timely planning and documentation before development actually begins. Rapid prototyping focuses on speed and efficiency, allowing concepts to be tested and validated early on in the process.
What Processes are used for Rapid Prototyping?
expand_less
expand_more
All of the processes at Protolabs are suitable and can be used for rapid prototyping; injection moulding, CNC machining and 3D printing.
---
How to Get Your Prototypes Manufactured?
1
Upload a CAD File
To start, simply select a manufacturing process and upload a 3D CAD file.
We can accept the following file types:
SolidWorks (.sldprt)
ProE (.prt)
IGES (.igs)
STEP (.stp)
ACIS (.sat)
Parasolid (.x_t or .x_b)
.stl files
View Accepted Files
Hide Accepted Files
2
Design Analysis is Performed
Within a few hours we'll send you design for manufacturability (DFM) analysis and real-time pricing.
Along with accurate pricing, our interactive quote will call out any difficult to manufacture features based on the manufacturing process you have selected. This can range from difficult to mould undercuts to deep holes on machined parts.
View DFM Details
Hide DFM Details
3
Prototype Manufacturing Begins
Once you review your quote and place your order, we'll start the manufacturing process of your prototype parts. We also offer finishing options.
We offer a variety of finishing options for all manufacturing services. These can range from powder coat finishing and anodizing to basic assembly and threaded inserts.
View Finishing Options
Hide Finishing Options
4
Parts are Shipped!
Our digital manufacturing process allows us to produce parts in as fast as 1 day.
---
Prototyping Service: Award Winning Cutlery
This case study reveals how an award-winning idea to help people with shaky hands eat more easily was developed by Glasgow-based 4C Design and quickly brought into cost-effective production by Protolabs' rapid moulding service.
Read Case Study