General Drones
Saving lives at sea with support from Protolabs' Multi Jet Fusion and Selective Laser Sintering services
Reduced rescue times with Protolabs' MJF and SLS technology
The Valencia-based company General Drones designs and builds rescue drones.
An expert in the field of maritime rescue, it faced a challenge that was as complex as it was potentially life-changing: reducing rescue times for teams responding to an emergency at sea.
Looking to satisfy the needs of its potential customers - the public protection of various coastal communities - it started designing the Auxdron LFG: a fast, effective device with stringent requirements in terms of materials and specifications.
The company began a search for suppliers capable of agile manufacturing mechanical parts: elements with "substantial limitations in terms of weight and multiple geometry," explain representatives from General Drones.
A life-saving partnership
Protolabs took up the challenge, using Multi Jet Fusion (MJF) technology to produce a series of high-density, low-porosity parts within the stipulated time. One of the required components, however, was developed using Selective Laser Sintering (SLS), another 3D printing system also capable of producing parts in a very short time.
The most salient advantage of its collaboration with Protolabs was in fact the agility in manufacturing and delivery times, as General Drones noted that it would have relied on Protolabs' 3D printing services in previous projects if it had known about the digital manufacturer beforehand.
 General Drones also praised the competitive price/quality ratio that Protolabs offered for developing parts with standard finishes. Its online quoting platform made it very easy to upload the part, get an instant quote and move forward with a project; an added value which enhanced the advantages of 3D printing technology.
The result: agile and effective rescue manoeuvres
The Auxdron LFG drone is capable of moving quickly and efficiently for coastal rescues in a very short time, maximising the chances of survival even in unfavourable weather conditions.
"Our aircraft is always ready to take off and execute a rescue operation within six seconds," state representatives of General Drones, adding that it can quickly reach the victim and deliver a life jacket, thus reducing the time it takes for a rescue worker to arrive; "minutes that are precious when it comes to saving a life," they point out.
The project once again highlights the potential of teamwork. In this case, from a multidisciplinary team that not only includes engineers, technical professionals and experts in industrial 3D printing, but one that also has qualified drone pilots and experts in maritime rescue. "No professional drone has ever before been made available to the public by first responders for first responders," the company explains.
3D Printing, ready for the most demanding projects
With state-of-the-art technology, 3D Printing opens the door to a whole new world of manufacturing.
In this case, Multi Jet Fusion: a powder-based system which, by means of a melting agent, selectively heats and pulverises the particles for melting. A detailing agent helps to improve the resolution of the part and finally, as the heat lamps pass over the surface of the powder bed, the material is given a uniform finish.
In contrast, the SLS machine works by sintering each layer of the part geometry in a hot bed of nylon powder. After each layer is fused, a roller runs across the entire bed to distribute the next powder layer. The process repeats layer by layer until the construction is complete.
Once finished, the entire powder bed with the included parts is moved to a separation chamber, where the parts are lifted and removed from the bed. An initial manual brushing removes most of the loose powder. The parts are then blasted with granules to remove any residual powder before moving on to the finishing department.
Both 3D printing technologies are truly capable of responding to the most demanding manufacturing projects in terms of quality, precision and speed, creating functional end parts in a single day.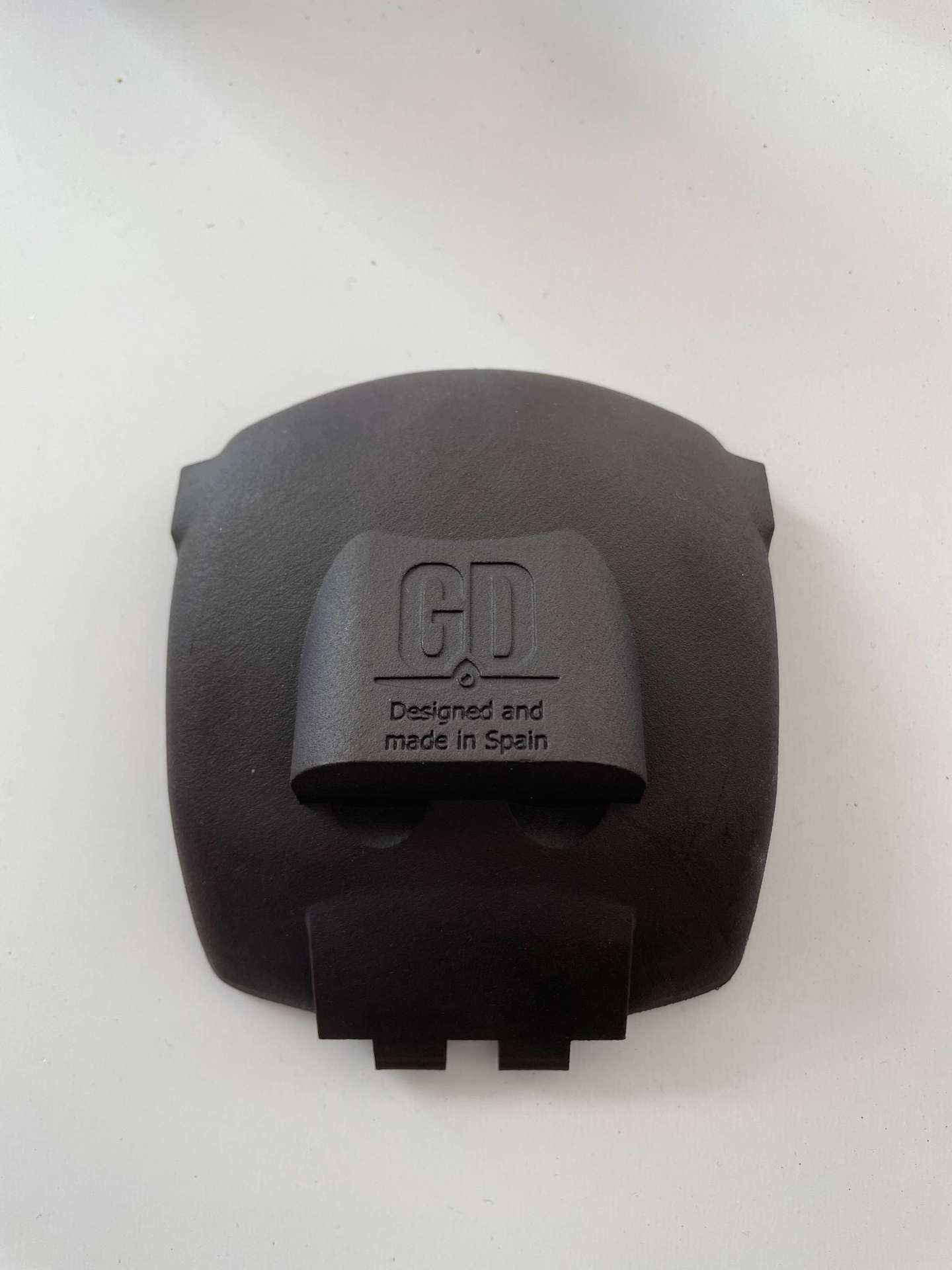 At A Glance
Challenge
Design a series of lightweight, precise, multi-geometry parts with extremely short lead times and at a competitive price.
Solution
Protolabs promptly built the required parts using Multi Jet Fusion (MJF) and Selective Laser Sintering (SLS) 3D printing techniques according to the guidelines issued by General Drones' Design and Manufacturing area.
These are the fastest and most suitable technologies for producing durable, flexible and water-resistant parts, which made it possible to manufacture the complete device on time and at an attractive price versus quality ratio.
Outcome
Auxdron LFG was able to meet the demands of the sector and, since 2017, has been an indispensable tool for the rescue teams on the beaches of Puerto de Sagunto, Almenara, Almardà, Benicàssim, Castellón and Peñíscola, providing rescue manoeuvres during the "minutes that are precious when it comes to saving a life."
"Our aircraft is always ready to take off and execute a rescue operation within six seconds."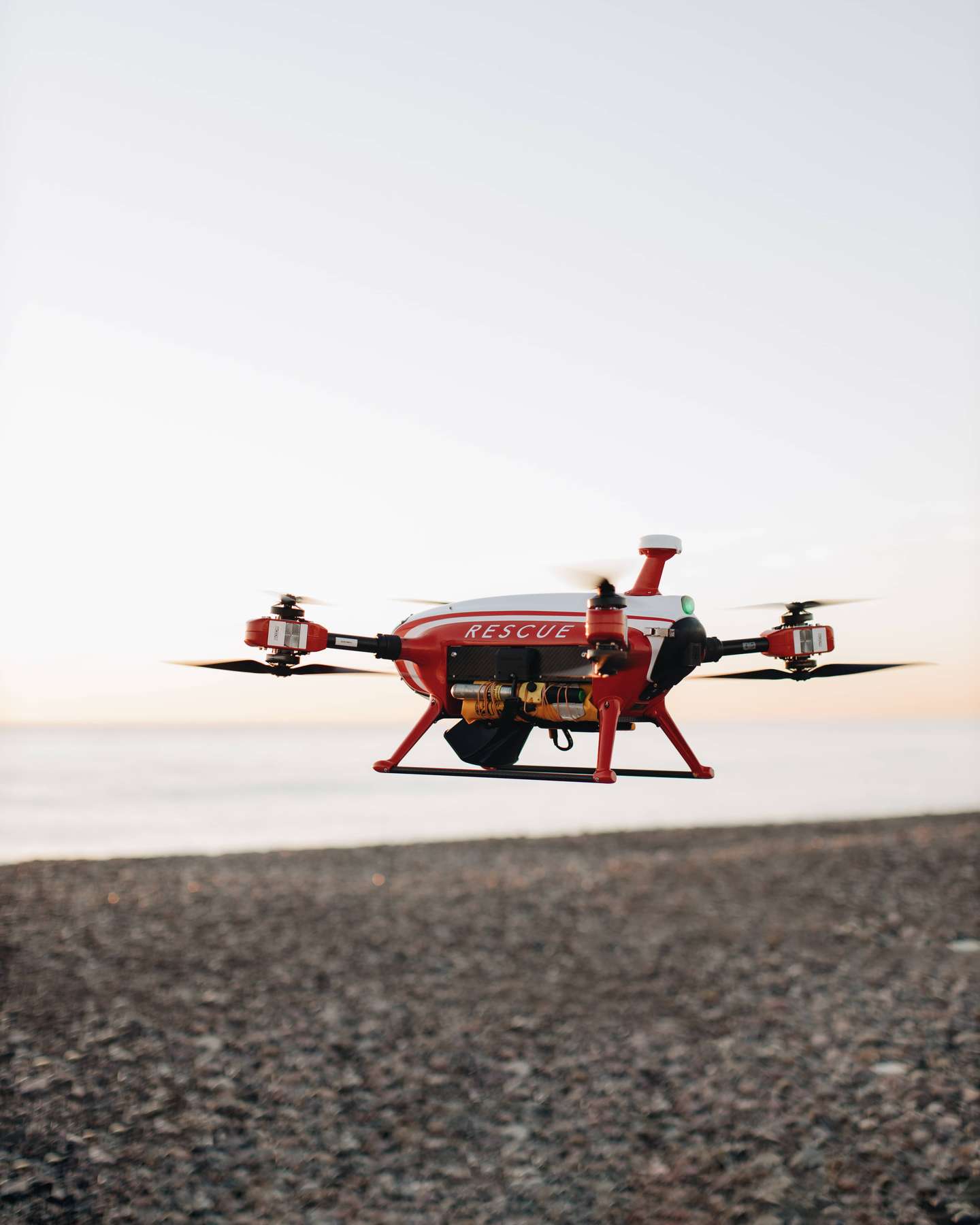 Going beyond rescue
Given that Auxdron LFG features a versatile range of specifications, it is now being used for surveillance and prevention patrols, and for counting people on beaches using Artificial Intelligence. These features deliver added value for tourism during the summer season, particularly during the COVID-19 pandemic.
The future
This case study falls within the context of an emerging economic sector, given the significant cost reduction in the technology required for designing and manufacturing drones according to the Strategic Plan developed by the Ministry of Public Works in 2018.
While the sector is currently focused mainly on recreational applications, current trends point to a near consolidation of the professional market, notes General Drones, "giving more weight to our drones." Optimistic forecasts in which 3D printing technology has a place, according to the company, as it looks forward to "continuing its collaboration with Protolabs, as the advantages it offers are clear."