Attention to Detail Brings a Specialized Toolkit to Life
Aptus DesignWorks takes advantage of the Protolabs manufacturing network to get quality sheet metal and CNC machined parts for an optical fiber toolkit used to install traffic cameras
To reduce congestion and better understand traffic patterns, many municipalities are adopting above ground detection cameras. Mounted high above intersections, these cameras are not used to issue tickets, but to give transportation departments a real-time, bird's-eye view of vehicle and pedestrian movement below while at the same time automatically feeding that information to the traffic control unit for signal light actuation, helping them improve signal light timing. As traffic information is analyzed over time, it can lead to better planning decisions.
But installing cameras 20 to 30 feet above the ground is no easy task. A technician, standing in a plastic work bucket hoisted from a truck, must use specialized tools to mount the camera and splice in fiberoptic cable that runs through the light pole to a controller on the ground.
"Fiberoptic cable is extremely small and delicate to work with, especially when you're in a work bucket," said Kris Hall, Vice President of Operation at APTUS DesignWorks, a team of engineers based in eastern Tennessee who develop products for startups, manufacturers, and other companies that lack the capacity or resources to create them in-house.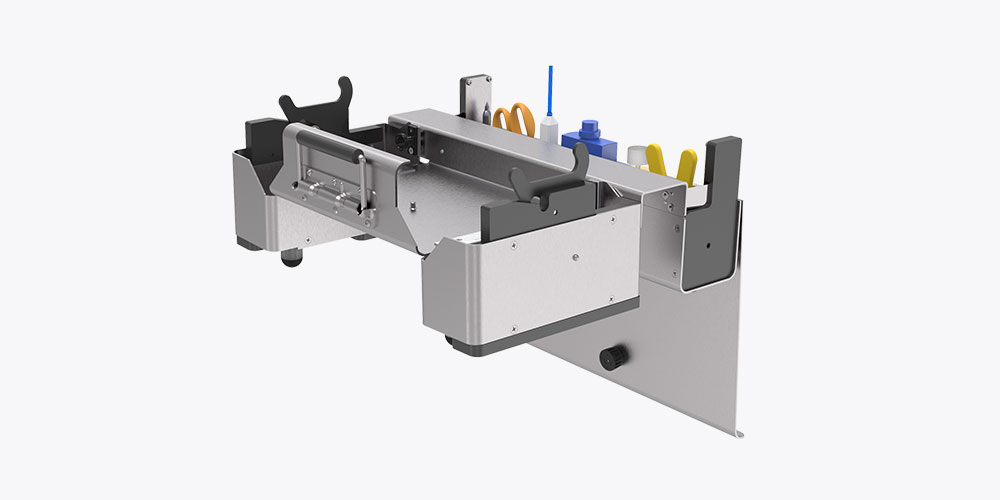 Challenge: Making a Briefcase that Morphs into a Specialized Toolkit
For camera installers, it's difficult to have enough hands to organize tools and materials and hold them steady without a workbench. They must take their time, retrieving implements one by one while exercising extreme caution to maintain their grip.
"The last thing you want to do is drop anything from 20 feet in the air onto the roadway," said Hall.
As installation proceeds, traffic below often stalls. Transportation authorities would like to minimize the disruption.
Engineering a Solution: One Company, Three Manufacturing Processes
A company that makes the traffic cameras came up with a plan for simplifying and speeding the fiberoptic installation and asked APTUS engineers how they could improve on their existing design. Would it be possible to design a specialized, well-organized toolkit in the form of a metal briefcase? Can the briefcase open up to become a flat work surface where installers could safely lay their materials and ply their tools, then fold into a briefcase again for the ride down?
APTUS agreed to design the solution for manufacturing, but the unusual project presented several challenges. First and foremost was the form-factor transformation.
"This complicated group of sheet metal parts had to fit together well," said Hall. "That meant we needed to design some parts in a way that would allow adjustment and flexibility."
APTUS engineers decided to use strong but lightweight aluminum sheet metal for the bulk of the enclosure. They specified strict tolerances for gaps that arise when the toolkit is opening and closing, avoiding pinch points that could trap workers' fingers. They also had to adhere to stringent bend radius requirements for the briefcase shell in order to soften its sharp edges and create a rounded, aesthetically appealing look in line with its client's other products. And because the toolkit would be used near live voltage, the metal needed to be hard-anodized to reduce conductivity.
For parts requiring pliability—such as a pawl that engages with the teeth of a ratcheting mechanism, which APTUS designed to securely attach the opened briefcase to the lip of a work bucket—the engineers chose strong, low-cost, CNC-machined ABS plastic. They also wanted to use the plastic to create a clamp for holding down the sensitive fiberoptic cable as technicians worked, and for a custom knob used to latch and unlatch the briefcase.
"The knob that came with the latch was large and bulky and could have caught on something or broken off," Hall said. "We made one that's lower-profile, and it also gives the client space to add branding."
Because of the product's exacting design details and branding specifications, APTUS knew finding the right manufacturing partner would be key to success.
"We needed a supplier we could trust to stay within the tight tolerances and aesthetic requirements without making design compromises," Hall said.
The company had previously worked with both Protolabs and our manufacturing network powered by Hubs. APTUS chose Protolabs' network for this project, partly because it could accommodate the design's special requirements, but also because our manufacturing partners do larger-scale production as well as prototyping.
"Protolabs was able to help us through prototyping and iterating, then they helped us jump into the pilot production," said Hall. "It cuts down on surprises and miscommunication when you stay with the same supplier."

Outcome: APTUS-Protolabs Partnership Exceeds Client Expectations
The process went smoothly, with no design changes required. Early in production, however, we identified an issue: During the hard-anodizing process, part of the sheet metal finish turned off-color. APTUS was notified right away to ask whether the product would still be acceptable. APTUS knew that its aesthetics-conscious client would object, so we corrected the issue before completing the first order of 25 toolkits.
"We really appreciate how Protolabs caught that quality concern early on," said Hall. "Sometimes we never hear feedback from a producer. If we reject parts, they have to approve the rejection, and the process can drag on for many weeks."
The final product met all the demanding specifications, and we are now producing a second batch of toolkits. By working with us, APTUS not only received quality parts quickly, it expects to save 10 to 15% compared to other manufacturers.
APTUS' client is thrilled with the handy product and is preparing to order another batch as its business expands.
The toolkit is succeeding in shortening the installation process—an important goal for the client's municipal customers.
At A Glance
Challenge
Installing above ground detection cameras requires the use of specialized tools, which must be transported 20 to 30 feet above the ground to perform delicate tasks, such as splicing fiberoptic cable located above the roadway intersection. Managing these tools without a stable workbench makes installation difficult, time-consuming, and potentially dangerous.
Solution

To provide installation technicians a stable work surface, APTUS DesignWorks created a unique toolkit in the form of a handheld metal briefcase. It holds tools in secure compartments as a technician is raised in a work bucket to the installation site, then it unfolds to become a flat work surface that securely attaches to the work bucket. APTUS produced the toolkits using Protolabs, which was able to adhere to strict bend radius requirements, avoiding sharp edges and meeting design and branding requirements. Our hard-coat anodizing process also enabled the metal kit to avoid conductivity issues.
The moving parts for opening, closing, and attaching the toolkit had to be strong, pliable and set to close tolerances, avoiding pinch points where a worker's fingers could get caught. To satisfy these requirements, we used CNC-machined ABS plastic.
Outcome
The traffic camera installation toolkit provides an easier and safer way for installers to do their jobs. As a result, their work is completed faster, resulting in minimal traffic disruption—a major concern for municipalities installing the cameras.