Medtech Startup Gets to Market Faster, Cost-Effectively with On-Demand Molding
Invoy Technologies uses rapid injection molding for reusable and disposable parts in its next-gen medical device
Medtech startup Invoy Technologies is on a mission to disrupt the weight-loss industry. Its novel solution combines patented technology—a handheld breath analyzer that instantly measures fat burning—and a data-driven coaching app to help users reach their goals. In launching its second-generation device, Invoy is relying on another combination—Protolabs' two rapid injection molding service options—that together serve as a one-stop solution to design and produce both the reusable and the disposable parts of Invoy's product.
Invoy used Protolabs' injection molding prototyping option to produce its base device, which users buy once and reuse. Protolabs' on-demand manufacturing option, meanwhile, is Invoy's choice for low-volume production of injection-molded disposables needed for daily use of the device. In this case, on-demand manufacturing effectively serves as bridge tooling, optimizing Invoy's supply chain and mitigating potential forecast risk before possibly moving to high-volume production of disposables.
Invoy, headquartered south of Los Angeles in Aliso Viejo, Calif., is seeking to reverse an obesity epidemic that affects hundreds of millions of people in the United States. Two-thirds of U.S. adults and a fifth of U.S. children are obese or overweight, according to the Centers for Disease Control and Prevention. This raises their risk for health problems including heart disease, type 2 diabetes, stroke, and some cancers.
Invoy CEO Lubna Ahmad, who founded the company in 2012 after earning a doctorate degree in bioengineering from Arizona State University, is taking a new approach to addressing obesity. Invoy's breath analyzer puts a high-tech update on a concept dating to the ancient Greeks, who observed that the smell of a patient's breath coincided with certain health conditions.
At A Glance
Challenge
Invoy Technologies needed to accelerate time to market and reduce production costs of a low-volume medical product designed for weight loss.
Solution

Use low-volume injection molding for single-use disposables, and reusable prototypes.
Receive parts in 15 days instead of eight to 18 weeks from a traditional molder.
Outcome

Manufacturing parts under one roof optimized design while Invoy realized savings on prototype molds and on-demand manufactured parts.
Spent less on Protolabs' molds compared to steel tooling: $5,000 average cost of Protolabs' prototype injection mold; steel tooling cost at least three times as much.
On-demand manufacturing effectively serves as bridge tooling, optimizing Invoy's supply chain and mitigating potential forecast risk before possibly moving to high-volume production of disposables.
The staff at Nicklaus Children's Health System in Miami has seen "tremendous progress in achieving weight loss goals" with Invoy's device, said Dr. Narendra Kini, the health system's CEO, in a statement on Invoy's website.
With Invoy's device, the user breathes into a mouthpiece and plugs that into a base unit, which measures the amount of exhaled acetone in the breath. Acetone is an organic compound that evaporates from the blood into the lungs when the body converts fat into energy. The level of exhaled acetone indicates "when you're burning your own fat and not just burning your food" to produce energy, said Zach Smith, Invoy's director of design.
Measuring fat metabolism traditionally involves blood or urine tests that are invasive and mean waiting for results to go from the lab to your doctor. Invoy's device uploads daily readings to its cloud-based data management system, for the user and doctor to review in real time.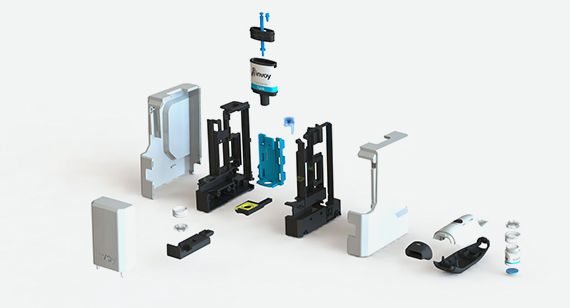 Development Challenge: Disposable parts, reusable device designed from scratch
Unlike existing products with barebones pass/fail results, Invoy's device produces real-time readings at the high parts-per-million level of blood or urine tests, Smith said. Unique in the market, the device had to be designed from the ground up. It needed to combine seamlessly both disposable parts used for daily monitoring and the reusable base unit. Further, the device had to pack in custom components including a servo, a solenoid, and camera along with developer solutions and chemistry that would destroy certain plastics. "It's the most challenging thing I've ever worked on," said Smith, who has nearly two decades of experience in creating plastic injection-molded parts and products.
Manufacturing Solution: Molded prototypes and low-volume production
Invoy does a lot of 3D printing with its own printers, Smith said. But some of the chemicals used in the base device "eat up" 3D-printed parts. So the company used molded prototypes to validate part designs and ensure its materials would stand up to the chemicals. "There was no way to make a prototype that would work without it being the right material and having the right tolerances when you're trying to seal up liquids," Smith said.
That's about a $1 reduction in piece-part price so it makes financial sense to leverage an on-demand manufacturing mold if production exceeds 2,000 parts.
Invoy used injection molding to produce parts that go into its base device and mouthpiece, Smith said. Invoy needs those reusable parts in lower quantities, so the lower mold price helps offset the higher piece-part price for an overall affordable total cost of ownership. Invoy also used overmolding at Protolabs to produce the "parking stall" — a rigid black tray with a yellow rubber insert that holds the liquid tank inside the base device.
Each Invoy user uses one disposable a day or 30 every month, so on-demand manufacturing meets its need for those higher-volume components, Smith said. While the mold price is higher, the piece-part price is lower. Plus Protolabs will replace the on-demand mold at no charge if it wears out. He's considered transferring production of disposables overseas but hasn't yet. "It's helped us as a group decide to keep everything under one roof," Smith said.
Product Outcomes: Saving time, money while getting next-gen device to market
Invoy would have needed a larger internal team or would have had to enlist a number of engineering firms and service bureaus to develop its second-generation device, Smith said, if he had not found Protolabs. "I can confidently say 'no,'" that the Invoy's new device would not be going to market just yet and would not be in its present form.
With standard plastic injection molders, Smith has waited eight to 12 weeks to get a mold made and receive first article inspection. With Protolabs, he gets parts in 15 days without paying any fee for expedited service.
Smith estimated that prototype injection molds from Protolabs, with a guaranteed life of at least 2,000 shots, cost an average of $5,000 for Invoy's project. Prototype parts average $2.15 with an order of 1,000 parts. On-demand manufacturing molds costs more—he estimated an average $6,800 on Invoy's molds—but parts cost an average of $1.18 apiece. That's about a $1 reduction in piece-part price so it makes financial sense to leverage an on-demand manufacturing mold if production exceeds 2,000 parts.
Steel tooling from a high-volume overseas manufacturer would cost at least three times as much as Invoy's average prototype injection mold from Protolabs, Smith said.
"You're going to spend more per part but it's so justifiable in the early stages when you're more worried about getting the part right before you go and spend a fortune on a steel multi-cavity tool that's going to be really hard to make any changes to," Smith said of the choice between a high-volume manufacturer and Protolabs injection molding options.
Making quick iterations, getting parts in days instead of weeks, and the ability to make relatively inexpensive modifications to Protolabs' aluminum tooling, all weigh in favor of using its prototype and on-demand manufacturing options for injection molding, Smith said.
"It's baked into our design and our R&D process now," Smith said. "It's easier for me to order a mold for a part for a medical device (from Protolabs) than it is for me to pay my mortgage online."