3D Printing with Silicone: A Worthy Complement to LSR Molding
Posted On October 20, 2022 By Protolabs
Using liquid silicone rubber (LSR) to manufacture molded parts has been around for a long time, but printing with TruSil silicone, well that's a new process that might just be what you need as you develop silicone parts. Imagine iterating parts quickly, reliably, and accurately using 3D printing. You can perfect design elements without the need for multiple upfront tooling costs to save development time and production costs.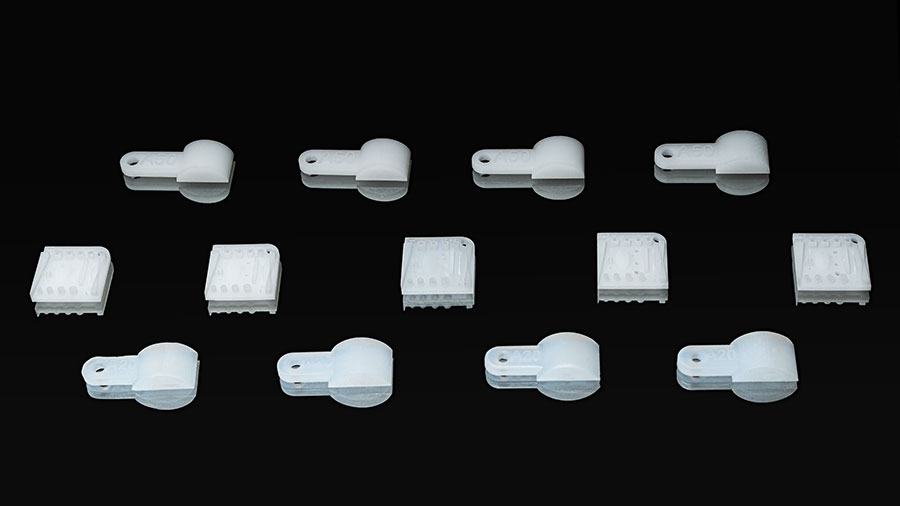 How it Works
LSR is a popular elastomer that has had a place in injection molding for decades. Silicone is now available in a liquid resin version that can now be 3D printed using stereolithography (SLA). SLA is a commonly used printing technology because it creates smooth parts without visible layers. Essentially, a laser aims at a vat of silicone resin, creating parts layer-by-layer. With each pass, part structures move down slightly into the resin bath, eventually completing the parts. Then, support structures are removed, and parts undergo a UV-curing cycle to solidify the material.
The following table gives an overview of different printed silicone properties, compared to other manufacturing processes and similar materials.
Manufacturing Technology
Material
Color
Durometer
Max Part Size
Surface Finish
Cost
Applications

SLA

Silicone

Translucent white

Black

20 to 60A

4.7 in. x 2.8 in. x 3.9 in. (119.4mm x 71.1mm x 99.1mm)

Smooth texture and absence of visible layers

$$$

Prototyping molded silicone parts

Seals and gaskets

Wearables

Buttons

PolyJet

Photopolymer

Black

Clear/translucent

White

30A to 95A

19.3 in. x 15.4 in. x 7.9 in. (490.2mm x 391.2mm x 200.7mm)

Smooth texture

$$

Overmolding prototypes

SLS

TPU

White

70A

10.6 in. x 12.6 in. x 16 in. (269.2mm x 320.0mm x 406.4mm)

Rougher, sugar-cube like texture

$

Grips, hoses

Applications where resistance under dynamic loading is required

Injection Molding

LSR

White

Optically clear

Variety of colors

30A to 70A

12 in. x 8 in. x 4 in. (304.8mm x 203.2mm x 101.6mm)

Smooth texture, multiple options

$$$$

High-volume prototyping, pilot runs

End-use production parts
Advantages of 3D Printing with Silicone
Fundamentally, printing in silicone provides parts that are much like molding with it. It offers a wide range of Shore-A hardness, with durometers ranging from 20-60A (rubber band to car tire tread), compared to 30-70A for molding. As with other SLA materials, you get excellent detail and resolution with silicone.
Other advantages include resistance to:
Acidic or alkaline environments
Deformation
High temperature
Moisture
Tearing
UV-light
Wear
Silicone is quite elastic and offers a watertight seal. Also, if you need medical parts, silicone fits the bill—and has for many years—as this particular silicone has passed the following tests for biocompatibility: ISO DIN EN 10993-05 (tests for in vitro cytotoxicity) and ISO DIN EN 10993-10 (tests for irritation and skin sensitization).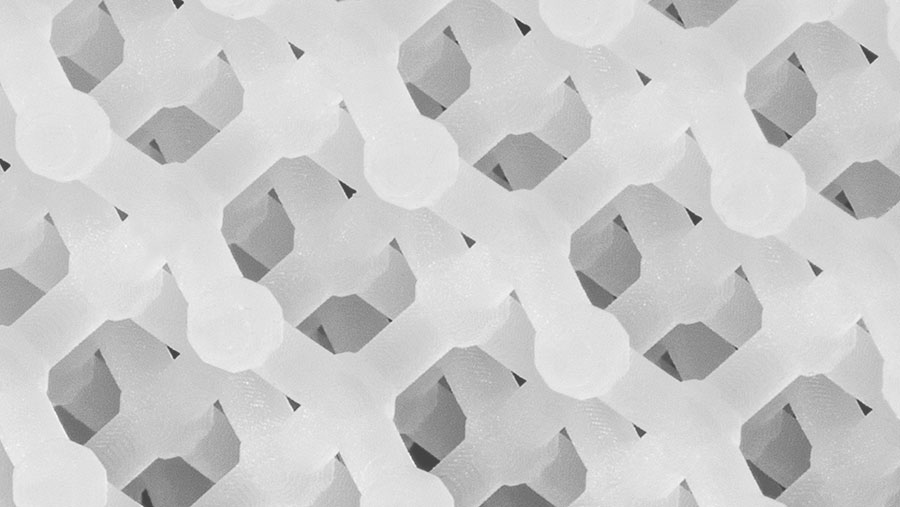 Limitations of Printing with Silicone
Of course, there is another side of the coin with silicone that requires consideration. Currently, the parts that can be printed are modest in size. Parts must be no larger than 4.7 in. by 2.8 in. by 3.9 in. (119.38mm x 71.12mm x 99.06mm). Also, they are printed overseas, which might be of concern if you need ITAR or other import/export certification.
Color choice is either translucent white (for all durometers), or black for 60A, so if you're looking for parts with color, molding is your best bet. That said, if your aim is simply to test design integrity, color might be irrelevant.
One other consideration is one that is pertinent to all transitions from printing to molding. If you are planning to use printing as a prototyping step and move on to molding for on-demand manufacturing quantities, make sure that your designs are moldable before putting special features into your parts.
Last, but not least, is cost. In some ways, this is neither an advantage nor a limitation. While printing in silicone is not inexpensive compared to other printing options and materials, it is less expensive than paying for a mold, and possible iterating with multiple molds. So, silicone isn't cheap, but it is a good option for saving money during prototyping, and possibly throughout a part's life cycle.