Quick-Turn Machining Rescues Paralympian's World Cup Season
Posted On January 13, 2023 By Protolabs
U.S. Paralympian "Monster" Mike Schultz serves a vital role on Team USA. He's not only a gold medalist in the Winter Games and in World Cup competition, but he's also the architect of the prosthetic equipment used by many of his teammates. Through his company, BioDapt, Schultz designs and manufactures lower limb prosthetic equipment built for the extreme stress of paralympic competition.
Schultz' dual role came into play during the holidays when an airline misplaced his teammate's board bag and specialized prosthetic equipment. Schultz, with an assist from Protolabs, was able to quickly replace the equipment and avoid a costly speed bump in what has been a stellar World Cup season to date.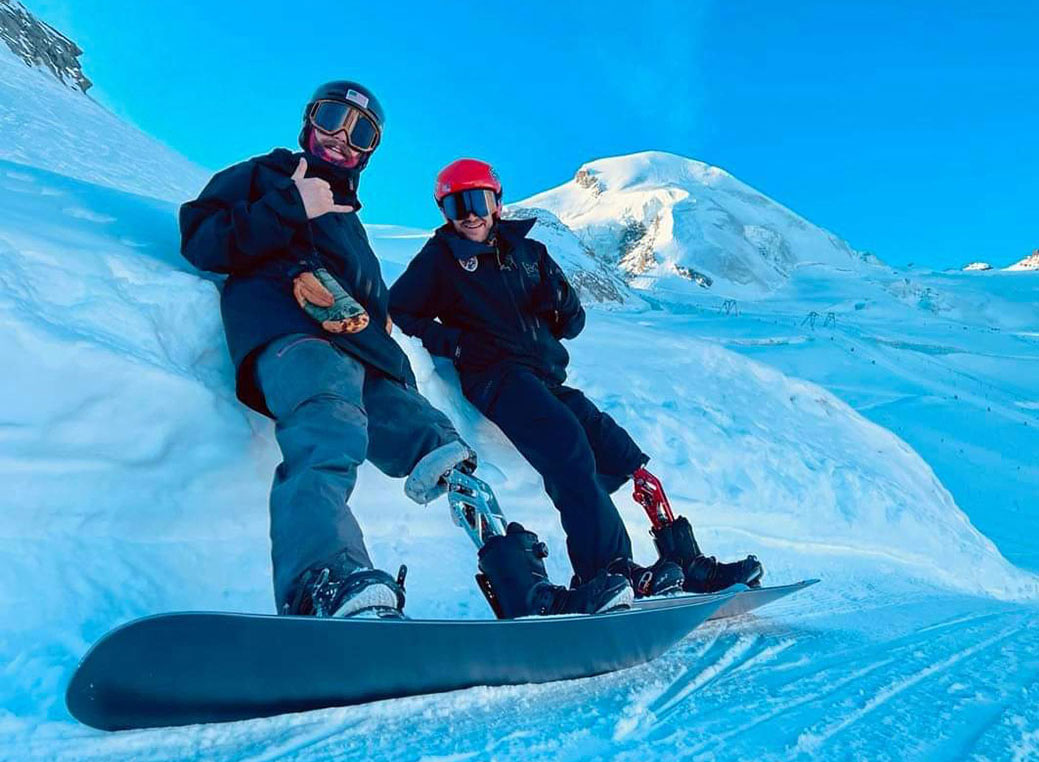 Lost Bags Mean Lost Opportunities
Shortly before Christmas, Schultz and Team USA wrapped up World Cup competition in British Columbia where the team took home 11 medals, including two gold medals for Schultz. The elation quickly turned into frustration as the team was caught up in the flight fiasco affecting many Americans over the holidays. While the team was able to get home, their equipment wasn't as fortunate.
Paralympian and two-time gold/silver medalist, Noah Elliott, found out that the airline had lost his board bag, which contained the Moto Knee2 and Versa Foot2 system designed by BioDapt. As Team USA athletes, the loss of the components during the heart of the season could have been devastating. Elliott had a video shoot the following week followed by competition in Finland, Italy, Germany, and Spain. The components, designed by Schultz specifically for Elliott, did not have an off-the-shelf replacement.
"As professional athletes we are held to high standards, and our equipment to even higher standards. In the mix of a busy World Cup season any athlete's performance would be detrimentally impacted by loss of equipment," said Elliott. "Thanks to BioDapt, my training and accessibility to the mountains for snowboarding hardly took a hit. Within just a few days of reaching out to Mike, I had a new Moto Knee2 and Versa Foot2 to shred on. I didn't miss a minute on the snow, training, or with my family."
Not All Prosthetics Are Alike
"We are both professional athletes with Team USA and have many obligations to complete, both on and off the racecourse. As amputees, we rely on our adaptive/prosthetic equipment to allow us to train and compete, the 'everyday' prosthetic equipment we wear is not capable of high impact sports, so if we don't have the right equipment, we simply can't ride," said Schultz. "We put a lot of miles on in a season and it takes a lot of effort from athletes, staff and equipment supporters to make it all work out."
Schultz scrambled to put together a replacement kit for Elliott. The design was specific to snowboarding and used by only Schultz and Elliott. Without the necessary parts in stock, Schultz first disassembled his own prosthetic for the parts necessary to produce a replacement version for Elliott, allowing him to make his video shoot. Schultz then had to quickly rebuild his personal prosthetic prior to flying out for competition in Finland. With a quick-turn deadline, he had no time to waste. Enter Protolabs.
Manufacturing Prosthetic Parts
Schultz quickly uploaded CAD files of components that together form a durable hinge mechanism in the knee frame. The parts, CNC machined in stainless steel 17-4 PH and aluminum 7075-T651, arrived a few days later. Schultz and BioDapt are longtime customers of Protolabs and he credits the quoting system and digital manufacturing for playing a vital role in satisfying his prototyping and production needs.
"The website interface is easy and quick to use for part quoting and ordering. Just drop the file in, analyze, receive the quote, and then order," said Schultz. "I also like the option to choose the completion timeline for when I really get into a bind and need parts within a couple days, or I can choose to extend the timeline to save some cost. In the end, I've always received great quality parts that are within spec for prototype and production quality."
In the end, both racers were able to fulfill all of their obligations and Team USA's fight for gold medals continued without missing a beat. Elliott was grateful for his partnership with Schultz and the BioDapt team.