Medtech Firm Never Skips a Beat with On-Demand Manufacturing
Corindus, a Siemens Healthineers Company, uses low-volume injection molding to bring new coronary interventional technology to market
For Corindus, a Siemens Healthineers Company, bringing advanced robotic technology to market for certain interventional medical procedures was a journey that included navigating design and development challenges and procuring key supply chain help from our on-demand manufacturing services.
The Waltham, Mass.-based medical device company was founded in 2002 in Israel by Dr. Rafael Beyar, an interventional cardiologist, and entrepreneur Tal Wenderow. The duo sought to apply remote control and robotic technology to coronary interventions. Years of research and development followed, which included attaining numerous patents.
In more recent years, as Corindus moved closer to commercialization of its second generation CorPath GRX System, the company has worked with several manufacturers and suppliers on different components. Corindus sought prototyping and on-demand manufacturing help for key components of CorPath GRX from Protolabs. The components helped comprise a molded, single-use cassette. Corindus worked with the digital manufacturing company to produce prototypes and final-production parts specifically for the plastic cassette, which attaches to the capital equipment mounted on the patient table consisting of a robotic drive system and articulating arm. Our relationship with Corindus extends from those early R&D days to current, on-going production work.
In 2012, the first generation of the CorPath 200 System received FDA clearance, and by 2017, Corindus, which now has 170-plus employees and growing, successfully launched its second-generation model. These days, the company markets CorPath GRX worldwide to hospitals and clinics. In 2019, Corindus was acquired by global technology giant Siemens Healthineers, and is now a part of its Advanced Therapies division.
How CorPath GRX Works
CorPath GRX is a robotic system that helps physicians precisely move and control guidewires, guide catheters, stents, and balloon catheters during coronary and peripheral vascular procedures to open up blocked arteries.
The system shifts the process from manual to robotic intervention for physicians—from working directly with their hands on the patient to controlling the robotic drive system and cassette from behind a console, which offers greater precision for the patient and greater protection for the interventional team.
Not only does the system allow for sub-millimeter precision and 1-millimeter device positioning, the doctor is able to perform the procedure from a radiation-shielded interventional workstation to reduce the occupational hazards of working with fluoroscopic X-ray needed for these procedures. The cassette, when attached to the robotic arm, pinches, threads, and advances the guidewires or catheters, powered by the arm, based on the physician's commands. CorPath GRX is the only FDA-cleared and CE-Marked (European certification) system of its kind to address coronary and vascular procedures.
Challenges: High Speeds, Low Volumes, Demand Uncertainties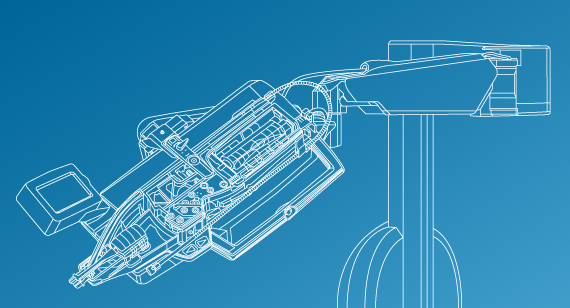 At A Glance
Challenge
Corindus needed prototype and production-ready tooling and parts fast to meet demanding testing, customer evaluations, FDA clearance, and production startup deadlines, and to mitigate early demand uncertainty.

Solution
Our on-demand manufacturing (ODM) for injection molding produced plastic parts:
Fast—in weeks instead of months

In high quality

In low volumes at an affordable price

Only when needed, solving the initial uncertain demand for CorPath product, which has since stabilized

In the tens of thousands from 30-40 different tools
Outcome
Corindus' CorPath GRX Robotic System is FDA-cleared, CE-marked, and used worldwide. The system can increase precision, raise standardization levels, potentially help reduce treatment times, and ultimately improve patient outcomes, while creating a safer working environment for healthcare professionals.
In the early days of design and development of the cassette, leading up to the second generation model, "one of the biggest challenges was that we had an extremely tight schedule," said Peter Falb, senior engineering manager at Corindus. "We learned a lot from our initial round of testing, and because our schedule was so tight, we had hoped to put something together in terms of an early prototype in one round, as best as possible—but that didn't pan out." They in fact needed multiple iterations of prototypes, which added even greater urgency to their need for speed.
At the same time, Falb said, he and his colleagues initially considered using machining or 3D printing for prototyping parts. "But we learned that we would need to make hundreds if not thousands of parts." Machining in this case was too expensive. Additionally, 3D printing would be very costly and 3D printing would not provide the part quality and precision needed.
Meanwhile, on the supply chain side of things, the company knew that there would initially be unknown demand for CorPath GRX once it reached the market, given it was a brand new product, and, indeed, early demand was "inconsistent," said Jeremy Tarca, director of supply chain for Corindus. "At first, as we commercialized, we needed some flexibility from our supplier base."
As a result, the company sought a manufacturer for the large majority of the cassette's various components that could deliver parts fast, at an affordable cost for low volumes, and could help mitigate early inconsistent demand. Enter Protolabs.
Solution: On-Demand Manufacturing
We offered an on-demand manufacturing approach for Corindus with injection molding that could rapidly produce the parts for the cassette. Injection molding was also an affordable manufacturing alternative available in lower volumes than traditional mass production. This helped mitigate financial risk that comes with large capital investments in production steel tooling. And, our approach could allow for rapid tooling and parts production and solve demand uncertainty because parts could be produced on demand.
"The ability to make tools [molds] fast, to make parts fast, being able to have support in low-volume [quantities] at a reasonable capital cost—these were the pieces we were looking for," said Tarca.
Speed was paramount. With dozens of parts and in some cases multiple iterations, molds and parts were still delivered fast, recalled Gary Kappel, principal mechanical design engineer for Corindus. How fast? "Think weeks instead of months. By comparison, if we would have used a traditional manufacturer, it would have been substantially longer…speed, low cost, and quality were the strongest points here," especially as they raced to meet various pivotal verification deadlines such as FDA evaluations.
"Think weeks instead of months. By comparison, if we would have used a traditional manufacturer, it would have been substantially longer…speed, low cost, and quality were the strongest points here."
Falb agreed. "Had we gone with prototype tooling with other vendors, there's no way it would have been that quick—the Protolabs software interface with design analysis, is very clear, intuitive, and very helpful to get the design details right for moldability ….it works really well."
Beyond speed, manufacturing in low volumes was a need. Kappel said our injection molding tooling and part costs proved to be quite affordable in low volumes. "Protolabs made many injection-molded parts for us in prototyping and right now Protolabs is making 30 to 40 specific, end-use parts in production volumes for us." He estimated the part numbers produced are now in the tens of thousands, for both first and second generations of the cassette.
Finally, as mentioned, demand for the product initially was inconsistent, though demand has since stabilized. Again, molding worked well because parts could be made only when needed.
Mitigating demand uncertainty is a crucial piece of the puzzle, but the flexibility of on-demand production in general offered Corindus the ability to innovate as the product evolved, said John Kelly, vice president of operations for Corindus."
We quickly reviewed, recommended updates, quoted, tooled, and produced parts for Corindus as large as 14 in. long x 6 in. wide x 3 in. tall with four injection molding gate locations. (we have the capability to tool and mold parts as large as 18.9 in. x 29.6 in. x 8 in.). The company also molds parts for Corindus with two and three side actions. It also supplies quality inspection reports (QIRs) for a few select dimensions with the Corindus parts.
Beyond speed, low volumes, and on-demand flexibility, Corindus engineers said they also appreciated our other services. For example, Corindus was one of the first companies to use our overmolding process, which was launched several years ago. Corindus also benefitted from our versatility with materials, using a selection of in-stock materials and Corindus-supplied materials such as Lexan polycarbonate, Acetal, and Texin and other elastomers.
In addition, it helped that Protolabs, as a medical manufacturer, was on Corindus' approved supplier list..
"Being in the medical industry, we source from suppliers that have established quality systems and prefer they have experience working in medical products," Kelly said. "Protolabs checked all of those boxes when we got to production, which made the transition from development easier."         
Product Outcome: Cardiology Patients Helped Worldwide
We delivered prototype and production parts on budget and on time and the parts have functioned as expected, said Kappel.
In addition, first and second generation CorPath robotic systems are both FDA-cleared and CE-marked for major vascular therapeutic markets and are sold worldwide at hospitals and clinics.
Kelly said that, because the CorPath System is used for thousands of patient procedures each year, thousands of the cassettes are sold each year. That quantity, he said, fits well for injection molding. "These are low-volume, high-value parts Protolabs is manufacturing for us."
Finally, perhaps the most important product outcomes are that CorPath's robotic-assisted, minimally invasive procedures can potentially help reduce treatment times, increase precision during treatment, raise standardization levels, and ultimately improve patient outcomes while creating a safer working environment for healthcare professionals.