Digital Manufacturing Helps Power Automotive Industry's EV Revolution
Posted On May 23, 2022 By Rob Young
A game-changing innovation race with high market-share stakes is taking place in the automotive sector these days as the industry makes a quantum shift from internal combustion engines (ICEs) to electric vehicles.
It's a global race involving everyone from the stalwart titans of Detroit and the storied engineers of the Black Forest to the manufacturing wizards of Asia and the upstart startups from California and elsewhere.
Automakers are committed to an electric future. For example, GM and Volkswagen plan to spend $35 billion and $42 billion respectively on electric and autonomous vehicles from 2020 to 2025.
Consumers are also turning to EVs. As we've previously reported, Ford's new electric F-150 pickup truck, the Lightning, which hasn't even gone on sale yet, already has 200,000 pre-orders. In December, Europeans for the first time bought more electric cars than diesels, once the most popular option there.
In the middle of it all are digital manufacturers like Protolabs, which are helping the automotive industry solve ever-shortening development cycles by supporting rapid innovation in low volumes using a range of manufacturing methods. Quickly disappearing are the days when the auto sector could work in more traditional and predictable development cycles in which carmakers' models changed incrementally and mostly annually.
Rapid Innovation Accelerates Product Development
In the not-too-distant past, automotive's incremental development cycles required minimal iteration and could be based on fairly predictable demand. After all, Ford had a pretty good sense that it would face large demand for its F-150 trucks. Honda mostly knew how many Accords needed to roll off assembly lines each year. The move to electric vehicles (EVs) is changing all of that. This brave new electric world, with a stunning array of new EV models launching to the marketplace, makes it trickier to predict what will be needed going forward—at least in the near term.
What's needed now is radical, rapid innovation. Companies—OEMs, startups, tier I and II suppliers—are testing and learning as they go, working swiftly to develop new EV technology. And it's not just the vehicles themselves, but related applications such as battery technology, charging stations, and other infrastructure.
In addition, companies are finding that a lot of the new technology that's being developed is being implemented more quickly than before. As a result, these companies need multiple iterations of part designs. And they need them fast. Digital manufacturing, with its tech-driven automation, can support this type of production, offering quick turnarounds on multiple iterations and delivering prototype and end-use parts within days.
Automotive Industry Embraces a Low-Volume Supply Chain
In the not-too-distant past, carmakers needed high-volume supply chains because they knew what they would sell from year to year. Now, sales and demand are tougher to predict because new EV models haven't been as market-tested as, say, a Ford F-150 or Honda Accord.
As a result, a much lower volume of parts and other supplies is required, at least in the near term. This low-volume supply chain also fits well with digital manufacturers that generally don't require minimum order quantities for parts and typically work within a quantity range of 250 to 20,000 parts. This quantity range works well for a variety of applications, including OEMs that may be doing special editions of certain models and for startup companies that usually don't require larger volumes until the second or third year. 
With the prevalence in customization that EV companies such as Tesla and Rivian are offering customers, low volume also comes into play as EV buyers can pretty much customize vehicles almost any way they want to.
A Range of Manufacturing Methods Helps Auto Sector's Agility
Depending on the manufacturer's resources, there may be several options for getting parts produced, giving companies increased flexibility.
At Protolabs, for example, over the years, for both traditional ICE vehicles and for EVs, our auto industry customers have used all of our manufacturing services for various parts and components: injection molding, CNC machining, 3D printing (additive manufacturing), and sheet metal fabrication. We offer additional manufacturing options through our Hubs manufacturing network.
And by the way, that range of manufacturing methods is supported by a variety of materials to choose from. Plus, in times of material shortages, our Alternative Materials Guide for plastic injection molding can really come in handy.
And just what types of parts do digital manufacturers produce for automotive companies? Examples abound at Protolabs, including plastic molded parts such as:
Wiring loom covers or harnesses
Behind-the-dashboard mounts and bracketry
Patch panels that serve as bulkhead covers
Overmolded dust covers for fuse boxes, air filter boxes, and other items needing covers
Parts for battery packs, charging stations, and other related infrastructure
Parts for LIDAR technology (for autonomous vehicles)
Various seals and gaskets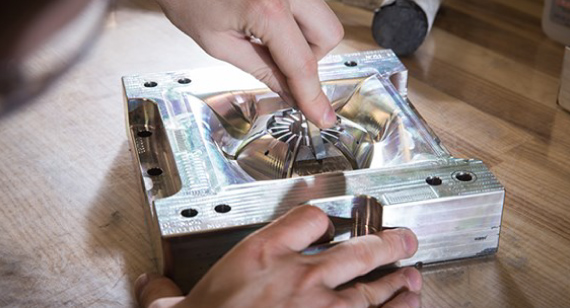 Additionally, we often serve as emergency or oversight molders, which means that if companies need last-minute molding or bridge tooling, we are able to step in and fill the gap. We make parts for OEMs, startups, tier I and II automotive suppliers, and other companies serving this sector. Ultimately, as the automotive universe shifts to EVs, digital manufacturers stand as partners with this industry, helping to power the drive to an all-electric future.
Rob Young is the product leader for injection molding at Protolabs. He has served in various roles at Protolabs for more than eight years.