Polypropylene 3D Printing
3D-printed polypropylene is a lightweight material, flexibility, durability, and chemical resistance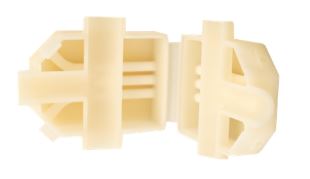 We offer one true polypropylene and two polypropylene-like 3D printing materials. Each type of polypropylene offers unique benefits:
Polypropylene Natural: This material is a true polypropylene. It offers chemical resistance properties that are top among the SLS and MJF material offerings. This tough and durable, yet flexible, material offers resistance to most acids and is a low weight material option.
PP-Like Translucent White (Somos 9120): This SLA material is translucent in appearance and a semi-flexible.In direct comparison to the average values of an injection-molded polypropylene, 9120 has similar tensile strength, tensile modulus, flexural modulus, and impact strength.
Carbon FPU 50:​ This Carbon material exhibits PP-like properties. It has the highest elongation of any of our 3D-printed resins at 200%, making it the most flexible PP-like ​.
---
Compare Polypropylene Material Properties
Material
3D Printing Process
Color
Tensile Strength
Tensile Modulus
Elongation
Polypropylene Natural
SLS
White
2.61 ksi
123 ksi
15%
PP-Like Translucent White
(Somos 9120)
SLA
Translucent/Clear
5.0 ksi
232 ksi
25%
Carbon FPU 50
Carbon
Black
4 ksi
100 ksi
200%
Material
3D Printing Process
Color
Tensile Strength
Tensile Modulus
Elongation
Polypropylene Natural
SLS
White
18 MPa
848 MPa
15%
PP-Like Translucent White
(Somos 9120)
SLA
Translucent/Clear
34.5 MPa
1,600 MPa
25%
Carbon FPU 50
Carbon
Black
27.6 MPa
690 MPa
200%
---
Applications for 3D-Printed Polypropylene
This general purpose material is well suited for parts in industries such as medical and automotive. It's frequently selected for:
Medical devices
Electrical casings
Fluid flow analysis parts
Automotive parts