3D-Printed Tablet Teaches Braille to Blind and Low-Vision Kids
Protolabs awarded a grant to create a prototype of the vital tool, helping kids read for the first time
Daniel Lubiner, a special education teacher for 25 years, was working with blind and low-vision kids in New York when the pandemic sent everyone home. While many children struggled with their studies during this time, the visually impaired were particularly disadvantaged.
"Remote instruction with video apps doesn't work for blind and low-vision kids," Lubiner said. 
A toy for sighted children involving a stylus and magnetic balls gave Lubiner the start of an idea: Could he create a similar tool to help the blind not only make art, but help them learn braille, science, and math? "I made that my mission," Lubiner said.
It was the beginning of a three-year journey resulting in the BrailleDoodle, a portable, laptop-sized tablet that not only teaches kids the braille alphabet, but enables them to learn phonics, practice writing words and sentences, create XY graphs for mathematical equations, and have fun free-drawing objects of their own design.
For the blind and vision-impaired, braille can be a key to success. Seventy percent of blind people are unemployed, but most of those who have jobs know braille, according to the National Foundation for the Blind. Yet just 10% of children are taught braille in school, the result of a teacher shortage, a lack of materials, and the rise of voice technology and audio books. 
While audio technology is helpful, many experts say it fails to teach kids writing and literary skills that are important in the career world. Reading braille also stimulates the brain, studies have found, causing it to establish additional connections and increase flexibility.
"The bottom line is, blind children need to learn to read and write just like every other child. They can use that skill every day, not just for reading books, but for many other tasks, like finding their way around a city," Lubiner said.
Creating the BrailleDoodle Design
To obtain funding for his idea, Lubiner started the nonprofit TouchPadPro Foundation, which raised over $70,000 in donations and another $37,000 in a Kickstarter campaign. He worked with New York-based Creative Engineering to create a design for the BrailleDoodle.
The tablet allows users to drag a magnetic stylus over its surface, pulling small metal balls through holes to the surface in various patterns to create braille letters, figures, or images. Plastic springs beneath the balls hold them firmly in place until the user pushes them down again. 
The device was designed with two sides. On one side, kids practice braille by running the stylus over discrete spaces configured for each letter of the alphabet. For example, in the "A" space, they can only pull up balls in a pattern forming the braille letter "A"—all the other holes are blocked off. 
Next to each letter space is another space where kids can practice making the letter on their own. Here, they can pull up balls anywhere, then check their work against the adjoining space. 
Below the alphabet area are free-writing spaces for creating numbers, words, and sentences in braille. 
On the reverse side of the tablet, kids can use the stylus to give form to their imagination, gliding it across the surface to pull up balls in the shape of a house or a tree, a moon or a spaceship.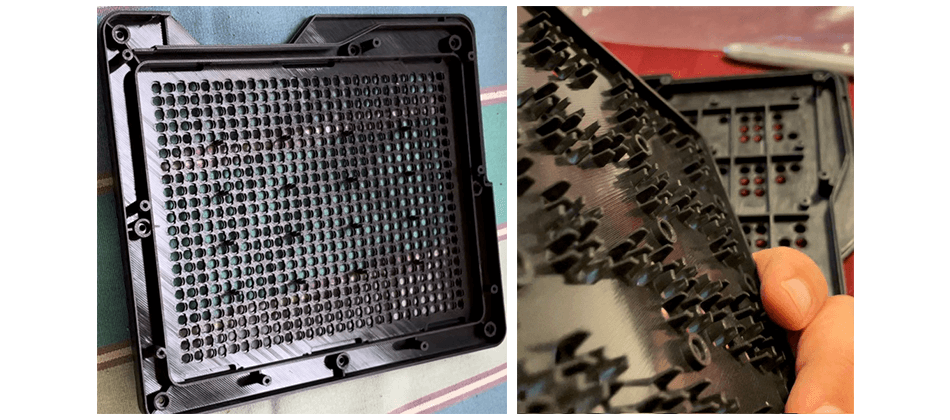 The Challenges of Building a Prototype
Taking the BrailleDoodle design from paper to prototype wasn't as easy as it may sound, Lubiner said. 
"It seems like a simple thing, but a full-size tablet has about 3,000 springs. It was a complicated, exact science to get them as close together as possible and make the balls stay up straight."
The prototype required a high level of accuracy to work correctly. Lubiner and the engineering team went through several design iterations and sent one to a company in China to produce a miniaturized prototype. 
"It came out pretty good, but not all the balls came up correctly. Some of them got stuck when they came up, and it was hard to push them down," Lubiner said. 
To produce a higher quality prototype stateside for faster iteration, Lubiner and the Creative Engineering team, which had worked with Protolabs before, approached us about creating a new version. "I knew from my research that Protolabs had a fantastic reputation," Lubiner said. 
Lubiner and his team were delighted when they became a recipient of a Protolabs manufacturing grant, which helped offset the price of prototypes for the nonprofit.
Our 3D printing team stepped in to manufacture the three main parts of the prototype in ABS-like plastic: the Braille-learning front perforated surface, the free-drawing back perforated surface, and the plastic springs to hold the raised metal balls inside their holes—but not so tightly that a quick push wouldn't release them. 
To build the parts, we used stereolithography (SLA). SLA produces very accurate prototypes with features as small as .002 inches, which was crucial for the movement of the metal balls. SLA also provides good surface-quality finish, benefitting the cosmetic appearance of the prototype.  
"I needed something high-quality that I could demonstrate, and Protolabs came to the rescue. They are reasonable in their prices and the quality is excellent."
Using Protolabs' digital quoting platform and instant Design for Additive Manufacturing (DFAM) analysis, the team saved time and avoided unnecessary iterations.
"Having the ability to upload the CAD and use the DFAM feature on the Protolabs website was very helpful. You can spin your design around in space and do extreme close-ups. That helped us to refine certain aspects of the design." 
The team completed two iterations in record time, producing a functional prototype that would be crucial for attracting interest in the BrailleDoodle.
Moving to Production
The TouchPadPro Foundation has already received about 500 pre-orders for the BrailleDoodle through its website and Kickstarter campaign. Some buyers plan to donate the devices in bulk to schools or local branches of Lighthouse for the Blind.
Lubiner has sent a prototype to a testing company for feedback before moving to production. He hopes to extend the tablet's reach beyond the U.S. to developing and third-world countries, where even fewer children have the opportunity of learning braille.
"The BrailleDoodle can get kids everywhere started on the road to literacy and a better future."
At A Glance
Challenge
The nonprofit TouchPadPro Foundation needed to produce a functional, affordable prototype for a tablet designed to help blind and low-vision students learn braille anywhere. The device requires 3,000 plastic springs to hold metallic balls in place at just the right tension. A previous prototype built by another company didn't always function as intended, making product demonstrations awkward.
Solution

Protolabs used ABS-like plastic and stereolithography (SLA) to build an affordable, accurate prototype that adhered to the client's exacting specifications.
Outcome
TouchPadPro now has an impressive prototype to demonstrate at conventions and meetings. The foundation has already received 500 orders for the product and plans to move to production soon. Enabling blind and low-vision children to learn braille on their own fills a large gap in public education in the U.S. and across the world, helping kids acquire skills that improve their chances for higher learning and employment.