Maker of Disinfectant Equipment Aids Pandemic Fight with On-Demand Manufacturing
FOAM-iT pivoted to low-volume production of molded parts to update—in record time—its equipment now fighting COVID-19
Ensuring that people work and live in healthy environments is the key to FOAM-iT's success. For more than 30 years, the company has designed, built, and manufactured chemical management and application equipment, helping organizations clean and disinfect spaces. At no time has the company been tested as rigorously as during the COVID-19 pandemic.
Design, Build, and Manufacture a Critical Part During a Pandemic
Not surprisingly considering its name, FOAM-iT established itself by making foam units that spread chemical agents over a large area as part of an industrial cleaning process.  It also has a complementary product line that uses stationary equipment to create large volumes of mist/fog as a final disinfecting step. When FOAM-iT introduced mist/fog units that dispense disinfectant from a handheld wand, it gave more control to the end users who sanitize workspaces, allowing for more precise decontamination of a space. "Before the beginning of March 2020, about 80% of our product sales were for foam dispensing equipment," said Alex Vandertol, FOAM-iT product development and support manager. "Since then, 80% of our sales have been for misting equipment."
Soon, FOAM-iT discovered that the fragile tip of the nozzle, which dispenses the agent and mixes it with air, needed a protective cover. Equipment operators—who were pressed to work quickly—had a tendency to drop the applicator wand and knock it into the objects they were spraying. That deformed the nozzle, preventing it from smoothly dispensing the chemicals. FOAM-iT engineers began developing a solution.
And then COVID-19 changed everything. Due to the increased focus on safe workplace environments, FOAM-iT was deluged with orders for their mist/fog units and had to pivot to an immediate fix. "We were suddenly getting hundreds of orders for equipment that we'd only sold a few of before, so we needed to react and protect those nozzles," said Vandertol. "But we didn't think we had time to injection mold a part."
Going Onshore with On-Demand Manufacturing
While the company often relies on foreign suppliers for molding tools, the delay getting those would have caused FOAM-iT more headaches as it waited for the parts to arrive by boat—typically 3-5 months. Plus, trade tariffs made imported parts a more expensive proposition than usual. Vandertol had worked with us previously while working for other companies and was looking for an opportunity to do it again.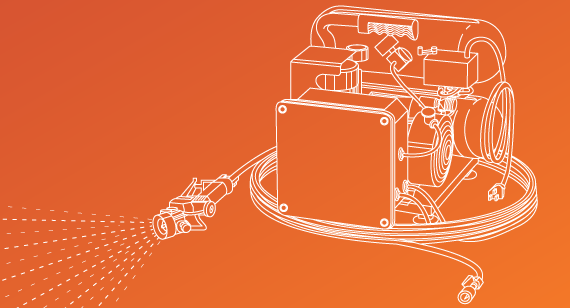 At A Glance
Challenge
FOAM-iT needed to update two of its flagship products quickly to make them less prone to damage in order to aid in the fight against COVID-19.


Solution
By using our on-demand molding service, FOAM-iT took advantage of our design analysis and easy online ordering, along with a helping hand from in-house manufacturing experts to avoid delays.



Outcome
FOAM-iT's electric fog/mist disinfectant units are now available with a Protolabs-manufactured nozzle protector, ensuring a long product life. Existing units were offered a retrofit to give improved protection.

There were several considerations in making the nozzle protector. FOAM-iT engineers quickly worked out a CAD model with the assistance of our design analysis. The interactive feedback helped the company work through functionality and moldability issues, including the location of the parting lines. In the final design, two identical parts wrap around the nozzle's mount, protruding just enough from the nozzle to protect it. The two parts are joined using two screws on the mist side and a clever undercut snaps the protector to the body of the wand. "One reason we used Protolabs was the ability to create a part with that type of undercut quickly and accurately," said Vandertol.
The end part was molded using a durable HDPE plastic. It was the perfect choice because FOAM-iT's customers each have their own cleaning formulation. Chemical compatibility was of paramount concern, and HDPE has the advantage of being a significantly nonreactive material. The desired part color was black, and the part had to be simultaneously rugged and protective, yet flexible enough to take a hit without breaking. HDPE could deliver on all those specs.
Working with our engineering and sales teams, the CAD file was perfected and FOAM-iT was quickly added into the our system. "It was a Thursday evening when we sent the initial CAD files, and by Tuesday, you had already delivered the 250 prototype parts to us, which we sold very, very quickly," said Vandertol. "I think we've made at least one or two more production orders of parts since then."
Keeping FOAM-iT Customers Happy
Throughout the world, customers rely on FOAM-iT products to keep workplaces safely disinfected. When the company discovered an issue with the way one of their products was commonly used, they acted quickly. By onshoring its manufacturing through us, FOAM-iT had the parts they needed in days, instead of months. "We were very happy with Protolabs' support and timing," said Vandertol. "Even though the price is a little more expensive, working with Protolabs certainly paid for itself within the first week of sales because we were able to respond quickly."