ABS vs. Polypropylene (PP): Deciding Between Two Popular Plastics
Posted On August 18, 2023 By Protolabs
As an engineer or product designer, you already know that you can choose from hundreds of commercial-grade thermoplastics that are suitable for both prototype and production parts. Yet within that giant universe of plastics, we often see designers and engineers we work with turn to materials that are preferred or more commonly used than others.
Two examples are ABS (acrylonitrile butadiene styrene), which is a combination of several different molecules, and polypropylene (PP), which is a chain of a single type of molecule. Why are these plastics used so frequently?
ABS is one of the most affordable thermoplastics and has excellent mechanical properties such as durability and rigidity, and has a high heat-deflection capability. Easy and fast to machine and fabricate, ABS has excellent "machinability."
PP is also an affordable thermoplastic, in fact it is generally less expensive than ABS. It is durable, tough, flexible, low in weight compared to other plastics, and is resistant to moisture absorption. The density of PP is less than 1 g/ml, so it floats on water. PP's properties are similar to polyethylene, but the material is slightly harder and more heat resistant, in fact it has better heat resistance than ABS.
Both ABS and PP work well with CNC machining, injection molding, and industrial-grade 3D printing (additive manufacturing). Here's a look at the benefits and applications of these two workhorse materials, and, at the bottom, a table that compares typical material properties of these two plastics among the three manufacturing methods of machining, molding, and 3D printing (specifically, stereolithography).
Benefits and Applications of ABS
ABS has proven to be a versatile selection across our services: For machining, it is not only fast and easy to machine, but also has impact resistance, strength, and stiffness over a wide temperature range. ABS is a reliable and familiar choice for 3D printing with its heat and creep resistance, and minimal oozing and stringing. It is also a popular choice for injection molding where an inexpensive, strong, and stiff plastic is needed. Additional benefits of ABS include:
A low-cost plastic.
Mostly unaffected by temperature, humidity, and frequency.
A solid electrical insulator—has exceptional dielectric properties.
Resistant to most types of fluids, unaffected by water, alkali alcohols, inorganic salts, hydrocarbon solvents, and many acids.
A strong material that holds up well to external impact because of its high tensile strength and impact resistance.
Used for its aesthetic qualities thanks to its natural opaque and ivory tones, making it modifiable into vibrant, colorful parts with variable gloss levels from matte to high gloss.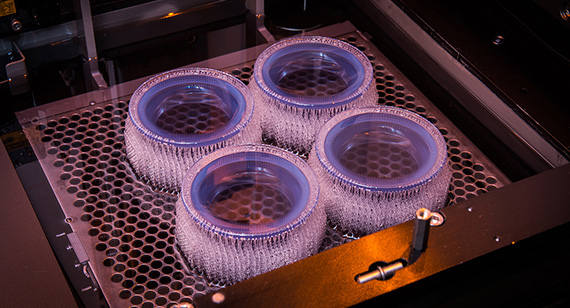 Note: When talking about 3D printing at Protolabs, we are referring to ABS-like materials, that is, materials that closely mimic ABS but are chemically different. While Protolabs prints ABS-like materials every day using stereolithography, the Protolabs Network at Hubs can source any ABS 3D printing needs through its industrial fused deposition modeling (FDM) process.
ABS is well-suited for a variety of uses, applications, and products. Among many examples are:
Aerospace applications
Appliances
Automotive applications
Construction and industrial applications
Electronics (consumer and commercial)
Household goods
Housings
Lawn and garden equipment
Lenses
Lighting
Medical/Health Care (surgical instruments, IV-system components, medical devices, test kits, etc.)
Pharmaceuticals
Toys
For a deeper dive into ABS and ABS-like materials, check out our Materials Comparison Guide, which includes detailed data sheets on each available grade of ABS that we use at Protolabs.
Benefits and Applications of Polypropylene (PP)
The benefits of PP listed here span all three manufacturing processes we've discussed: molding, machining, and 3D printing. Accordingly, for producing plastic parts with any of those methods, you'll find PP to be:
An inexpensive plastic, in fact cheaper than ABS
Durable and tough
Low in weight compared to other plastics
Capable of floating on water, given it has a density of less than 1 g/ml
Flexible—offering a high degree of flexural strength
Able to sustain varied temperatures: It has a high melting point and cold temperature impact resistance
Resistant to moisture absorption
Chemical resistant; better chemical resistance than ABS because PP is semi-crystalline while ABS is amorphous
Highly resistant to electricity—solid electrical insulation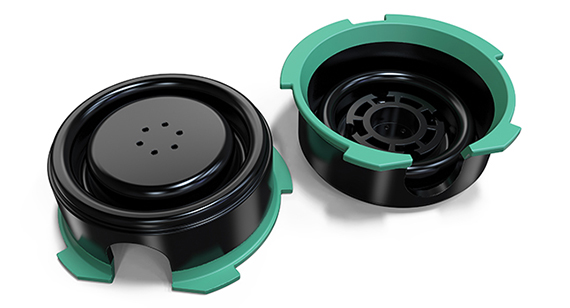 PP is well-suited for a variety of uses, applications, and products. You'll immediately notice some crossover between PP and ABS in the list. Among many examples are:
Appliances
Automotive applications
Caps and closures
Electronic components
Fans
Food containers
Food trays
Integral or living hinges
Household goods
Medical/health care applications
Snap fits such as snap-over lids
Sporting goods
Thermoformed containers
To-go containers
Toys
The Materials Comparison Guide mentioned earlier has all of the specs you'll need to know for PP, too.
Deciding Between ABS and PP
Ultimately, these two thermoplastics share many similar properties, specifications, and costs. That said, there are some differences. For example, with higher tensile strength, ABS is stronger and harder. ABS will show less shrinkage than PP during molding because of PP's semi-crystalline nature, so tolerances generally can be slightly tighter using ABS. Also, ABS is less prone to warp than PP. On the other hand, PP has better heat resistance and is less expensive when compared to ABS.
As a result, it is important to look closely at all the key factors that will influence your part's design, such as the required strength, heat resistance, and flexibility of your part ahead of any machining, molding, or 3D printing projects. Indeed, the decision on materials will likely depend on the manufacturing method you are considering.
You may also want to review those above lists of applications, uses, and products already produced using these two plastics for comparison with your own part design projects.
Quick Comparison Table
Here are some ABS and PP material properties compared among injection molding, CNC machining, and 3D printing (stereolithography).
| | | | |
| --- | --- | --- | --- |
|   | ABS Molded | ABS Machined | 3DP SL |
| Heat Deflection | 215° F | 214° F | 138° F |
| Tensile Strength | 6,091 psi | 6,100 psi | 7,800 psi |
| Elongation at Break | 30% | 40% | 6–20% |
| | | | |
| --- | --- | --- | --- |
|   | PP Molded | PP Machined | 3DP SL |
| Heat Deflection | 203° F | 210° F | 142° F |
| Tensile Strength | 5,801 psi | 4,800 psi | 7,250 psi |
| Elongation at Break | 100% | 14% | 7–25% |
Note about this table: Properties are dependent on actual grade of material selected, part thickness, and geometry. Please review each material data sheet individually as these are estimates.
As always, if you have any questions, feel free to contact one of our applications engineers at [email protected] or 877-479-3680. You can also get your next part design started here with a price quote.